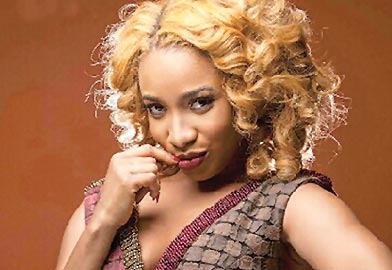 *Tonto
BY KEHINDE AJOSE
*Tonto
While some entertainers have managed to stay away from anything that will diminish their star appeal , many others consciously or unconsciously rumba with controversy thereby reducing their brand worth and public perception. In no particular order, here are the top Nigerian stars who were involved in one controversy or the other in 2013.
*TONTO DIKE
Perhaps, if a poll is con
ducted today, Tonto as she is fondly called by fans will emerge the most-talked about actress of this generation. During the year under review, the actress who is hungry to make a name for herself in the Nigerian music terrain  was given the opportunity to perform on stage at Iyanya's London concert .
Miss Dike foot stepped on her long dress and fell flat. In the picture taken at the event that went viral, her cleavage could be seen popping out. Insiders alleged that the fall was as a result of her being drunk before mounting the stage to perform.
We won't also forget in a hurry  the jab she threw at her colleague, Mercy Johnson on Twitter saying her husband sent her back to acting after two months of  giving birth to baby Purity to  hustle. Throughout the year, Tonto faced  one controversy or the other. But one thing that cannot be taken away from her is that she has a big heart as she has been part of several philanthropic initiatives. Her life is a drama filled with many intrigues.
*BEVERLY OSU
The popular video vixen who recently clinched an endorsement deal with prestige cosmetics generated major controversy when video clips of her having sex with Angelo her fellow house mate during BBA The Chase hit the internet. Both parties denied they       didn't not have sex with     each other. When asked about the bathtub session she had with Angelo in an interview, she said:"I' will say nothing happened between me and Angelo "
*JIM IYKE
When the video and pictures showing talented actor, Jim Iyke undergoing deliverance at Synagogue Church of All Nations hit the internet, the 'Deliverance' session generated a lot of mixed-reactions. Afrocandy, controversial porn actress joined in the debate. She said Jim Iyke took his stunt to the altar. The revered Nollywood actor  Segun Arinze had doubts about the authenticity of the video. In his purported Blackberry message,     he said     "Jim Iyke's deliverance video at the Synagogue trending looks too contrived. It's a big embarrassment. Has anyone ever seen demons come out live and speak? ". In his reaction, Jim Iyke said:"Celebs wake on wet pillows with fat accounts, behind Versace shades . Christof the 1one percent"
*FUNKE AKINDELE
When news broke out that Funke Akindele and her husband   Kehinde "Almaroof"   Oloyede have parted ways, a lot of people expressed dismay. It started as a little spark that became an inferno making major headlines and becoming blog posts. Her husband made the announcement via facebook which many found difficult to believe because their union was just a year old.
The Jenifa star halted speculations when she confirmed that she's actually separated from her husband Kehinde "Almaroof" Oloyede. Funke therefore joined the leagues of celebrities who have troubled marriages.
*MAHEEDA
That the social media is filled with Maheeda's  raunchy pictures is not a  news. What is amazing is her taste for garnering public attention. The self acclaimed 'Gospel artiste' showed her fans the other side of her life when she started sharing her nude and semi-nude pictures with the public to the point that she was blocked on Instargram.
Apparently because she's been violating the social network's policy. Maheeda didn't restrain herself from     firing shots at Charles Novia after the  film producer   said, the singer was suffering from early stages of bi-polarism.   According to her:"Charles Novia is just an attention seeker like me! But he is so much of a hypocrite to admit his! "