By Ndahi Marama
No fewer than 25 people suspected to be members of Boko Haram sect were killed, Thursday, in a clash with troops of the 7 Division, Nigerian Army at Ngauramari villages of Bama Local Government Area of Borno state.
Ngauramari is a small farming community along the Maiduguri- Bama – Firgi-Gwoza federal highway which had witnessed series of attacks and killing of over 20 motorists and passengers this week by suspected terrorists.
Our Correspondent gathered that the incident took place at about 8am on Thursday when some suspected Boko Haram members, crossing the road from their camps in the Sambisa Forest exchanged gunfire with troops, with the killing of three terrorists. Vanguard gathered those who fled from the scene of the attack were killed by military airstrikes.
Sources said,  during the encounter with the military, all roads leading to the area were closed for over three hours in order to avoid civilian casualties, particularly motorists and their passengers who were plying the road as at the time of the airstrikes.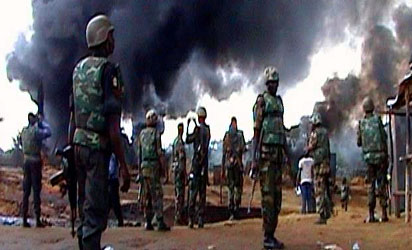 A commercial driver , Ali Wando who came from Gwoza into Maiduguri told our correspondent, "I saw three corpses by the roadside at Ngauramari which were dismembered by the rocket launcher fired at them by the military when they came on their tricycle."
"Several other bodies were lying further in the bush but I did not go to count them because I was afraid, as I believed some of the insurgents might hiding further in the bush".
Another commercial driver who did not want his name mentioned for security reason said, " soon after the military killed the terrorists in Ngauramari, the Nigerian Airforce fighter jet located some of the suspected terrorists around the Bama-Firgi-Gwoza river bank, attempting to cross the river where the fighter jet attacked and killed them."
When contacted on phone, the Spokesman of the 7 Division, Nigerian Army, Colonel Mohammed Dole sent a text message to our Correspondent saying, " I am coming up with a statement on the incident very soon, thanks", but after waiting for several hours, there was no response from him before this post.