By Onochie Anibeze
Ex-international and one time Africa's Footballer Of The Year, Victor Ikpeba has backed Stephen  Keshi's decision to give members of the Golden Eaglets a chance to play for the Super Eagles but says that "any such player must be playing club football."
Keshi had, before now ruled them out,  insisting that they must pass through the Under 20 and possibly the Olympic team before they can qualify to play for the senior team. He later changed his mind, saying a chance could be given to any one that merits a place in the Eagles.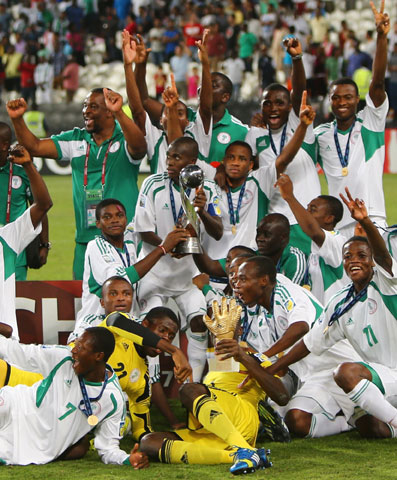 All the members of the Eaglets team that won the FIFA U-17 World Cup were drawn from academies unlike before when some were fished from some clubs. This is why many Nigerians dub the team the youngest Nigeria have paraded in recent years.
They played with passion and their flair thrilled the world.
"It will be good to give them a chance to play for the senior team but they cannot play for the national team as academy players," Ikpeba said at the weekend, adding,  " they have to develop and gain club football experience. It is vital for development . I expect the players to be engaged by the clubs and those doing well in their clubs can be given a chance. That should be the condition. I was with them for two weeks in UAE and I can tell you that they are good players. But they need club football experience to play for the national team. That's what will keep them fit and competitive."
Ikpeba is a product of youth football. He was in the 1989 squad in Scotland.