By Onochie Anibeze
Eagles can win the match in Addis Ababa on Sunday. A draw is possible.
And they can, as well, lose it.   Sometimes, in sports, a better team loses. It happens in both team and individual events.   A lot of factors cause this.
You can lose to a weaker team when you underrate them. With all your finesse and techniques, a fighting team, with guts and stupendous will, overpowers you. A team endowed with technical prowess can lose to a team full of determination. A hungrier team can shock a team with superior skills.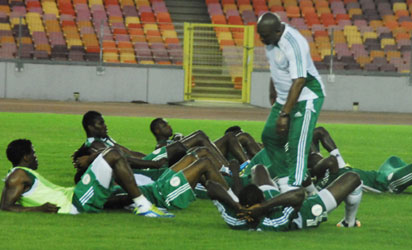 A team full of highly technical players but whose fitness is poor can lose to a fitter team. A good team can lose on their bad day; when luck runs away from them.
Surely, you must have watched a match in which players from a team attack consistently, hitting the post three or four times but eventually losing to a side that soaked all the pressure and converted only one chance that came their way. Football is funny. Weather can make a seemingly good team lose to a side more adaptable to it.
A team with high quality players can lose to a team better coached or a team better prepared.   I can go on and on to enumerate what can make a favoured team lose to another rated lower.
And it is against this background that I warn and at the same time plead with the Eagles not to underrate Ethiopia on Sunday. It is against this background that I insist on a sound tactical approach to the game.
Against an improved Ethiopia whose passing game can exhaust the Eagles in a weather that may not be conducive to our players it will be suicidal to play total football, the one they call massive attack and massive defence, throughout the 90 minutes of the game.
If I were Stephen Keshi, the Eagles manager, I would, first divide the game into two or three segments and adopt different strategies for each segment.
The way you play away matches could be different from home games. And the character, discipline, strength and weaknesses of the opposition determine your own approach.
Against Ethiopia, therefore, it is simply natural that the home team, inspired by the home support, could go full blast on kick off. You could pull strings to contain them and after 20 minutes   or there about, you attack because,   at this time, they would have slowed down, especially if they do not score in those early minutes of incessant attacks. Naturally, they cannot continue with the same pace.
After those early minutes, their endurance could drop and that's the best time to attack. You could score at this time. And when you do, you close up the game because they would naturally throw more men in front to equalise. The opponents will now be doing more running and you try to contain them. The way to do this depends on the coach.
One attacker can fall deeper and the midfield would be tighter with the defence. It is closing up the game and not necessarily being totally defensive.
If it works out, another goal can be created through the counter attack, otherwise in the last ten minutes of the half, when the struggling team would again be dropping in endurance again after their possible incessant attacks, you could open up the game and attack.
So you could first close the game, explode after 20 minutes, close the game again and explode in the last ten or five minutes. The score line, however, determines a lot in the way you switch these strategies. But, having watched Ethiopia, they don't play the kind of power game that may compel you to try to contain them first.
They pass the ball and make short runs that could knock you out of your stride. If their shooting is as good as their passing game, they could beat any team in Africa.   Because of their character, Eagles could attack them on the blast of the whistle. I could use power game.
Position, power and pace will be my catch words. With direct play that could aggressively take the game to their half I could overpower them and score first.
But I must be mindful of the weather and fitness level of my team and will also strictly work out segments in the game- when to close the game and when to attack – otherwise you could score one or two goals first and later concede more. It happens in football.
The Eagles have the players to win the match and their experience should count. They have the support of the government, that of the football federation and the Nigerian people.   A good match plan could earn them victory. A poor one can make them lose. Remember how I started. A team with superior players can lose to one highly determined and hungrier. May it not happen to us in Ethiopia. Amen.
Deborah Nwakaego Okpala goes home
THE Quicksilver of Nigerian football, Sylvanus Okpala and his family members will today, in Mkpologwu town in Aguata Local Government Area of Anambra State, commit to mother earth, their beloved mother, Nwakaego Okpala. Governor Peter Obi, who has been supportive of ex Rangers players, will likely attend the burial according to his aide on sports Arthur Egbunam.
Ex Rangers players and some teammates in the Green Eagles will also attend the burial. The Nigeria Football Federation will also be represented. Okpala won the Nations Cup as a player in 1980 and as an assistant coach to Keshi early this year in South Africa.
May the soul of his mother rest in peace. Take heart my good friend, fondly called Hafia in Enugu, nicknamed Quick Silver in Eagles by late Ernest Okonkwo and   called Oba Benin and Idi Amin by those who followed him from his primary and Secondary school days as a first class footballer.