BY DAYO ADESULU, AMAKA ABAYOMI, LAJU ARENYEKA & IKENNA ASOMBA
STAKEHOLDERS in the education sector have blamed the Federal Government for the massacre of about 42 students of Yobe State College of Agriculture by suspected members of the Boko Haram sect on Sunday.
National Coordinator, Education Rights Campaign, ERC, Mr. Hassan Soweto, in an interview with Vanguard said the attack was as a result of the Federal Government's failure to provide security for schools in crisis prone areas as well as its inability to provide gainful employment for Nigerian youths.
Soweto said: "We at the ERC put the entire blame at the feet of the government. The government had promised to put up perimeter fences and security operatives round the schools, but it did not. On a larger scale, however, there are underlying social and economic issues that must be addressed. Government must champion youth employment and provide opportunities to keep youths in the north engaged. Boko Haram is feasting on the socio-economic ills this country is facing.
"It would be difficult for any sane mind to understand why Boko Haram would attack these innocent students. But from stand point that western education is a sin, it seems that they are attacking the people they see as symbol of Western education; the students. We are appalled by these mindless killings. Schools in these states were closed when the state of emergency was declared, and were only reopened few days before the killings."
A university lecturer who did not want his name in print, questioned government's decision to send students in crisis-prone areas back to school if there were no concrete measures in place to protect them. He said: "Why would the government ask them to go back to school only to be killed like chickens. This happened because government and security officials refused to do their jobs.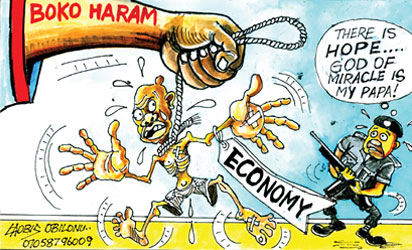 In a state of emergency, it should be next to impossible for such an attack to take place at such magnitude. People shouldn't even have been moving about; the attackers did not drop from heaven, neither do they stay around the school. Under normal circumstances, they should have been caught at one of the numerous roadblocks before making their way to the school."
Describing the killings as dastardly, an education policy consultant, Mr. Wale Samuel, called for increased security vigilance around schools in the hot bed of Boko Haram in Nigeria. He said, "Government must, as a matter of urgency, provide proactive security measures and standards in public institutions to forestall reoccurrence of such acts. If this isn't done, most public schools in these crisis-prone states would record low patronage as no one would want to die because of education."
The Director, Press and Public Relations of the National Universities Commission, NUC, Mallam Ibrahim Yakassai, said: "It is unfortunate, sheer madness for anyone to attack such young defenceless students. We call on the government and other security agents to put more effort into fortifying schools in these areas where a state of emergency has been declared.
The NUC spokesperson, however, said it would be fool hardly to close schools in the area until the state of emergency has been lifted. His words: "We cannot stop schooling because of criminals. The school calendar will not wait for students in Yobe or any of the other states. What we must do is to fortify these schools and guarantee protection for the students."
In the same vein, a parent, who declined to give his name also called on government to beef up security, especially of students in such states so that students can concentrate on their studies without any fear of attacks on their lives and property.
What have students done to deserve this?—NANS
Condemning the massacre, President of National Association of Nigerian Students, NANS, Mr. Yinka Gbadebo, described it as pathetic, and called on the Boko Haram sect to look inwards and ask themselves what Nigerian students have done to deserve these killings. He said: "We are calling on Boko-Haram to look inward and tell us what the students have done to warrant the killing. Students who were busy sleeping in their hostels were killed for doing nothing to them. We are appealing to them to stop it and embrace peace. Can we stop madness, enough is enough. Boko-Haram should not force Nigerian people to react. If they continue like this, we students may be forced to face them, some of us can mobilize students to the place. The Federal Government should fish-out those who are behind this act. We have heard of cases where some of them were arrested but released later."
Gbadebo also called on government to take drastic measures towards forestalling future occurrences. "We hereby call on government and other relevant authorities to tighten the security on campuses by drafting members of the Joint Military Task Force, JTF, to campuses secure the lives of the students on campuses. It is a failure on the part of our government if they cannot protect the lives and property of its citizenry."