BY CHIDI NKWOPARA
OWERRI—Imo State government has visited its anger on the Chairman, Association of Catholic Medical Practitioners of Nigeria, Dr. Phillip Njemanze, who blew the whistle on the obnoxious abortion law foisted on the citizenry by Rochas Okorocha's administration.
Already, Dr. Njemanze's plot of land meant for the building of a N50 billion modern specialist hospital in Owerri has allegedly been revoked by the state government.
Vanguard investigation revealed that the 5.5-hectare piece of land, where construction work started before Okorocha's administration came on board, has been taken over by the state government.
Confirming this ugly development to Vanguard in Owerri, Dr. Njemanze said the land, which has Certificate of Occupancy Number 46 Page 46, Volume 308, assigned to Chidicon Medical Centre, was situated in Plot C, Parcel B, Naze Road and New Naze Industrial Layout.
"Since I broke the news on the abortion law foisted on Imo people by the state government, the Director of Lands was ordered to revoke the land for the construction of new mega hospital complex," Njemanze said.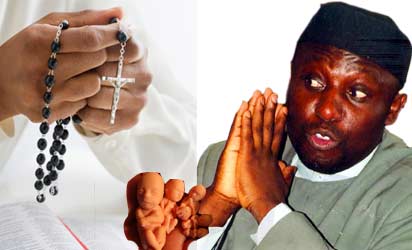 While explaining that the new multi- billion Naira medical establishment was one of the six mega hospitals in Nigeria, Dr. Njemanze also said that the project was to be partially funded by the Federal Government.
"Although I am the coordinator of the project, other doctors from the United Kingdom and the United States of America are involved.
"Fidelity Securities, an affiliate of Fidelity Bank Plc, is providing the fund," Njemanze said.
He explained that project would initially gulp N5.5 billion, adding that the total cost was worth N50 billion.
He said:  "When completed, the hospital complex will have a helicopter landing pad, which will assist in moving patients in and out of the establishment at the required speed. It will also have state of the art facilities."
Some concerned citizens who spoke on the issue, pleaded that the abortion law saga should not be used to truncate or damage what ordinarily should be of benefit to the people.
Efforts to get government's side of the story failed as the Deputy Chief of Staff to Imo State governor, Mr. Chinedu Offor, failed to reply the text message sent to him on the issue before press time.