Malawi coach Tom Sainfiet after much tinkering has finally named the squad that he prays will beat them in Calabar. The bad blood between the Belgian and his former would be handlers at the NFF, is as we know – documented fact.
This comes after things almost fell apart or him without his team even leaving for West Africa. His demand for USD 10,000.00 should the Flames burn the Eagles, was met with open criticism and much scorn from players, fans and the local press alike. Extra precarious for him considering the coach had once said he would coach for free just to tame the African champion and prevent them from going to Brazil in 2014.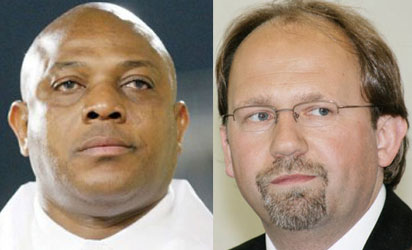 His own captain Joseph Kamwendo who ply's his trade in Mozambique was most vocal with his annoyance especially as he pointed out, considering that each Flame regardless of how brightly they burned, would only get a miserable USD 85.00.
The coach has since back tracked saying "For me money is not the motivation. I came here as a volunteer. I want to bring Malawian football to the next level and try to qualify them for the World Cup. I think if we win the money must go to youth development."
This seems to have soothed ruffled feathers and returned the team's main focus to the challenge at hand, namely beating Nigeria in Calabar. Even though it is something no one has done since the 1940's and the Flames have never beaten the Super Eagles in all previous seven attempts, the coach is unfazed and is sure he can complete this Mission Impossible. To do this he has named the following squad :
Goalkeepers: Owen Chaima (Big Bullets), Charles Swini (Silver Strikers)
Defenders: James Sangala (Free agent), Moses Chavula(CD Costa de Sol-Mozambique), John Lanjesi ( Blue Eagles), Harry Nyirenda (Black Leopards-RSA), Limbikani Mzava (Bloemfontein Celtic-RSA), Lucky Malata (Silver Strikers), Foster Namwera ( Ferroviario de Nampula)
Midfielders: Joseph Kamwendo (Liga de Malcumana-Mozambique), Chimango Kayira(Big Bullets), Robert Ng'ambi (Platnum Stars-RSA), Phillip Masiye (Blue Eagles), Miciam Mhone (Blue Eagles), Peter Wadabwa (Thanda Royal Zulu-RSA)
Strikers: Chiukepo Msowoya (Liga de Malcumana-Mozambique), Robin Ngalande (Wits Universtiy-RSA), John Banda (Kamuzu Barracks), Gabadhinio Mhango (Big Bullets), Esau Kanyenda (Polokwane United-RSA). The cracker will hold on September 06 2013.