1.   JUAN MATA
Juan Mata enjoyed a stellar 2012-13 season and looks primed to enter the new one an even better player.
As No. 10s go, he is the cream of the crop, with his vision and ability to pick the unbelievable pass every time escalating him to the very top of our rankings.
Mata is the undoubted talisman of Stamford Bridge, and despite the presence of other stars such as Eden Hazard and Oscar, he comfortably shines brightest in the eyes of the fans.
It's moments such as this, a world-class through ball in behind a deep Manchester United defence to allow Demba Ba to score the winner, that affirm his majestic talents on the ball.
Accolades have simply fallen into his lap since joining Chelsea in 2011, and that trend will likely be set to continue under the stewardship of Mourinho.
Expect to see Mata in the No. 10 role of a 4-2-3-1 formation, pulling the strings and creating openings just like Mesut Oezil did at Real Madrid in a similar setup.
2. LUIS SUAREZ
The big question surrounding Luis Suarez ahead of the 2012-13 season was whether or not he could become the 20-goal striker Liverpool so badly craved.
He answered his doubters with an emphatic "yes," combining his already stellar buildup play and movement with a deft finish and confidence in front of goal.
Twenty-nine goals and five assists later, no one is doubting him, and he rightly comes in second place in our rankings ahead of a host of world-class names.
His ability to play behind the striker, between the lines, as a false-nine or from either flank makes him an incredibly versatile and sought-after commodity, and Arsenal are seriously testing the Anfield club's resolve with some monstrous bids for his services.
No matter which kit he dons next season, he's going to be a goal machine.
3. ROBIN VAN PERSIE
Robin van Persie enjoyed a spectacular debut season with Manchester United, assisting them in wrestling the English Premier League title away from fierce rivals Manchester City.
He put his injury concerns behind him from the word go, firing in 26 league goals and tallying up eight league assists while simultaneously changing the very fabric of United's game.
Plenty of preseason speculation centred on how he'd fit into the side, and common consensus maintained that RvP's arrival could change the role of Wayne Rooney.
But Ferguson sprang a big surprise, naming a 4-4-2 lineup in almost every league fixture and allowing both RvP and Rooney to dip in and out of the forward line at will.
They essentially played as two nine-and-a-halves, and opposing centre-backs found it immensely difficult to deal with.
4.  GARETH BALE
Gareth Bale carried Tottenham Hotspur at times last season, shouldering the responsibility of three players' positions to give them a fighting chance of UEFA Champions League football.
They came up short in the end, but the second half of the 2012-13 season showed Bale's immense work rate and willingness to graft for the team—as well as his unbelievable technique and quality on the ball.
He scored 21 Premier League goals from an assortment of positions in midfield, drifting across the advanced line to find space and take advantage of weaknesses.
Few defenders successfully shackled him, and Sir Alex Ferguson had to commit three players (Rio Ferdinand, Phil Jones and Rafael) to mark him out of the game when Manchester United visited White Hart Lane to achieve a 1-1 draw.
He's set to continue his exponential growth in the 2013-14 season
5. EDEN HAZARD
Arriving under the heavy burden of a £32 million price tag, Eden Hazard showed maturity beyond his years not only to cope with the pressure but thrive under it.
He took the bull by the horns, beating Wigan Athletic on the opening day of the 2012-13 season almost single-handedly, then contributed heavily to an unbeaten run of eight games to cement the Blues' spot at the top of the table.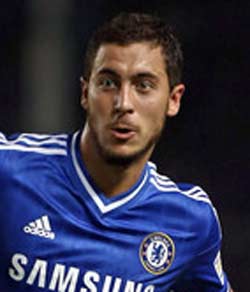 His form dipped alarmingly in mid-season, but at 21 years of age that's natural. The ruthless sacking of Roberto Di Matteo and terrace-wide dislike of new installment Rafa Benitez hardly helped either.
Hazard is poised to improve again in the coming season, being used opposite either Andre Schuerrle or Oscar in Jose Mourinho's 4-2-3-1 formation.
His raw pace and acceleration will serve the team extremely well in a counterattacking setup, so expect an improved goal tally from the Belgian in what represents the biggest season of his young life so far