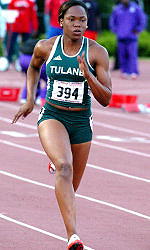 *Gloria Asumnu
Sprinter, Gloria Asumnu has summed up her three-year sojourn with the Nigeria's track and field team and concluded that it has been a huge mistake.
Asumnu, born and bred in the United States, turned to her fatherland in 2011 after she failed to grab a spot in the American team. Her coming was welcomed by the Nigerian track and field officials who had always tried to convince the multitude of Nigerian-born athletes in the diaspora to consider  Nigeria.
But for Asumnu and others who responded to the call, it has always been a harvest of frustration and she let it out yesterday on her twitter handle.
"Choosing to run for Nigeria was a decision I thought I made for the better. But in turn I'm thinking it was a big mistake."
In Moscow, Russia Asumnu ran 11.44 in semi-final of the women 100m and claimed that that was her last event of the season. She stated that she may not be running in the women 4×100.
Former national heptathlon champion, Patience Itanyi who recruited Asumnu for Nigeria just like she did with other US-born Nigerian-born athletes submitted that the country was not treating athletes well, adding that officials were not helping matters with the management of the athletes and their conduct.
"It is painful our athletes are going through what they are going through. Imagine some of the US-based athletes were denied their earnings at the former Mobil Championships and up till now the AFN president knew who was responsible yet he did nothing about it.
"Even the AFN top officials are not showing good leadership. Asumnu should have been kicked out of the team last year after she displayed some unprofessional conducts at London 2012," Itanyi said.
Asumnu represented Nigeria at the 2011 World Championships in Daegu, South Korea. She was part of the Nigerian 4x100m relay team that reached the final. At the All Africa Games in Maputo, Mozambique she placed third. She also won a bronze in the women 100m at the African championships last year in Porto Novo, BeninRepublic as well as  gold in both 200m and 4x100m relay.