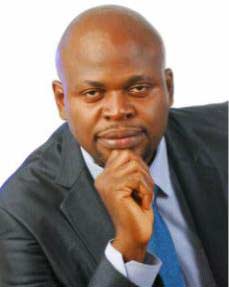 Olukayode Olusope
Olukayode Olusope isNigeria's oremost  Brands and Communications Strategist with experience spanning over 15 years in frontline Advertising Agencies in Nigeria. In this interview with Olayinka Ajayi , he speaks on how his artistic acumen spur him into brand management and how he intends to impact brand managers and unemployed graduates with the knowledge of strategic brand management which will help  in re-branding Nigeria. Excerpts:
Your background?
I was born in Ile-Ife, Osun State,and was privileged to finish from Obafemi Awolowo University OAU, where I studied Dramatic Arts under the tutelage of renowned authorities like Ola Rotimi and others in 1991. Early in life, I discovered I am artistic in nature. I could draw, write, sing and speak eloquently, so I found drama as a course where all of these talents are embedded.
  How did you find yourself in communication industry?
After trying a few stints, I considered where my talent would be best put into use. I love to communicate to people,and when you communicate you use all manner  of communication tools to pass your message to your target audience effectively. That was how I found my place in marketing communications. So to better equip myself in the industry, I did a Post Graduate Diploma in Mass Communication in University of Lagos(  UNILAG), and did  several courses both home and abroad, including Miami Ad School.
Your experience in marketing communications?
My experience in marketing communications is spanning over 15 years. I started marketing communications from Haniel, a Below-the-line (BTL) agency specialized in design and print under Mr. Tunji Aboderin. The first client account I ever handled in the agency was Shell Petroleum. We were working for Schlumberger, Access Bank and so on.
I also worked with Comex Advertising where I was exposed to automobile advertising, working on Hyundai, and other brands. I moved from there to Rosabel,and it was there I had my first big challenge in Advertising when I was placed in charge of Globacom brand. It was my team that helped reposition the Glo brand through the "Rule Your World" platform.
If you can remember, Globacom launched itself with the "Glo with pride." It was facing virulent competition with global brands on the communication front. However, the brand was already trying to expand to other African countries, and it needed to present itself as an empowering brand, rather than a local champion.
I was later appointed as Account Director for UBA and Coca-Cola (CCNL) on which we did interesting campaigns. I later left Rosabel and moved to LTC/JWT as the Director for New Business. It was challenging in the sense that we were handling several pitches while developing strategies to improve our clients' brands. That was the period the agency won the pitch for "Good People, Great Nation" rebranding project. I had to travel to Abuja with
my Managing Director, Mr Victor Edegbe, to present at Aso Rock. Lowe Lintas came calling and I was appointed the Director of Strategy and New Business. Summarily, in the course of my stint on advertising and communications,I worked on virtually over 30 brands. Today, I am very happy and fulfilled for whatever little contribution I have made to the society through my chosen career.
What gave birth to The Knowhouse initiative?
The Knowhouse came as a need for the development of  not just brand managers but allied professionals involved in the craft, either public relations consultancies, experiential marketing agencies in the digital, all of us are in one business which is brand building.
We appreciate the brand building industry in Nigeria, but there are rooms for lot of improvement. And the biggest room lies in the axis of learning and development.
What about Nigerian youths craving for employment?
The Knowhouse is not exclusively for brand professionals but also for Nigerian youths who are very vibrant and creative but are struggling to be discovered and groomed in a brand building career. They are our ambassadors, and the operators of the coming explosion and revolution of Nigeria's brands.
How passionate are you to affect their lives?
The Knowhouse started this initiative  four years ago and we have been very passionate about impacting lives by inviting renown frontline brand, creative and business managers to impact participants with experiential know-how in brand management. We have gone to the extent of training young people for free.
We are aware there are over 22 million graduates unemployed, and many of them are unemployable because they lack practical skills to add value to their employers. So we don't only train them, we also ensure they get internships with agencies and companies where they get exposed to vital experience that will  give them cutting edge advantage over their equals while instilling in them skills and confidence to operate effectively in the industry. So far, we have trained 36 and 35 of them already are gainfully employed while  the only one remaining has already started his own consulting firm.
At the Knowhouse we believe that marketing communication is the life blood of commerce, and commerce is the blood of the nation, communication therefore is the life blood of the nation. If you would agree with me, America is ahead of the world basically because of branding. Their film and media industries sold America to us, telling us what they can do.
Why can't our industries  do the same? Nations are projected through their brands. We cannot afford to remain in our backyard servicing the needs of Nigerians. Nigerians brands needs to become global and to become global we need knowledge and resources. This is the rationale behind the Knowhouse, creating  new breeds of brand wizards to creating a better world.
There is going to be an economic revolution in Nigeria that will bring prosperity but it will not come until Nigerian brands come of age and begin to spread their tentacles around the globe and become the toast of mankind, taking their place in the comity of nations.
How do you intend to do that within a space of time?
We have already stated through programmes meant to enhance learning and development of young people. They come in for 12 sessions intensive training in strategy. We are also introducing corporate career coaching specifically for brand managers and account managers. We want to appreciate the 26 MDs of different companies who have facilitated programmes.
What are your challenges in launching The Knowhouse initiative?
The Knowhouse itself is a response to challenges being faced by brands. The challenge to develop people. The need for people to realize that they need constant training for them to develop and keep abreast of their chosen career.