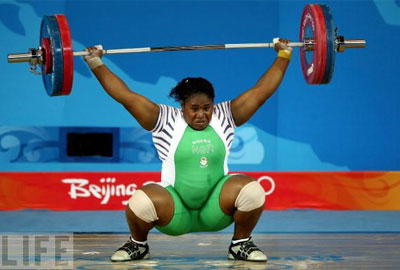 Mariam Usman of Nigeria competes in the women's +75kg group A weightlifting event at the Beijing University of Aeronautics & Astronautics Gymnasium at the Olympic Games in Beijing, China.
Kogi State Weightlifting Association (KSWA) head coach, Christopher Nwadei has stated that most Nigerian athletes failed to excel in international competitions because they trained with substandard facilities at home.
Nwadei argued that lack of standard facilities usually affects the improvement of athletes' skills and also demoralises them.
He said that Nigerian athletes' inability to win medals in international competitions was also due to stage fright, because the gymnasiums abroad, with modern facilities, were enough to intimidate them.
"Our athletes are good, even better than their foreign counterparts, but the truth is that foreign athletes are groomed with up-to-date facilities, while ours are trained with obsolete facilities," he said.
The coach said that the situation was particularly bad in Kogi where weightlifters had to queue up one after the other to train, due to lack of standard facilities.
"We don't have good facilities, such as standard weights and barbells to train with and it is a major setback militating against the upgrading of weightlifting athletes in the state.
"Often times, athletes had to queue up one after the other because of the insufficient facilities available," he said.
According to him, training and exposure of athletes to good facilities speaks volumes and boosts their winning chances during competitions, because they are up-to-date with standard facilities.
He urged the sports authorities to assist in the provision of facilities, to enhance their training and development.