By Emmanuel Aziken, Political Editor & Henry Umoru
ABUJA — The Peoples Democratic Party, PDP has suspended Governor Aliyu Wamakko from the party, citing serial disobedience to party orders and contempt for authorities of the PDP.
The suspension of the governor was effected by the National Working Committee, NWC at its 338th meeting yesterday, a statement issued by the  National Publicity Secretary, Chief Olisa Metuh stated.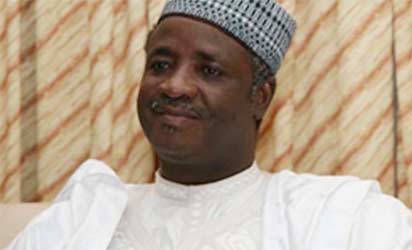 Wamakko is the second governor to be suspended in two weeks by the ruling party following penultimate Monday's suspension of Governor Rotimi Amaechi of RiversState. Wamakko is a strong ally of Governor Amaechi and had recently been touted as Amaechi's political soul.
PDP sources said, yesterday, that Wamakko had serially flouted party orders and instructions and had continuously flouted invitations issued by the NWC the latest being an invitation to attend yesterday's meeting.
However, sources disclosed yesterday that Governor Wamakko travelled out of the country on Tuesday, a day before the NWC meeting. A PDP source, however, pooh-poohed that excuse saying that the governor travelled out of the country after he got the invitation from the NWC. "We have evidence of the receipt of the summons so, who does he think he is deceiving?" a senior party source in Abuja told Vanguard yesterday.
The party statement issued at the end of the NWC meeting stated thus: "The National Working Committee (NWC) at its 338th meeting held on Wednesday, June 5, 2013, extensively discussed the state of the Party across the nation and its members as well as the repeated breaches and disregard to the Party's Constitution by his Excellency, Dr. Aliyu Magatakarda Wamakko, the Executive Governor of Sokoto State.
"The NWC notes that on several occasions, Governor Aliyu Magatakarda Wamakko had ignored invitations and lawful directives of the NWC in this regard and has continued to show complete apathy to the affairs of the party and contempt to an organ of the Party.
"Consequent upon the refusal of the Governor to honour yet another invitation by the NWC to appear before it today, Wednesday, June 5, 2013 without any reason, the Committee, in exercise of the powers conferred by Articles 57 (3), 57 (7), 58. 1(c ),(h), (f) and 59 (1),(2), hereby suspends the Executive Governor of SokotoState, Dr. Aliyu Magatakarda Wamakko as a member of the party and refers the matter to the appropriate disciplinary committee of the Party."
"This is in furtherance of the determination of the leadership of the Party to enforce discipline at all levels within the Party."