By Dapo Akinrefon
…Says Buhari, Tinubu have made sacrifices for merger
ALHAJI Lai Mohammed is not new when it comes to criticising Federal Government policies. As the National Publicity Secretary of the Action Congress of the Nigeria, ACN, he ensures his party is a strong opposition voice in the country. In this interview, he says though expectations from the proposed All Progressive Congress, APC, are high, leaders of the merger will not let Nigerians down. He explains that General Muhammadu Buhari (rtd) and Asiwaju Bola Tinubu, leaders of the ACN and Congress for Progressive Change, CPC, respectively, have made sacrifices in furtherance of the merger.
Excerpts:
What inspired the book you just launched?
I did not set out to launch a book. I set out to make public intervention via press releases, interviews on behalf of my party because, from 2006 upwards, whether it was ACD, whether it was AC or ACN, we take seriously our role as an opposition political party in the country. Even at a time when, in terms of dominance in government, we were not really the main opposition party, we still believed that we needed to be heard, we wanted to keep the government on its toes; we needed to make issues out of non-issues as a responsible opposition party.
If you remember, in 2006, we were not, by any means, the dominant party because we had only one state; that was Lagos; ANPP had about five states and, by 2007, we had only one state, PPA had two and ANPP had five. But even then, I am happy to say we refused to be part of the Government of National Unity because one of the important roles of the opposition is to refuse to be drafted and absorbed by the government of the day.
You will remember that the idea of the Government of National Unity was well touted and promoted under the late Umaru Yar'Adua. It was quite tempting especially for a party like ours that had only Lagos State. But I thank God and the leadership of our party that we refused and became an opposition party than becoming part of the Government of National Unity. Fortunately, from that one state, we got our mandate in the courts and won Edo, Ekiti and Osun; and, by the end of 2010, we already had four states and we became unarguably the major opposition party.
Therefore, what I did was to issue press releases intervening, giving the position of the opposition, analysing government acts. But, over time, people came to me and said it was important I put all these in book form; that started about a year ago. We were quite surprised that we had done so much work over such a long period of time and it covers a wide range of issues such as rule of law, equity and justice, role of the judiciary, electoral integrity, roles of the military and policing a democracy.
Some weeks ago, your party adopted the All Progressive Congress, APC, as its new political platform, people will like to know what is new about the opposition. Wouldn't it be wise to abandon the business of opposition should this APC experiment fail; or what do you think?
We did not form ACN because we wanted to be in the opposition, we formed the ACN because we wanted to be in government. But having first formed the Alliance for Democracy, AD, Action Congress, AC, and ACN and we are going into the APC, it is because we have come to realise that in our own clime here where we have bad governance, where there is poverty, opposition parties standing alone, on their own, will simply die. We have facts to show this. In 1999, the two opposition parties then, APP and AD, had fifteen states; by 2003, the two of them combined had only eight. By 2007, it got worse, AC had one while the ANPP had five.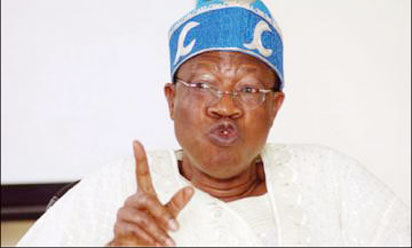 So, it was clear to us then that if we did not come together, we would go into extinction. In a country where there is poverty, the first casualty is integrity, people can no longer vote according to what they believe. So, we came to the conclusion that if we must dislodge PDP, we must come together. We decided to approach other opposition parties, we started it in 2006, but it did not work, we tried again in 2010, it still did not work. But the difference in this one is in three-fold. Firstly, this is the first time in the history of this country that there is going to be a merger. All we have been trying before had been alliances and cooperation.
Secondly is the fact that this time around, it appears that there is a meeting of minds and a consensus among the major political parties that the time is ripe. We started in good time and I am happy to say that as of today, that wheel of progress is irreversible. Within a month of these conventions, INEC will give us the go ahead to become APC.
Now, if you are telling us that if it does not work, we should abandon it. If it does not work, we are not the one to suffer for it but Nigeria because I do not see how we can continue in the corruption and ineptitude that goes on everyday. You want us to suffer again for another four years after 2015?  That is why we say that our mission is to rescue Nigeria. It is not about me, Tinubu or Buhari.
Some people are saying this merger would still run into stormy waters when the time for presenting candidates for election comes?
Nobody has ever said the merger will go on smoothly without any challenges. But so far, we are glad to say that Nigerians did not give the merger a chance. I remember the doom sayers said we will not agree on a common name, we did; they said the logo issue was going to scatter us, we came up with a common logo; we have the constitution, a manifesto and we have met INEC's requirements. The beauty of it is that all the decisions were agreed upon without ever resorting to votes, it was always through consensus.
We are confident that God, knowing what our real motives are, will also help us through the issue of nominations. Everybody knows that nominations and selection will unravel the merger and, not only that, it is going to have weight because I know the sheer amount of work that is going behind the scene, the sheer amount of confidence building and the huge capacity for sacrifices from the promoters of this merger arrangement.
Can you confirm that Buhari and Tinubu have agreed to bury their ambitions?
This is not about Buhari, it is not about Tinubu. Let me tell you that the history of Nigeria will be incomplete without the mention of these two gentlemen. I can tell you the sacrifices they have made to get us this far, but when we get to the issue of who is going to run or not, we will cross that bridge. You are not going to ambush us here because politics is not like that, it is very dynamic. Two years to election is too long for us to start committing ourselves.
The PDP in Lagos State has alleged that it was robbed of victory in some local governments in recent polls. How do you react and do you think the PDP can wrest power from the ruling ACN in 2015?
Generally, I don't respond to issues emanating from the states because, basically, under our constitution, each state has its own executive and they have their own spokesperson. But what I know about elections is that there is nowhere in the world where they don't give room for the aggrieved party to challenges results of elections.
The PDP was given the opportunity to state its case. I think I will leave it to the courts to decide whether anybody was robbed or not robbed. As for the chances of the PDP in Lagos State, I can say that they have little or no chances at all. What are they going to tell the people? Is it what they are doing at the federal level? Is it the corruption or the insecurity? What are they going to tell Nigerians that they should prefer them to the ACN? Lagos State in particular has witnessed phenomenal transformation in the last 12 years. Can the PDP say the same thing?
You keep saying Jonathan has not done anything since becoming president. Many people will disagree with you on that. Is it possible for a president not to have done anything in over three years and there would be no Arab-style revolution?
I want you to show me in Nigeria or tell me, given the resources available to us in Nigeria, given the abundant resources at our disposal that he has done a lot to merit commendation. What are the resources available to us? What we lose in oil theft is about 200,000 barrels per day – that is equivalent to the oil production of Gabon. That will show you the kind of resources we are wasting.  No president has been given the kind of overwhelming vote that they claimed in the last election. Today in the National Assembly, PDP has over 60 per cent of all the members, so what prevents them from running a good government?
Now, for those who want to tell us that Jonathan has done well, is it in the area of security? We are talking about insecurity, Boko Haram and unemployment. Everyday our tankers, due to bad roads, roast people like chickens, our roads are unsafe; the education system has gone down. Now, tell me which area you can score the president high? Look at the SURE-P programme, what are they doing with it? They are sharing it. Many people do not understand this SURE-P. What we call SURE-P today is actually what the government is supposed to make by increasing the pump price of fuel.
When the money is made, it is divided: 52 per cent goes to the Federal Government, 28 to the states, 10 per cent to local governments. The money collected for intervention is given to PDP agents and we have been able to prove that in eleven states, the so called coordinators of the SURE-P are the same coordinators of the Jonathan campaign in 2011 and nobody has faulted us so far. Tell me where anybody should applaud this government.
Why did your party deem it fit to support amnesty for Boko Haram?
Long before anybody, we understood the whole phenomenon of the Boko Haram insurgency. For you to treat a disease, you must understand the disease itself. What is Boko Haram itself? Boko Haram is the local reaction of a people who perceive injustice, hardship and corruption and bad government in their own locality. They started by fighting corruption, but why don't we look at the causes of Boko Haram rather than the way Boko Haram is being manifested?
Unfortunately for the government, they presented Boko Haram as a Muslim conflict, of course it is not. I can tell you too that most victims of Boko Haram are Muslims, how do you justify that? Anybody that says Boko Haram is a North and South dichotomy is incorrect because for months, Boko Haram never struck outside the North. We seem to forget that the catalyst to this Boko Haram, which was the extra-judicial killing of their leader Yusuf, took place under Yar'Adua and not under Jonathan.
Now what do you do if you have an insurgency in your own country, you need to talk to them. For more than 18 months, we have advocated that government needs to engage the Boko Haram, we had not even spoken about amnesty then. Let us know what they are asking for. It is sad for anybody to take an extreme position and say we are not going to talk to extremists or terrorists.
It is on record that we in the ACN, when we had similar situation in the Niger Delta, we were the one to first advocate for the creation of a Niger Delta Ministry. For more than two years that the Boko Haram insurgency has been on, have we been able to solve the crisis? Until we start looking at Boko Haram from an impersonal view, either as a northerner or as a southerner, we will not be able to solve the problem.
How do you see the contracting of pipeline security to individuals in the South West?
It is completely wrong. We in ACN disagree with the intention of the Federal Government to give a multi-billion naira contract to monitor pipelines in the South West to a particular organisation on the grounds that we know also that the intention of government is to ask that organisation to use the proceeds of that contract to promote a rival political party in the South West.
Not that alone, under that scheme, about 35,000 youths will be employed ostensibly to monitor the pipeline, but will be ready hands in 2015 to destabilize the polity. So, we came and said that is wrong. Any Nigerian has the right to be given a contract anywhere; any Nigerian also has a right to form a party, but when government now gives one group a contract for the sole purpose that they use the proceeds to form a political party and also use the proceeds to destabilize the polity, we say no. People have forgotten that more than two years ago, our party also protested to the handing over of the maritime economy of Nigeria to Tompolo's company.
What we are saying about Dr Fredrick Fasehun is not that he has no right to be given a contract or that he has no right to promote a political party. What we are saying is that if we get no money from the Federal Government to fund our party, then the Federal Government cannot use our resources to destabilize us. That is our position. They said after all the Niger Delta militants have been given contracts, we said yes but they have not formed political parties to destabilize us.
Do you still have confidence in INEC?
No. No matter the intentions of INEC, until they introduce bio-metrics that will eliminate multiple voting and give integrity to our electoral system, we won't trust them. It is not about the person of INEC, we must assist them by giving them the right instrument to conduct elections. We are going to campaign vigorously that bio-metrics that will make sure that it is Lai Mohammed and my finger print that is voting and that, if I vote twice, it will be cancelled.