Aloy Agu is a name that needs little introduction to followers of Nigerian football. He  is a former Nigeria number one goalkeeper and captain. Aloy is now a goalkeepers' trainer with the national U-20 national the Flying Eagles.
The former international was spotted by Jacob Ajom at the team's camp in Oran, Algeria, recently where the Flying Eagles campaigned in the 2013 African Youth Championship. In this brief chat, the former goal tender recalled some memorable days of his illustrious career. Excerpts:
How did it all start?
Football and in deed, goalkeeping runs in the family. I had an uncle, Vinginus Agu who was a goalkeeper and another of my uncles was a player, his name is Sylvester Agu. The one that was a goalkeeper, who is late now, always took me with him to the stadium to watch him play whenever he had a match. So I developed interest in playing.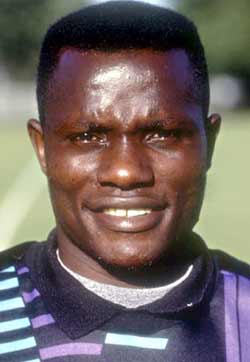 As time went on, I started playing for my Primary School. Throughout this period I was a field player and in one of those occasions, our goalkeeper was injured and my coach said, 'Aloy, why not go in there and keep?'
Then I went in. As the game was going on, a shot was taken and it was deflected. I was able to follow the deflection very well. From that moment, the coach told me that 'you can keep as well as play. That was how my story began.
What was the name of the coach?
Ah! It is a long time ago; in my primary school days. All this happened in Imo State. From there I started playing for the school's team. Then I moved to Lagos where I also started playing for my Secondary School when I also got the opportunity to play for Bata which was a team in the Ikeja League. From Bata, I went to Coop United(Cooperative Bank), also in Lagos.
While there, we played a game against ITT Waves. Then they called me and I started playing with them. From ITT which was Abiola's company, I was invited to Abiola Babes of Abeokuta. It was M.K.O. Abiola (May his soul rest in peace) who invited me to join Abiola Babes from ITT. I had just finished my secondary school and I wanted to stay in Lagos so I rather signed for NEPA  of Lagos. From NEPA to ACB also of Lagos.
From ACB to BCC Lions of Gboko. While in ITT I was invited to the Flying Eagles in Bembo Games Village. From there we went to play the ECOWAS Cup, which was called the Shehu Shagari Cup, which we won at the National Stadium with Ali Jeje as the captain.
From there we went to qualify Nigeria for the Moscow '85 World Cup. We were the African champions in 1984. We beat Tunisia 2-1 in Nigeria and played 1-1 in Tunis and we qualified for the World Cup. We came back from Moscow with a bronze medal. From there we were drafted to the Green Eagles.
All the players that featured in that tournament were drafted to the Green Eagles. In 1986 we went to Monrovia for a tournament and there we started discussing about which name should be given to the Green Eagles as we have never seen an eagle that is green in colour. Coaches Hamilton, Salami and Tunde Disu were all there.
So we all decided that the name of the national team be changed to the Super Eagles. We made our suggestions to the authorities. And during the reception for the Eagles after Maroc 88 where Eagles won silver , then vice Augustus Aikhomu announced that Green Eagles will now be called Super eagles.
There was this memorable match you lost a tooth while keeping for Nigeria. Can you recall the incident?
It was a Nations Cup qualifier against Ghana in Kumasi. I was right up in the air and all my focus was on the ball. Because the Ghanians were bent on scoring against Nigeria, they tried everything to no avail. Appiah left the ball and came straight at me. We collided mid-air and that was it.
I had to endure it and finished the game because we had already exhausted our changes and there was no way any other player could be changed. And, to the glory of God, we qualified for the Algiers '90 Nations Cup.
How did you feel at that moment you had that collision with Appiah?
I felt the normal pain every other person would go through. I was really in pain. I also had in mind that there was a game going on; not just any other game but a match between Nigeria and Ghana – two arch rivals, a rivalry that is as old as the history of the two nations, so I had to persevere and put up with the pain. And Dr Akin Amao was very very encouraging. He gave me words of encouragement and I continued the game to the end. And that was it.
In your entire career, which match has been your most memorable match?
There are so many. But all I can say the day we defeated Mexico 2-1 in Baku Soviet Union to qualify for the semi final of Moscow '85 FIFA World Youth Championship and I was declared Man-of-the match.
The day Nigeria qualified for the World Cup; there were so many wonderful moments in my career, like the day we won the match between the African champions against the Asian champion Azerbaijan as I was in goal and captain of the team; like winning the Nations Cup for the first time outside the shores of this country, lots and lots of memorable occasions.
What is your advise to budding players who want to achieve like you?
My advice to the younger ones is to know God, believe in God, trust in Him and put God first in whatever they are doing. They should be committed, dedicated and work hard, be disciplined and remain focused and determined. Then, they will excel in whatever they choose to do.
There is this accusation against the present crop of Nigerian players that they put money first before the nation. And that they are not as patriotic as you were in your days? Do you agree to this?
No. No. No. I don't believe that players of nowadays are only after money. Football today is all about money. Gone are those days we played football for the fun of it. As for me when I was playing I just wanted to play and I loved to play for Nigeria.
Now football is about business and there is a lot of money in the game. So, players are always asking for what is their right. Whatever is the right of the players give it to them. Football is a massive, massive business where some people are earning 250,000 British pounds a week.
I am talking about a week, not a year or a month; just for one week someone earns 250,000 pounds. That is a lot of money. So, I wouldn't say players of today are after money. All I would say is that it is a generational thing. This is their generation so they have to move along with it.
Subscribe for latest Videos