By Uju Mbanusi
34-year -old  Babatunde Akinremi, a car wash operator around St Finbarr's road Akoka, Lagos, has raised alarm over what he described as false allegation and alleged threat to his life by his landlady, over an issue he claimed he did not know anything about.
The car wash operator  who was docked before the magistrate court Yaba , over a case of theft , pleaded not guilty to the charge, insisting rather, that he was merely being  victimized.
He was accused  of stealing an iron rod at the car wash . Trying hard not to betray his emotion, Akinyemi told Crime Alart  shortly after the court session that  trouble  started in 2008, following a petition written against him by authorities of  CMS  Grammar School Authority.
According to him, " the Lagos state government asked me to vacate the premises located at Number 109, St. Finbarr's road,  Akoka; where I used for my car wash business. I called my Landlord, who let out the place to me to intervene  but when  he got to Alausa, he was asked to produce the Certificate of Ownership of the said premises, only for him to come  back and told me to go and sort whatever  problem I was having with Alausa people, there  was a demarcation on the piece of land, signifying where their's ends.
A week after the incident, the Lagos state government came  to plant flowers  there. And  for  six months, I did not  work. They further advised me to go back and settle my case with the school, that it was the school that wrote a petition against me, since the piece of land belongs to them .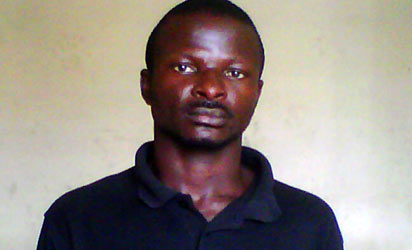 In 2009, I went to the school authority to plead with them. We held a meeting and I was told that as an old student of the school, I could make use of the premises on three conditions: firstly, that I keep the premises clean, secondly, that I clear the drainage at all times and the third condition was that at anytime they needed the premises, I would vacate it. I agreed to these terms and resumed my car wash business".
But barely had i resumed work than one of my former landlord's  sisters,  Olubunmi Fashida started troubling me, that I should go and pay the sum of N200,000 into an account as payment for two year rent. After much ado, I paid the sum of N130,000  at the insistence of her elder brother in June 2011. but to my surprise, four months after I had paid, (2012), she came and started making trouble with me. And anytime she starts,she will throw all my car-washing equipments into the gutter in front of the premises; I also have pictures as evidence to this effect", he said.
Police harassment
However, this time , she went to Bariga police station and invited  the police to forcefully move me out of the premises that the water from the car-wash was weakening the foundation of their building. I was arrested, taken to the police station, with the police forcing me to write an undertaking not to be seen loitering or come any where round the  premises and  that I should also, not threaten Olubunmi, which I did.
But before packing out,my father volunteered to come and speak with Olubunmi on the issue.  But immediately she sets her eyes on him,  she stood up, grabbed his shirt, tore it and called in the police, alleging  that my father  brought charms to her shop.  After considering the whole trouble the car-wash issue has caused me, my father advised me to leave everything to God and get a new place . I finally left the premises on 20th April, 2012,only for her to set up a car wash of her own there.
Theft allegation
His movement however, did not provide the needed succor as Olubunmi who insisted on getting back the N130,000 rent he claimed to have paid to Olubunmi as two years rent., took the  case to the Bariga Mediation centre,where Olubunmi as gathered, said the amount for payment for Akinremi's outstanding rent.
But the whole matter took a different dimension, following the invasion of Akinremi's new shop by some  policemen .
"I was surprised when I returned home from work on Thursday, May 7th 2013, and was told the police came to look for me. I went to the station only to be informed that   my former landlady came to lay a complain against me, that since I left the premises, she has not had peace, that both the Lagos state government and school authority has been on her neck to vacate the premises. And that an iron and a covert she placed at the premises were missing  and I am the prime suspect. I was detained for a night. Again, I begged her to leave me alone and to forgive me if I had done her wrong.
Again, policemen came on may 15 to invite me to the station, only to take me straight to the court, over an offense I know nothing about. Since I left that place last year, I had neither gone there nor set my eyes on my former landlady", he said betraying his emotion.
When Crime Alert  visited the car-wash premises to get the defendant's side of the story, Olubunmi Fashida told our reporter to go see her lawyer, that she did not have anything more than what is in court to say concerning the case. Efforts to reach to her lawyer whom she said lives  some where around Sura area of Lagos Island, proved abortive as she refused to give out his contact.
The accused was however, granted bail in the sum of N100,000 and two sureties in like sum when the case was adjourned to a later date.