By Uju Mbanusi
This is certainly not the best of times for the Bournes' family  which is currently  mourning following the alleged killing of Olayinde Bournes',  by her boyfriend,last Thursday, in Aguda Ogba area of Lagos.
The deceased, a 22-year-old par time student of the  Lagos State Polytechnic, was allegedly beaten to death by her boyfriend over an unknown reason.
Crime Guard gathered that the 200 level  Business Administration student had gone to bid her boyfriend, Abuchi Cyril, 24, goodbye , as the latter was reportedly planning to travel to Malasia next day (Friday), unknown  to her that would be her final sojourn on earth.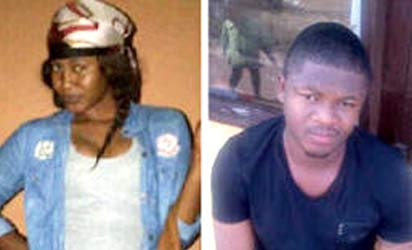 Although it could not be ascertained what transpired between the love birds behind closed doors but it was gathered that rather than being entertained in his parents' apartment located on number 25 Shorimade Street, Aguda Ogba, Abuchi took   Olayinde to a neighbours apartment, who at that time was away.
But apprehension, set in, after several calls on Olayinde's phone by her father, met dead silence. Just as he  reportedly stepped outside to see if his daughter was anywhere around, he met some persons in group discussing what was later discovered to be her daughter's demise.
During a visit to the late Olayinde's family's house, her devastated father who offered to speak with Crime Guard  said, " I was at home around 11am that fateful day while  my late daughter  was outside the house  with her mother,  all dressed up. I later  walked up to them and asked when she would be going to work. And she  said  she would first  go to the bank to submit her account opening form which would enable her receive her monthly salary because she was just employed by   Cadbury Plc. Satisfied with the answer, I went back inside to rest because I haven't been feeling very well for some time.
" I later learnt that she told her mother she would first go and see her boyfriend  Abuchi, who  called her earlier to come and see his travelling  documents, as he was supposed to  travel next day to  Malaysia.  That was the last we saw of her.
"At about 12:25pm, I dialled her number. It rang but there was no response. I called again around 12:30pm, it rang  and still no response. Later, the phone was switched off. I and my wife became  worried at that point  because we could not say what was wrong with her.
At about 4pm, I decided to stroll round. But  when I got outside, I noticed a crowd which turned towards my direction  but noone spoke to me.  Confused, I went inside  and told my wife about  what I observed.
Later I sent her to go and purchase some ingredients  to prepare super. When she came back, she also told me the crowd stared at her also. Just as we were contemplating on what to do, our fears was confirmed as a young man among the crowd rushed inside and yelled ' it has happened o!  When we demanded what the matter was, he broke the  news   of my daughter's demise. At that instant, my world was  shattered. He also told us the corpse was just brought to a nearby hospital. I rushed to the hospital with the hope that I would see her alive. But no, I only saw her remains.
Tell me, should I start preparing towards having another child at this age?", he asked , trying hard not to betray his emotion.
What went wrong?
Abuchi as gathered, was arrested by policemen attached to  Area 'G' Ogba, command, from where he was  transferred to the State Criminal Investigation Department SCID, Yaba. In his statement to the Police, he reportedly said while he was with Olayinde, she suddenly screamed 'my head',  before she slumped.
But findings by the police as gathered, revealed that the mattress in the room where Olayinde's dead body was found was socked with blood. The mattress was reportedly turned upside down before the arrival of policemen. But during a search of the apartment ,blood , suspected to be from Olayinde, was discovered under the bed and later traced to the mattress turned upside down.
Another puzzle that  needs to be unravelled was the report that a nurse was reportedly invited by Abuchi while he was with Olayinde. A resident who pleaded anonymity told  Crime Guard that :" We suspect  there could be more to all this than meet the eyes. First, the corpse was inside the room three hours before it was taken to the hospital. Why did it take him that long to rush her to the hospital? Abuchi even called in a nurse while he was inside with Olayinde. The nurse we learnt, carried out some treatment on Olayinde.  What went wrong that made him invite the nurse?  She was even the one that accompanied Abuchi to the hospital where she works, with Olayinde's body. It was when Olayinde was pronounced dead that she bolted, pretending she was going to get a taxi", the resident said.
The nurse with an undisclosed identity was reportedly arrested by the Police and  later released, an action the bereaved family queried. The deceased's phone as gathered, was also discovered to be missing.
Police sources hinted that some finger marks were discovered on the deceased neck and her camisole stained with blood. But sources could however not state exactly what led to the death of Olayinde, until the autopsy result will be out.
A Christian wake was held at the deceased apartment, located on  17, Muibi street Aguda Ogba, Thursday, while her remains was interred Friday at Atan cemetery, Yaba.