By Ishola Balogun
As a demonstration of modesty and obedience to Allah, Muslim girls and women wear head coverings called "hijabs," particularly when in public. Q24:30–31. For Muslims, wearing a headscarf is not only about religious expression, it is strictly religious obligation; and if the constitution freely provides for freedom to exercise one's faith according to section 38 (1) of the 1999 constitution, then where lies the tolerance so claimed by non-Muslims?
A couple of years ago, the administration of Governor Fashola outlawed flogging, beating or physical torture of students in schools and apprentices in workplaces, there were commendation that it was one of the progressive and profoundly humane steps towards ensuring sanity in the society especially in cases of abuse of children.
The Principal of Kadara Junior Grammar School, Ebute Meta, Lagos has been in the news for a couple of weeks now over alleged flogging of one of her students, Miss Aishat Alabi, a 16-year-old student for daring to wear hijab after the official closing hour. She was said to have been flogged 43 times as disclosed by one of the students: "At about 4pm on that day; we had closed before we heard that there was an emergency assembly.
"The principal addressed us and warned that if we didn't stop putting on religious outfit during the school hours, we were going to get into trouble. She subsequently called on Aisha and gave her about 43 lashes. Some of us started crying on the assembly. Her body was covered with marks of the cane. The principal had warned us before, but that day was more serious," she said.
Two things are fundamentally wrong. One is the denial of Miss Alabi's right even after the official school hour against the provision of section 38 (1) and (2) of the 1999 constitution. Secondly a breach of "The Criminal Law of Lagos State 2010" which provides prison terms on anyone found guilty of  beating or flogging of children. Under this law, it states that striking any adult /young person with a stick or other weapon constitutes a violent criminal offence for which jail sentences can be imposed after a fair trial.  The House which instituted a probe into after so much public outcry is yet to submit its report.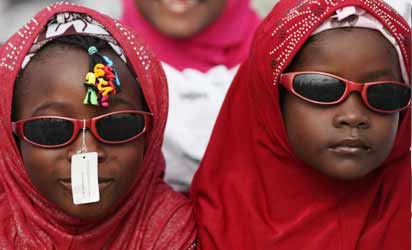 This is just one of the cases of undue persecution of young Muslims in muslim minority environment, especially amidst bombings and killings in other parts of the country.
Recall the story of Nashala Hearn, an American kid who wore hijab to her school. A couple of years after the September 11 attack on the United States of America,  Nashala Hearn, 11 years old then,  was suspended twice for wearing hijab to school in Muskogee, Oklahoma. The Benjamin Franklin Science Academy school authorities claimed it violated their dress code, which she attended.
After wearing the hijab to school for several weeks, Nashala was told by school officials that her headscarf conflicted with the school's "no hats" policy, and that she could not continue to wear it.   She and her parents told school officials that wearing the hijab was required by her faith and that she could not stop wearing it.
Her parents filed a suit against the Muskogee School District and Civil Rights and government lawyers supported her.
After the legal battle, Nashala Hearn won the case with a ruling that she can wear a head scarf to school as part of her fundamental human rights. The court also requires the Muskogee Public School District to change its dress code to allow exceptions for religious reasons.
This same way, Muslims in Nigeria are beginning to face various kinds of hatred, discrimination and persecution; a subtle way of condeming the religion amidst the barbaric and heineous act of the Boko Haram members which has no religious underpinning.
I say without equivocation that children should not have to choose between following the requirements of their faiths and their right to a public education. It is their fundamental right to exercise their faith just as they have the right to education. Government must then as a matter of urgency rise to this challenge in order to stop this subtle fundamentalism.
Students should not face discrimination or harassment because they exercise their faith, beliefs, religious expression, or distinctive religious dress.
We know that there are private schools where students are dismissed for not carrying a bible or attend a church service while in school but this kind of fundamentalism should not extend to Public schools.
There should be mutual respect for both religion, Islam and Christianity are not competing for identities. What Muslims demand is their right to freely practice their religion as entrenched in section 38 (1) of the 1999 Constitution.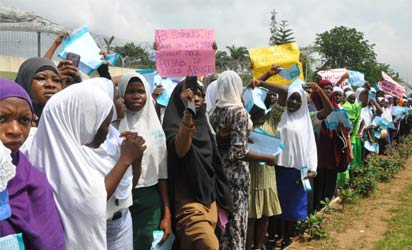 Aishat Alabi: MICA urges Fashola to intervene
The Movement for Islamic Culture and Awareness (MICA), an association of Muslim professionals and undergraduates, lent its voice on  a 12-year-old student, Miss Aisha Alabi, who was flogged 43 times by the Principal of her school for wearing hijab after school hours.
The association through its secretary, Sulaiman Olokodana made a four-point request which include immediate investigation of the matter to ensure that justice is done under the 1999 Constitution and the Laws of Lagos State; review of all administrative policies and programs that inhibit religious pluralism; consult with and convey a summit of faith leaders to identify and address the concerns of various groups; and take practical steps to uphold and facilitate the multi-religious status of Lagos State and implement/enforce programs and laws that protect vulnerable people from abuse and discrimination.
MICA urged Governor Fashola, his deputy, Adejoke Orelope-Adefulire and the Attorney General of the State, Mr. Ade Ipaye including all stakeholders to act without delay in bringing justice to bear on the issue.
Boko Haram is the creation of govt—Muyideen Bello  
Erudite and international preacher, Sheikh Muyideen Ajani Bello lampooned the federal government over the activities of Boko Haram which has remained intractable saying that the terrorist group was a creation of the government itself.
He made this assertion at the Fidau Prayer for Late Ahmoullah Folorunsho Fagba/Maolid Nabiyyi organised by Ahamoullah Isalmic Group recently.  The occasion which was held in Oreta road,  Lagos, drew a list of Islamic scholars from far and near.  Among them were the Chief Imam of Ikorodu, Sheikh Seifudeen A. Olowooribi, Sheikh Lukman Al-Mubarak, Imam of Ansar-Ud-Deen, Igbogbo, Sheikh Kalejaiye of Aenur-Rahma among others.
Feilding question from Vanguard, Sheikh Bello who refused to elucidate on the amnesty being canvassed for the Boko Harram group said: "it is government who created Boko Haram and they should find a way of ending the menance."
Extolling the virtues of the late Fagba who died four years ago, the renowned scholar said Sheikh Fagba was very steadfast and followed the tenents of the religion to the letter:  "He did not fight with the non-Muslims, he was very tolerant, his relationship with God manifested so much that he was so much sought after for supplication to God for immediate result. But we cannot see this kind of people until after 50 years and this is simply because people have refused to follow the way of God," he stated.
The chief host, Sheikh Ishaq Folorunsho Fagba, the Founder of Hamoullah Islamic Group and son of the late Scholar said it was not difficult getting the presence of great scholars for the annual prayer of his late father and celebration of 1434AH Maolid Nabiyyi because  they had good relationship with his late father.