By Dele Sobowale
"Every  governments is run by liars and nothing they say should be believed" I.F. Stone (VANGUARD BOOK OF QUOTATIONS p 80).
The easiest racket to run in Nigeria today concerns job vacancies. Either by posters, or through adverts in newspapers or by word of mouth, scammers smile all the way to the bank offering jobs that oftentimes don't even exist. Governments and their agencies account now for the lion's share of this growing and lucrative crime.
The scam started a long time ago; but because only a few people were involved at the federal level, it went unnoticed. Job applicants were required to pay for application forms and again to pay to attend interviews from which very few got the jobs.
At the state level, the most notorious was the Imo State scam under Governor Ohakim – when applicants were asked to pay N10,000 to collect forms to undertake aptitude tests which would then be used to determine those to be engaged. I recollect calling one of Ohakim's Senior Advisers, a respected colleague, to ask what was the reason behind what was obviously a great swindle given the number of applicants unlikely to get a job.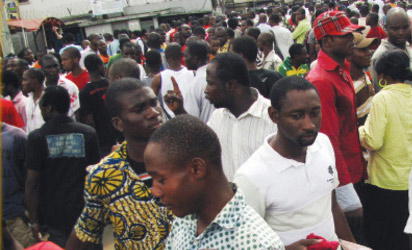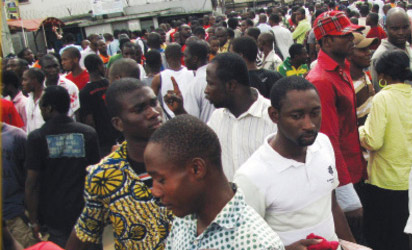 His reply was so shocking, it took me weeks to get over it. Listen to him; "Do people expect to get jobs for nothing? After all they will be paid afterwards." When I pointed out that not every applicant will be employed, he flared up, "That is the chance they have to take."
Till today, nobody has given a full account of how much was realised from the swindle and how much was paid into the state's account. Even the "lucky" few were, at first lured to appear at a campaign rally dressed in T-shirts – before any job offer was made.
Bearing in mind that the N18,000 per month minimum wage was then very likely possibility, what Ohakim was proposing amounted to adding NI80 million per month, or N2.16 billion per annum, to the state's already heavy wage bill.
What was most baffling, about this bird-brain idea, was the fact that anybody visiting any Ministry in Imo State at the time, would observe hundreds of idle civil servants running down the clock everyday. Where, then, was the work for the 10,000 to do?
Perhaps, something might have been done, something ill-advised undoubtedly, if Ohakim had been given a second term. His failure to secure the return ticket immediately placed the new recruits in danger. Most have since been retrenched. Meanwhile, the lucky consultant or collaborator in the scheme, was immensely enriched.
The first hints that the Federal Government scam had got out of hand came to me two months ago. An unemployed graduate sent me a text message asking for assistance to pay for a slot in a ministry where vacancies existed. The sum was several hundred thousand naira – which I was promised would be repaid in less than two months because "The post is a lucrative one" – those were the exact words used.
A few days after the first one, another one call was received asking for assistance to secure appointment in another security outfit; and again with the promise to repay in a few months. That prompted me to undertake some checks. First, I went to find out if there were indeed vacancies in those government outfits. Second, I wanted to know what the starting salaries would be for the applicants seeking my assistance.
The discoveries were as startling as the Imo scam turned out to be. In one, there were, indeed, vacancies, but all the "BIG" people in Abuja and the ruling party had sent in more names than there were vacancies. In the second, there was none. Yet, the heartless officials were still milking poor unemployed fellow Nigerians promising jobs that don't exist.
This sort of depravity is only possible in state and federal civil services where the Heads of Service have long since lost grip of the organisations under them. Where were the Heads of Service at Imo and the Federal Government when all these atrocities were being perpetrated?
There could have been some excuses if we were confronted with "a few rotten mangoes in a basket"; but here everywhere in Nigeria, we are faced with a situation in which no state or Federal Government is clean.
As this column is being written, the PUNCH on January 30, 2013, pages 60 and 61, carried the pathetic story of doctors in state governments nationwide. Although, the report, by Bukola Adebayo, was titled Lagos Doctors Leaving for Saudi, Israel, it went beyond the plight of doctors in the Centre of Excellence.
A statement by one of the doctors was heart-rending. According to her, "The politics involved in recruiting doctors into state government hospitals is very dirty. After my programme in LUTH, I was not retained." Ordinarily, if the accusation was made against a non-progressive state, one would have been beating one's chest that "It can't happen here in Lagos." However, because the focus was on Lagos State, it left one wondering like, Geoffrey Chaucer, 1342-1400, "If gold rusts, what then will iron do?" (VANGUARD BOOK OF QUOTATIONS p 78).
The point needs to be made, repeatedly that governments alone cannot create all the jobs needed by the unemployed. What governments can do is to create a few jobs and then create the environment which will promote private, especially, small, medium and micro businesses; which are the ultimate employers of labour. Unfortunately, virtually every government in Nigeria, at state or federal levels had declared war on "one-man" enterprises; they have also made it almost impossible for small businesses to grow. Let me explain how.
Power supply is one issue which we cannot stop mentioning until the issue is laid to rest. In no other nation in the world is the responsibility for power generation assigned to the Federal Government alone. ECN, NEPA and, now, PHCN were organisations suited for the dark ages which included 20th Century Nigeria.
We should have realised, more than 50 years ago, that centralising power generation was not in the national interest; neither would it support our collective aspirations to be a great economic power. Centralisation has meant that everything shuts down at once if there is a hitch in power supply.
It was stupidity in the 1970s; it is economic lunacy now; and will be more insane in the future. Unfortunately, Jonathan and the state governors, all lost souls, have not yet realised that there is no point in rowing harder if your canoe is headed for a waterfall.
Let us remove Lagos from the national grid and give it to three or four private power providers and suddenly one state will soon be enjoying the elusive uninterrupted free power supply. Then, the jobs we talk about can be created – not before.
Banning motor-cycles or okadas, with short notices given, by state governments, has now become the fad. The reasons adduced are, basically, the same: they promote crime and they cause accidents. On the first charge, which is partially true, the answer is simple. Look at the increase in kidnappings nationwide.
The few okada drivers who have engaged in crime have been allowed to sentence the vast majority, who are not criminals, to idleness of unknown durations. Second, the major sources of financial crime in Nigeria today are the Executive, the legislative and judicial branches of government as well as the Civil Services.
And the thirty-five governors (except Fashola) and their lunatic convoys have sent more people to their graves and run up medical expenses than ten thousand okadas. Fuel tankers have also ruined more lives and properties than okadas. But, nobody calls for all those to be banned.
The Federal and state governments are destroying more jobs than they create everyday. And some of the repercussions are with us.