By Charles Mgbolu
The Department of Pathology and Forensic Medicine of the Lagos State University Teaching Hospital, in an autopsy on late Nigerian pop star, Goldie Harvey, revealed that the musician died of 'hypertensive heart disease' which triggered  "intracerebellar haemorrhage.'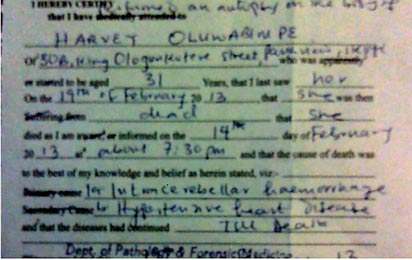 According to a statement from the late singer's music label, Kennis Music, the autopsy was signed by Dr. O.O Oyewole and has put paid to speculations that the musician died of doping complications, a suggestion her widower, Andrew Harvey, vehemently denied insisting that Goldie was never into drugs for all the years he knew her.
"Goldie never used drugs in the last 10 years I knew her and I was as close as you could get," he said.
According to Wikipedia, intracerebral hemorrhage, ICH is a subtype of intracranial hemorrhage that occurs within the brain tissue itself. Intracerebral hemorrhage can be caused by brain trauma, Non-traumatic intracerebral hemorrhage is a spontaneous bleeding into the brain tissue.
Symptoms include a rise in intracranial pressure which causes a severe headache followed by vomiting. Some patients may go into coma shortly after the symptoms arise.
It would be recalled that a statement from Kennis Music boss Mr Kenny Ogungbe after Goldie died clearly stated that she complained of a severe headache shortly after arriving the country from the US where she went to see the Grammys.
Hypertension, Diabetes, Menopause, cigarette smoking, Alcoholic drinks are amongst some of the causes of intracerebral hemorrhage.
Only a hand full of her closest pals may have known she was hypertensive. Goldie played a power woman in her short life as an artiste; she tried to hide all of her weaknesses.
The musician, who was a contestant at the last Big Brother Africa reality show passed away at Reddington Hospital in Victoria Island, Lagos on February 14.
She reportedly returned from the U.S. the previous day before suddenly falling ill and taken to the hospital where she died.
Subscribe for latest Videos