CALL him the man with the Midas touch and you will simply be saying the obvious.
The Minister of Labour and Productivity, Chief Emeka Wogu, has over the years built a strong reputation as one of the finest, efficient and patriotic public servants in contemporary Nigeria political sphere.
His commitment and uncommon zeal has earned him accolades and commendations in a Ministry viewed by politicians and stakeholders as volatile with regards to its mandate of mediating and conciliating in avalanche of industrial disputes across the country.
Serving successfully as a national mediator, conciliator and arbitrator amidst various varying conflicting interests and rights of employers and labour has distinguished Wogu as a tested bureaucrat, politician and a God-fearing steward.
The appointment of Wogu as Minister of Labour and Productivity by President Goodluck Jonathan was a well thought out strategy to achieve industrial peace, stability and harmony for the overall success of Mr. President Transformation Agenda.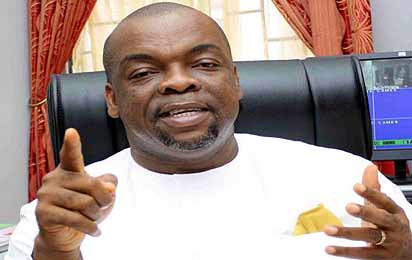 It is reasoned that industrial peace and harmony are essential ingredients for socio-economic growth and development.
Absence of these ingredients is a confirmation and manifestation of incessant strikes, lockouts, high rate of man day loss, series of industrial litigations, exploitation of innocent workers by unsuspecting opportunist, child labour, gender discrimination at the work place, social injustice and unfair labour practices, high rate of industrial accidents, amongst others.
His appointment is therefore a deliberate effort by this administration to bring stability, restore confidence among the social partners and affirm the dignity of Nigerian workers and employers.
Accolades for Wogu
Little wonder some prominent labour leaders have openly commended and applauded his leadership style, particularly in the handling of complex industrial disputes with potential of crippling some essential services and sectors.
The President of the Nigeria Union of Teachers, NUT Michael Alogba, in appraising the administration of Wogu asserted that "…without any attempt at 'sentimentalization', we put on record that yours has been a regime of preventive labour crisis management, rather than a curative one… '".
President of Agriculture and Allied Employees Union of Nigeria, Comrade Simon Anchaver, in a similar commendation appraised that "…the manner you have tailored the affairs of the Labour Ministry and workers in this country deserve our commendations".
His well articulated administrative approach and friendly disposition transcends the social partners to the National Assembly.
The cordial relationship between the National Assembly and the Ministry peaked when the current Chairman, Senate Committee on Employment, Labour and Productivity, Wilson Ake in passing a vote of confidence on the Minister affirmed that, "…Whenever there is peace and harmony, development is eminent, for Nigeria to move forward, the industrial sector must support the activities and policies of Government. I want to commend the achievements you have made so far in respect of your official responsibilities and encourage you to keep up the good work".
His patience and peaceful disposition has endeared him to the social and major development partners. Social justice and fairness on employment and labour related matters require a listening and patience arbiter, a tactician and a seasoned negotiator per excellent.
Professional career
Chief Wogu was born on the 29thday of January 1965 and started his public career after his legal training at the then Imo State University in 1986, ( now Abia State University), the Nigeria Law School in 1987 and completed his NYSC in 1988.
He holds a Masters Degree in Public Administration, Master of Science in Political Science (Public policy Analysis).
Wogu is a legal practitioner, a member of Nigeria Bar Association, International Bar Association, Arbitration and Alternative Dispute Resolution, ADR, and Fellow of Paul Harris and Nigerian Institute of Management. He has a Certificate in Benchmarking Emerging Markets.
He was first appointed Minister of labour and productivity in April 2010 by the then Acting President of Nigeria and latter elected president, Dr. Goodluck Jonathan. He was once a supervising Minister of Interior from April to May 2011.
Political career
His political career started with his first elected position as the Assistant Legal Adviser of the defunct National Liberal Convention in the old Imo State in 1989.
In 1991, he was elected Vice-Chairman of the old Aba South Local Government Area of Abia State under the auspices of the defunct national Republican Convention and was subsequently the acting Chairman between March and early June 1993.
Later that year, he was made Chairman of the Aba South Local Government Council, a position he held until the military intervention in November 1993.
Chief Wogu acknowledged as one of the longest serving Federal Commissioner of the Revenue Mobilization, allocation and Fiscal Commission, RMAFC, having been first nominated by President Olusegun Obasanjo in 2000 for his first term and re-appointed in August 2005 for a fresh five year second term. He chaired several Committees while in RMAFC including Oil and Gas, Legal Services and Remuneration and monetization.
He also served as a Committee member in Diversification of the Nigerian Economy, Finance and General Purpose, Solid Mineral Development, Revenue Allocation, Tenders Board, Non-Oil and Royalites, and Fiscal Efficiency. He represented the Commission on the Ernest Shonekan Presidential Committee on the harmonization of Salaries in the Public Sector.
While serving as the supervising Minister of Interior between April and May 2011, he chaired the GIBA meeting in Senegal. His modest achievements in the Ministry of labour and Productivity and the Nation's labour sector as a whole remain unprecedented.
Notable among his achievements was the apprehension of the planned nationwide industrial action that was to be embarked upon by the Nigeria Labour Congress, NLC, and its Trade Union Congress of Nigeria, TUC, counterpart over the National Minimum Wage.
Under his dynamic leadership of the Labour Ministry, he insisted and instituted a sustaining industrial peace through tactful engagement and constructive dialogue of labour unions and all stakeholders.
Chief Wogu under his able leadership also provided guidelines on Labour Administration issues in Contract Staffing/Outsourcing in the Oil and Gas sector.
He initiated and concluded the formulation of the National Policy on Productivity and Regulation of Lifts, Escalators and Conveyors. Amongst his other numerous achievements are:
i.    Restoration of pay relativity in the salary of Federal Civil Servants;
ii.    Signing into law of the New National Minimum Wage Act;
iii.    Presentation, passage and subsequent signing into law by President Goodluck Ebele Jonathan GCFR, the Employee's Compensation Act;
iv.    Inauguration of the National Labour Advisory Council
v.    Passage and subsequent sigining into law of the Occupational Safety and Health Act to ensure the welfare of Nigerian workers;
vi.    Sponsoring and subsequent passage of the Local Content Bill by the National Assembly, implementation of which is capable of generating over four million jobs;
vii.    Under the National Directorate of Employment [NDE] and the National Open Apprenticeship Scheme, NOAS,  programme, unemployed Nigerian youth have been trained in various Vocational Skills to enhance self reliance and employability;
viii.    Strengthening of a National Electronic Labour Exchange [NELEX] which is an electronic platform that facilitates the meeting of potential job seekers and employers online;
ix.    Formulation and presentation of a National Policy on Productivity Measurement to the National Economic Council and subsequent approval by the Federal Executive Council for implementation.
He successfully chaired a number of Panels and Presidential committees, such as the presidential Task Force on NITEL/MITEL Labour Restructuring, Presidential Task Force on Labour Issues on Power Sector Reform, White Paper Committee on the Report of Experts on Wage Fixing, Presidential Action Committee on Power, and Presidential Retreat for Civil Society Organization and Professional Association.
Chief Wogu served as a member of the Nigeria Economic management Team, Tripartite Committee on National Minimum Wage, Security Challenges in the North-East Zone, and Technical Committee on the Special Committee on National Mass Transit Development.
Chief Emeka Wogu has a number of publications to his credit and was a guest lecturer at the prestigious National Defence College on "National Policy on Employment in Nigeria: Implications for Nigeria's National Security". He was nominated as the guest lecturer by the University of Nigeria, Nsukka for the 11thEni-Njoku Memorial Lecture on the topic: "Labour and National Development in Nigeria".
He was the Special Guest of Honour  and Speaker at the 2012 "World Peace Day"at the University of Ibadan on " Towards Sustainable Industrial Peace in a Globalizing Era: Issues, Challenges and Potentials."
On the International scene, Chief Wogu has led Nigeria's delegations to the International Labour Organization [ILO] conferences in Geneva. He chaired a number of Committees at the ILO conferences and African Regional Labour Administration Centre [ARLAC]. He represented Nigeria at the debate of the United Nations Global Compact Leaders Summit in New York, USA in June 2010 on the theme: "Building a New Era of Sustainability".
These numerous achievements have earned him a lot of commendations from President Goodluck Ebele Jonathan, GCFR, the social and development partners including his admirers from across the country. It was in recognition of his contribution to the achievement of the Transformation Agenda of this administration that he was honoured with the prestigious Nigeria National Honour of the Commander of the Order of Niger [CON].
As an achiever and a worthy son of Abia State, he is honoured with the revered title of Nwadialaof Aba-la-Ohazu. As a true detribalized patriot, Chief Emeka Wogu is the Sarki Kofar Gusauin Zamfara State, the Amuluto 1of Oshogbo in Osun State and the Eti-ufan Ufok Town in Calabar, Cross River State. To crown it, Chief Emeka Wogu is a Loving Husband, Fatherand above all, a Sterling Gentlemanloved by his kinsmen.
On this auspicious celebration of your 48th birthdayon the 29th,January 2013, the entire staff of the Federal Ministry of Labour and Productivity, the parastatals under the  Ministry and the entire Nigeria workers celebrates with our workers friendly Minister, a high-flier, dogged achiever and a God fearing personality, we wish you many happy returns and a great future.
Happy birthday and God blessing.
Features written by: Samuel Olowokere An Assistant Director (Press)
Federal Ministry of Labour and Productivity
Subscribe for latest Videos