By VINCENT UJUMADU
AWKA—ANAMBRA State government has debunked insinuation in some quarters that the recent shutdown of illegal markets and removal of illegal structures at Bridge Head end of Onitsha-Enugu expressway in Onitsha was targeted at non indigenes.
The government insisted that the exercise was aimed at rebuilding and repositioning Onitsha as one of the largest commercial cities in the country.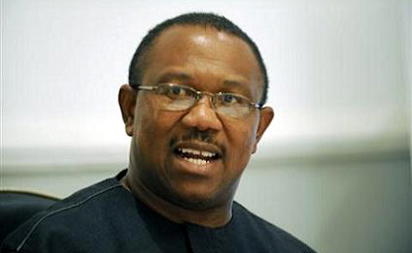 Speaking in Onitsha, Governor Peter Obi said more illegal markets and structures would be demolished to make Onitsha an ideal commercial city by all standards.
According to him, many states in the country are engaged in rebuilding their major cities to meet the demands of the time.
The governor added that Anambra would not be an exception.
Apparently worried by the resistance being put up by the illegal traders who had rejected moves to relocate them to another site, the governor said Anambra State had remained hospitable and had continued to accommodate non-indigenes, even in its civil service. The governor made clear that everybody would be encouraged to live within the laws of the state.
He explained that all the affected traders had been relocated to better sites and assured those yet to be relocated that government would not allow them to suffer.
He, however, warned that any obstruction to the on-going reconstruction work in Onitsha would attract serious sanction, including confiscation of vehicles parked in wrong places.
Some of the trader said they were prepared for the relocation because they now  understood the good intentions of government.
Mr. Nnamdi Onyeharam, in his speech, commended the courage and political will of the governor in embarking on the project and urged all the traders to give the government necessary support in the collective interest of the state.