By Babajide Komolafe
The agricultural sector in Nigeria offers potential interest income of N400 billion to banks and other investors, said Minister for Agriculture, Dr Akinwunmi Adeshina
Speaking at a workshop on financing the Agricultural Revolution organised by the Securities and Exchange Commission (SEC), Adeshina said, "There are great opportunities to unlock together the agricultural potential of our great nation. We must create innovative financial instruments to address the needs of the agricultural sector, considering the different needs along the agricultural value chains."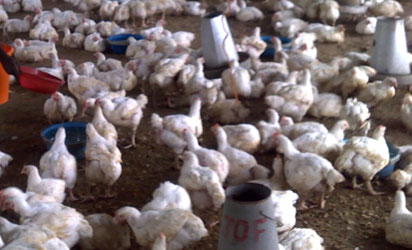 He said, "An assessment of the potential for agricultural lending in Nigeria shows promising results. As we embark on a structural change of the labor composition of the agriculture sector, we are developing a new generation of 760,000 young commercial farmers for Nigeria – called Nagropreneurs. Their working capital requirements alone presentan opportunity to increase bank lending by about 3 Trillion Naira. This is a potentially lucrative opportunity for forward looking financial institutions.
"The key to unlocking this opportunity is for such forward looking financial institutions to invest in developing systems to cost effectively and efficiently reach these customers, while working with partners to address some of the risks associated with lending to the agricultural producers.  The rewards for such a financial institution would be great. The interest income from lending to this market, for just 10 strategic crops, is estimated to be over 400 Billion Naira.
"There is need to realign the banking and finance sector to lend more to agriculture. Unfortunately, Nigerian banks are yet to harness this potential. In 2005, agricultural lending was only 2.44% of commercial banks total portfolio. This declined to an all-time low 1.37% in 2008.
To effectively deploy capital to the sector,the finance industry needs to be motivated by high expected returns relative to the risk and uncertainty. Public sector strategies and programs can be critical in facilitating this tradeoff.
The Federal Ministry of Agriculture understands that to expand financing in agriculture, we must first get the sector to work. Government policies that drive profitability and growth of the sector, and private sector investments, are the prime drivers for agricultural transformation. If government policies unlock the value of agriculture, and we fix the agricultural value chains, banks should be able to find a money trail and lend more to agriculture.
"Public equity capital markets should play stronger roles in financing the agricultural sector. Despite the strong performance of agriculture stocks, the sector still represents less than 1 percent of the over 40 billion dollar market capitalization on the Nigerian Stock Exchange. And only 5 of the 199 listed stocks are from the agricultural sector.
"Consumer food and beverage stocks like Nestle and Nigerian Breweries represent the lion's share of the exchange at 33 percent. They are poised to keep growing, given that both stocks experienced all-time highs of NGN 710 and NGN 153 respectively, just two days ago.
"The opportunities for these companies to boost agriculture are immense, if they move into greater use of locally produced crops. Imagine if the likes of Nestle used cassava starch instead of corn starch and Nigerian Breweries used mostly sorghum instead of barley. The spillover effect on the agriculture industry will be immense."