For the continent of Africa to develop and  march forward like other advanced regions of the world, there is the urgent need for them to address the serious issues such as the establishment of institutions and principles of good governance on the continent.
This was the resolution of speakers at the fourth edition of the Chinua Achebe Colloquium on Africa convened by Nigerian novelist and humanist Chinua Achebe, the David and Marianna Fisher University Professor and Professor of Africana Studies, held at Brown University.
Speaking on the theme  "Governance, Security and Peace in Africa," the 2012 colloquium which attracted leading experts from academia, business, non-governmental organizations, and governments from Africa, Europe and the United States highlighted the complex security issues that confront African nations, security challenges surrounding the proliferation of small arms and light weapons, homegrown terrorism, and the persistence of ethno-religious insurgency.
In their deliberations, the various speakers acknowledged the fact that the main driver of conflict in Africa was poverty originating from the failure of leadership and governance.
They urged governments in Africa and bold private initiatives to work to grow additional, dedicated indigenous investment and entrepreneurial groups rather than depend largely on foreign aid.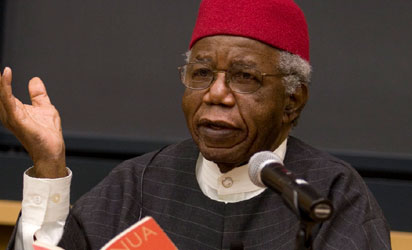 According to one of the keynote speakers, "foreign aid is morphine; what is really needed in Africa is a dedicated and thorough operation to remove debilitating poverty that robs the people of their dignity and makes them vulnerable to the manipulation of corrupt, self-serving, and divisive leaders and warlords."
The Colloquium calls on Africans at home and in the Diaspora, as well as members of the international community, to promote good governance in Africa by acknowledging the outstanding examples of remarkable African leaders such as Joaquim Alberto Chissano, former president of Mozambique, Pedro Verona Rodrigues Pires, former president of Cape Verde, and Festus Gontebanye Mogae, former president of Botswana. It also encourages African ruling parties in particular to respect three essentials to democratic governance: an independent and credible election system, viable and vibrant political opposition, and free and rigorous civil society engagement in politics.