Fans of fast-rising  music act, Burna Boy, had a chance to hook up with him on television this weekend as he is the Celebrity Guest on Glo Presents The Big Friday Show.
Burna Boy is currently making waves in the music industry most especially for his hit singles such as "Like To party", "Tonight", "Trumpet", "Touch Your Toes", "Abeg Abeg Abeg", "Party With Me" and "Firewood.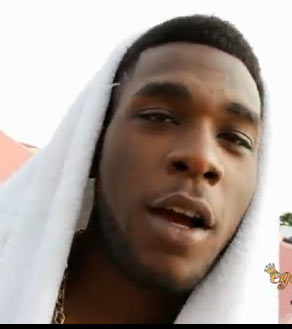 Burna Boy, originally named Damini Ogulu, talked to show host Basketmouth about his brand of dancehall hits that blend Afrobeat, RnB, and Hip-Hop into one tight-knit package.
The 21-year old officially broke into the music industry inPort Harcourtin December 2010 when he moved back toNigeriafromLondon. But it wasn't until June, 2012, when he made a cross-over to theLagosmusic scene with his mid-tempo Summer Jam, "Like To Party" that the budding star got the media sphere in a serious buzz.
Viewers also saw another side of Burna Boy as he flared up and spoiled for a fight not knowing he was being pranked in the Prank Yo Peoples segment.
The artiste who was in the studio for a photo shoot was set up for arrest by a fake police man and a fake lawyer for assaulting somebody inPort Harcourt.
Also in the episode, the up-coming artiste for the week was TeddyTemz, whose début single, "Arewa" (which means "beautiful" in Yoruba), is currently ruling the airwaves. He was made to share out drinking water in the streets ofLagos as this week's studio challenge. At the end of the show, he was rewarded with an opportunity to showcase his talent to viewers.
Vlogger Stephanie also brought viewers The Big Friday Show Vlog segment with updates and news on what favourite celebrities are up to. The Top 10 Music Video as voted by viewers had Fine Lady by Lynxxx on top of the chart. Iyanya's Ur Waist was at No.2 while Aboki by Ice Prince was No. 3 for the week.
On the Celeb Surprise segment, it was a pleasant surprise indeed for Eno, a Glo Subscriber and fan of songstress Ego, as her husband arranged a visit to Ego's office where Eno got to sing with the artiste's band.
The Glo Presents The Big Friday Show runs on MTV Base at 8:30 p.m. inNigeriaon STV at 6 p.m. and 11 p.m., inGhanaon Viasat1 TV at 5 p.m. and inBeninRepublicon ORTB at 9:30 p.m.