After a long spell of driving a modest Toyota Corolla car, trail blazing producer, songwriter and musician, J Martins, has decided to pamper himself silly with the acquisition of two eye popping and expensive  wonders on wheels, a Rolls Royce Phantom and Mercedes Benz G-Wagon .
While the G-Wagon is on the high seas and will arrive the wharfs any moment from now, paper work for the Rolls Royce Phantom sources told Showtime is delaying its shipment to the country.
Currently in the United States of America, where he recently undertook a month summer executive media production course in New York,  J. Martins who confirmed the purchase and shipment of the G-Wagon would however not comment on the purchase of the Rolls Royce Phantom.
In a phone chat with Showtime, he revealed that he left the country on July 3, to enroll for a month's executive
media production course in America.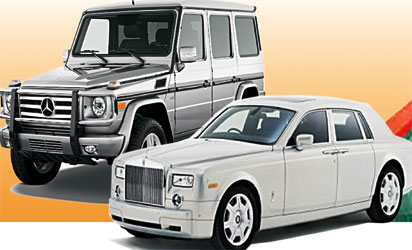 "You know I'm not only into singing. I do so many other things and I'm open to expanding my horizon. I was in South Africa a few years back to do a year course at the City 'Versity in West Cape Town.
Because of a tight production schedule, I had to shelve the follow up course. That is exactly why I am in New York, to update myself."
While in America, the Ohafia, Abia State born musician alongside his Nigerian colleagues, Ice Prince, Jesse ze Jags, 2Face, and Brymo went on a musical tour of several American cities.
J. Martins also spoke about his new works which he says is being handled by his Nigerian management team. "They have links here in America and I am sure if there is going to be any collaboration between me and any artistes here, they are capable of taking care of things" he affirmed. .
He also disclosed that he will be embarking on an European tour with his friend Fally Ipupa but would not mention the cities they will be visiting.
With two new videos shot in Miami and Los Angeles, J. Martins said he was not ready to be taken unawares by the lack of materials.
"I have recorded many songs and as soon as I am ready to release any, the video is ready.  I don't want  to start looking for materials when the time comes. J.Martins is due back in country in September.