By Tony Ubani reporting form London
Blessing Okagbare, who is Team Nigeria's brightest hope for a medal at the ongoing Olympics in London will today start her chase for honours when the preliminary round of the women's 100m sprints into action at the Olympic Stadium in Strafford.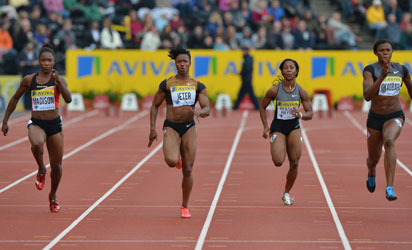 She is joined by 27-year old Gloria Asumnu,who is apart from running in the 100m, is also doing the 200m and women's 4x100m relays.
Okagbare, who in the weeks leading to the Games here, was in a chart-bursting form, winning two IAAF races to push her stake for a medal in the women's 100m against a star-studded field, comprising defending Olympic champion Shelly Ann Fraser Pryce of Jamaica (10.70), Camelita Jeter of the USA (10.81),  Veronica Campbell Brown (10. 82), Kelly Ann Baptiste (10.86) and Allyson Felix  of USA (10.92).
After conquering all at the meet in Monaco, which was the final major stop before the Games of the XXX Olympiad, the real battle begins today as the focus of all would shift to the Olympic Stadium, where all the athletics events are due to hold.
For Okagbare, whose personal best in the 100m is 10.96, the journey to tomorrow's 100m final, starts this morning when she competes in the preliminary round. There are four heats and Nigerians will be hoping to see their jewel qualify.
Later in evening session, Okagbare will line out in the women's 100m Round 1, where the objective will be to progress without hitches.
And later on in the evening, the 23-year old Nigerian will line out against the big girls of the  sprint world in one of the three 100m semifinal races. A final ticket for Okagbare would see her marching out against the creme-de-creme of the women's 100m field tomorrow night at about 10pm, where the battle for a medal reaches a crescendo.
A medal is possible but against a strong field, then the task becomes tougher but Okagbare, insisted in an earlier interview that she would not fumble at the biggest stage of her athletics career.
She is also competing for medals in the long jump and women's 4x100m relays.
ATHLETICS SCHEDULE for TODAY
Men's Shot Put Qualifying Rounds (1/2)10:00 AM
Women's Heptathlon 100m Hurdles (1/10)10:05 AM
Women's Triple Jump Qualifying Rounds (1/2)10:25 AM
Women's 100m Preliminary Round (1/10)10:40 AM
Men's 400m Hurdles Round 1 (1/20)11:15 AM
Women's Heptathlon High Jump (1/2)11:15 AM
Men's Hammer Throw Qualifying Rounds (1/2)11:20 AM
Women's 400m Round 1 (1/20)12:00 PM
Men's 3000m Steeplechase Round 1 (1/10)1:00 PM
Women's Heptathlon Shot Put (1/2)7:00 PM
Women's Heptathlon Shot Put (1/2)7:00 PM
Women's 100m Round 1 (1/20)7:05 PM
Women's Discus Throw Qualifying Rounds (1/2)7:10 PM
Men's Long Jump Qualifying Rounds (1/2)7:50 PM
Men's 1500m Round 1 (1/10)8:05 PM
Men's Shot Put Final8:30 PM
Women's Heptathlon 200m (1/10)8:45 PM
Women's 10,000m Final9:25 PM
TOMORROW
Men's 100m Preliminary Round (1/10)10:00 AM
Women's Heptathlon Long Jump (1/2)10:05 AM
Women's Pole Vault Qualifying Rounds (1/2)10:20 AM
Men's 400m Round 1 (1/20)10:35 AM
Women's 3000m Steeplechase Round 1 (1/10)11:35 AM
Women's Heptathlon Javelin Throw (1/2)11:40 AM
Men's 100m Round 1 (1/20)12:30 PM
Men's 20km Race Walk5:00 PM
Men's 400m Hurdles Semifinals (1/3)7:00 PM
Women's Discus Throw Final7:30 PM