BY VICTOR AHIUMA-YOUNG
"OUR greatest problem as a country is the rate of unemployment." These were the words of President Goodluck Jonathan, at the commissioning of 6 million metric tonnes per annum, mtpa,  cement plant at Ibese, Yewa North local Government area of Ogun state, built by business mogul, Aliko Dangote.
There is no doubt that the President hit the nail on the head because many have argued that the security challenge confronting the nation today, and other crimes  are fueled by millions of jobless men and women roaming the streets who are willing tools for  mischief and crimes .
Speaking at the commissioning of Ibese Cement plant, an elated President Jonathan explained why the Grand Commander of Order of Niger (GCON)  which until then, an exclusive preserve of the nation's Vice-President, was given to the President of Dangote group of companies, Alhaji Aliko Dangote, describing critics of the award as ignorant.
According to President Jonathan, "in fact, when I honour him by giving him the GCON, a number of people raised issues out of ignorance. People even said Oh! I gave the title reserved for vice-President to a person who did not hold a political office.  Our greatest problem as a country is the rate of unemployment. If anybody can come up with policy and programme that will create jobs, definitely, the government will embrace that person and will continue to encourage that person."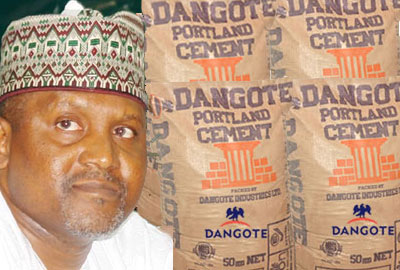 On his part, Ogun State Governor, Senator Ibikunle Amosun, said the plant with an installed capacity of   6 million metric tonnes of cement per annum and reputed to be the largest plant in sub-Saharan Africa, was very important to the state.
The governor said among others, that it would play a very major role in the government employment agenda.
Labour Vanguard's investigation revealed that Dangote's  three cement plants in Obajana, Kogi state;  Gboko , Benue state and Ibese, Ogun state, have generated no fewer than 60,000, jobs and have contributed to easing the job crisis in the country.
According to findings, Obajana employs over 10, 000 direct jobs, Gboko has over 4000 direct employees, while over 7000 direct workers are currently working at Ibese.
Labour Vanguard gathered that for every direct worker, especially drivers of the company's trucks, there are two indirect workers or assistants.
A source at the Lagos Corporate Headquartres of the Dangote group, explained that "if both the direct and indirect employees are put together, Obajana will have no fewer than 30,000 workers, Gboko about 15,000 and Ibese with the same number. These exclude petty traders, food sellers, distributors, contractors and so on."
Jobs creation
Giving detail of the jobs generated by the cement plants especially the Ibese Plant, Alhaji Dangote, said the commissioning of the plant was historic because "it is a watershed event that will see Nigeria transit from being the world's number one importing nation, to self-sufficiency, and net exporter of cement. Dangote Cement Ibese is a modern plant with an installed capacity of   6 million metric tonnes of cement per annum and currently ranks as the largest cement plant in sub-Saharan Africa.
The plant consists of two production lines of 3 million metric tonnes per annum each. We project that the plant will create jobs for about 7,000 Nigerians and will in addition, substantially boost the supply of cement in the Nigerian market. Increased supply from the Ibese plant will help stabilise supply to the market and ultimately will bring down market price of cement."
According to him, "in a few weeks here in Ibese, we will start the construction of another 6 million metric tonnes per annum Ibese Phase II cement project, which will take Ibese to 12.0 mtpa capacity when completed. All our Nigerian cement plants combined already give us a figure of over 20 million metric tonnes per annum capacity, making us a power house in cement production in Africa. We are not resting on our oars as plans have been completed for a 5.0mtpa Line 4 at Obajana which will take the capacity to 15.25 mtpa.
The aggressive expansion of our local production capacity at our plants is to ensure there is always adequate capacity to meet local demand and export so that this country never again has to import cement to meet her requirements. Last year, we acquired 5,000 brand new trucks to boost our growing logistics needs and as part of our commitment to crashing the market price of cement in the country. This investment alone has created both direct and indirect jobs for 15,000 people."
Apart from cement production, we are also investing substantially in other sectors of the economy such as food, steel, fertiliser, petrochemicals and real estate. In all, we have 13 subsidiaries all over the country. Our investments are borne out of our belief that manufacturing should form the major pillar of our current economic revolution. We believe industrialisation is one of the vehicles for achieving our Vision 20: 2020 target and we are confident that with the concerted efforts from all stakeholders, we will definitely get there.
He commended President Jonathan "for his unwavering commitment to providing the enabling environment that has helped businesses to thrive in the country.  Some of Nigeria's key value proposition includes abundant human and natural resources; huge population of over 160 million people, which makes her the sixth most populous nation in the world; a large market and a growing middle class with a vibrant youthful population."
Dangote added that "while we are primarily in the business of creating wealth, we are also mindful of the need to touch lives of people, particularly our host communities. This has been our guiding business philosophy.
In all our host communities where we operate, we have a robust corporate social responsibility (CSR) strategy in place, for translating this philosophy into projects and actions that impact positively on our host communities and Ibese will be no exception."