The Sultan of Sokoto, Alhaji Sa'ad Abubakar III has condemned the Christmas Day bomb blasts across the country, saying the group was evil and both religions must come together to put a stop to their activities.
Speaking with newsmen after meeting President Goodluck Jonathan for over two hours behind closed doors, the Sultan said: "We came in here to felicitate and commiserate with Mr. President over the unfortunate incident that happened this period.
We've had very positive meeting with the President on so many things and how to move this country forward, how to make our country stable and to approach those challenges that are facing Nigeria on a common ground.
"I want to assure all Nigerians that there is no conflict between Christians and Muslims, between Islam and Christianity. It is a conflict between evil people and good people and the good people are more than the evil doers.
The good people must come together to defeat the evil ones and that is the message. We want to assure all our Christian brothers and leaders that we stand on the path of truth according to our religion that we will continue to work Insha Allah for the greatness of this country.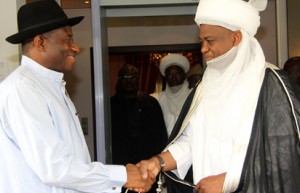 "As I said, there is no conflict between Islam and Christianity and I want to assure that we will do all we can in the best of our ability to solve the numerous problems confronting our country", he said.
Asked what was agreed on as a way out of the crisis, the Sultan disclosed that the government will look at all the past reports "including the one set up by the President on the North East crisis, also the Solomon Lar report on the Plateau and other reports and at the resumption of work Mr. President and his team will look through all those reports and then call for a meeting of a larger body for consultation with all of us, both religious and traditional leaders.
So we believe that is a very good way because we have to close ranks because no where in our two religions both Christianity and Islam that says we should be violent in dealing with one another".
Answering another question that religious leaders have not spoken out enough, he said: "Have we not been speaking out? Did you read the press statement I issued out the day before yesterday (Sunday)? What else do you want us to say? We are totally against what has been happening, we totally condemn all these.
Nobody can take anybody's life, it's unislamic, its ungodly, nobody can take anybody's life, all lives are sacred, must be respected and protected by all. So we have been speaking out. We all know what the situations are and we can only advise the government and we have been advising the government on several occasion".
On the allegation that those that have dared to condemn the sect openly have gone back to them out of fear, the Sultan replied:  "There is no fear, I only speak as a Muslim leader and you know that we don't say what we don't mean and what we don't do. It is against Islam, a special verse in the Holy Koran said so, don't speak what you don't do.
It is distasteful in the eyes of Almighty Allah, but we are quite aware of Almighty Allah's instruction to always speak the truth because we will go back to him to give account for what we have done on earth. So whatever we say to anybody or any group at any time, we wholly mean so".