Joe Amenechi and Albert Ohamsare like two sides of a coin. Totally different in their approaches to arts, Amenechi is interested in traditional arts while Ohams is not. But that difference is the synergy between the two. Both met at the Yaba College of Technology, (Yabatech) Lagos in 1984 where Amenechi taught Ohams. After graduation, Ohams also exhibited with Amenechi at Something Special Gallery in 1991.
These professional colleagues, while championing the Yabatech arts also find each other interesting to work with. Their works boost each other and both make a good combination, thus boosting each other's works in exhibitions. Both are graduates of Yaba College of Technology, and have excelled in their various techniques over the years.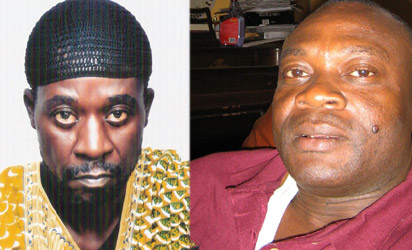 The two renowned artists are therefore coming out with their paintings and drawings at Solitude Hotel and Suites Garden, Oniru,Victoria Island, Lagos on the 16th September 2011 by 5pm.The exhibition which will feature about 50 works by both artists in different media is expected to attract art collectors ,critics, businessmen and politicians. The exhibition is being packaged by a renowned lawyer and art critic, Mr. Emmanuel Iwelumo. The exhibition is entitled Pieces of our Dreams.
Albert Ohams, a cartoonist of international repute graduated in 1990 in painting and has since been combining his talent on canvas and on the pages of the newspaper. Presently the Cartoon Editor of Sun Newspapers. Ohams displays his humour on canvas in some of his works that will be on display.
A recipient of Nigeria Media Merit Award [NMMA] Prize for the Cartoonist of the year 2000, and the Diamond Award For Media Excellence [DAME] editorial Cartoonist year 2007,Ohams had his first solo exhibition titled Cultural Glimpses in 1995 at the Nigerian embassy in Israel and thereafter had other exhibitions subsequently. On return to Nigeria in 1997, he had a solo exhibition The Long Trip at the National Museum, Onikan. Also he was among the participating artists that exhibited in Pair-a-Picture exhibition alongside British artists at the famous Guildhall gallery in London. He has taken part in several painting and cartoon exhibitions.
A recipient of the American Press Institute visual journalism workshop [ROI], some of the titles of his work to be displayed are That July 10th Flood, 99 Standing 23 Sitting, Proliferation of Beauty Contests, Double Standard among others.
Amenechi graduated in 1985 and has been known for his creations that combine painting and print. He occupies a unique place in history of contemporary Nigerian art. Born in Lagos in 1961,his works talk about the preservation of traditional features of the lives of his ancestors which he represents with images, symbols and suggestive fetish objects. Amenechi worked as an intern for a year at Ovuomaroro art gallery in 1982 under the tutelage of Nigeria's most iconic artist Prof. Bruce Onobrakpeya, while training as a fine art student at the Yaba College of Technology, Lagos.
Over the years, Amenechi honed his skills and has exhibited regularly in Nigeria and abroad.
His early exhibition was held at the Italian Cultural Institute, Lagos and the National Arts Theatre in 1988.He has also exhibited at the Royal Overseas League [ROSL] London and the Edinburgh college of Art in 1995, and the signature Art gallery in Accra, Ghana. Many of his works are held in private collections all over the world.