BY CLIFFORD NDUJIHE & HENRY UMORU
HAVING been elected with support from all parts of state, Imo State Governor-elect, Owelle Rocha Okorocha, has been urged to fulfill his campaign promises especially his free education policy beginning from his May 29 swearing in date.
Okorocha was also advised to avoid witch-hunting and shadow boxing given the tough electoral battle he fought against incumbent governor, Chief Ikedi Ohakim; and to consult widely and work with the best hands, not business as usual politicians.
The advice came from the lips of former Minister of State, Federal Capital Territory Administration, FCTA, Chief Chuka Odom and members of Imo Indigenes Club (IIC).
Fulfilling free education promise
IIC leaders (Mr Vitalis Ejimofor -chairman and Engineer Abuchi Iwuji – secretary), who said Okorocha's victory had marked the end of stolen mandate and imposition of unelected leaders on the people of Imo, said the governor-elect had a lot of challenges to face.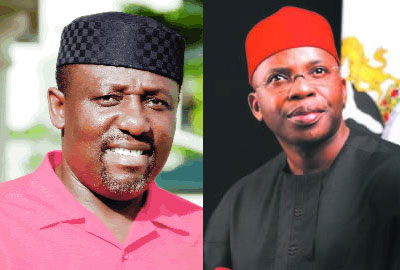 Reason: "People are yearning for change. You will be faced with a lot of challenges in so many areas – roads, education, agriculture, industries, commerce , etc. We are happy that even when you were not a governor you were giving scholarships to less-privileged and indigent people in Imo State in particular and others from other parts of the country. There has been misplacement of priority in governance by past governments. "
Promising to assist Okorocha to surmount the hurdles, they said, "we know you will be having challenges as the state resources have been squandered by previous governments. The club will set up a bureau where information will be collected and disseminated accordingly for good governance."
Harmonious relations with lawmakers
IIC also canvassed harmonious relations between the Executive and Legislative arms of government in the incoming administration to better the lot of Imo citizenry.
To be humble in victory
In a personal letter to Okorocha, which was made available to Journalists in Abuja, Odom, who is a chieftain of the Peoples Democratic Party, PDP, urged Okorocha to be humble and magnanimous in victory, just as he congratulated him for his successful outing.
His words: "You should be humble and magnanimous in victory. Leadership is not a test of wits or a platform to showcase intellect and embark on ego trip. Leadership is a call to service. In providing leadership, you should at all times ensure that you are on the same page with the electorate. May I use this medium to congratulate you on your historic victory in the just concluded gubernatorial election in our state. Your victory is the wish of Imo people and an advancement in our march to full blown democracy."
Shun discredited politicians
Calling on Okorocha to consult widely in order to understand the yearnings of the people of Imo State, the former minister said: "Most of the so-called leaders at various levels have failed their people and will not add any value to your administration.
They are custodians of business-as-usual politics, which you know by now is over in Imo State. You should search for honest and credible community leaders and work with them otherwise you may waste the current goodwill. You should search and find credible, properly educated and God fearing people who abound in the state and engage them to help you move the state forward."
Go for good governance
He continued: "Do not embark on political 'structure' building now. The best structure you would build is good governance and the rest will fall in place. You should avoid witch-hunting and shadow boxing. It is a waste of time and adds nothing to welfare of the people. Do not allow your administration to be distracted. This is the time to roll your sleeves and go to work. You must redeem your campaign promises especially free education and creation of jobs for the youth. These promises earned you their fanatic support.
You must not betray them. You should see public funds as a sacred trust which you must account for, if not here but before your Maker on that day when no amount of money will buy you eternal rest. You can afford to run a transparent government. I do not think you are in dire need of money. You can always find a way to settle those who helped you without compromising performance.
As you take these words to heart, God will be on your side and will fight your battles. You will earn the love and respect of us, your subjects. Most importantly, God will bless you even more for leading yourself as a vessel to salvage His people. Put God first in all you do, seek His face day and night and watch the wonders you will perform in Imo state. I wish you every success and God's abundant blessings."
Remain in APGA
Apart from transforming Imo State, Okorocha has been advised against leaving the All Progressives Grand Alliance (APGA) and returning to the PDP as many governors do to the detriment of their parties. His out-going predecessor, Ohakim was elected on the plank of the Peoples Progressive Alliance (PPA), he dumped the party for the PDP mid-way into his four-year reign.
The plea is against the background that Ohakim is occupying the seat at the expense of APGA's 2007 guber candidate, Chief Martin Agbaso.
Indeed, to keep the APGA flag flying, Okorocha was in Anambra State last week to meet with the Governor of Anambra State, Mr. Peter Obi.
Coming out from an indoor meeting of the duo, Governor Obi said they were strategising on how to move APGA and Ndigbo forward. Obi said he was delighted to have a brother, who would share the burden he had been carrying alone for 10 years with him.
Assuring Rochas of cooperation, he said that as APGA governors that they would always share ideas and consult each other whenever necessary.
Okorocha, who described his victory as the will of God, thanked Governor Obi for his unobtrusive support, even when the going was tough.