By Our Reporters
GUBER POLLS: Fashola, Amaechi, Chime, Amosun winning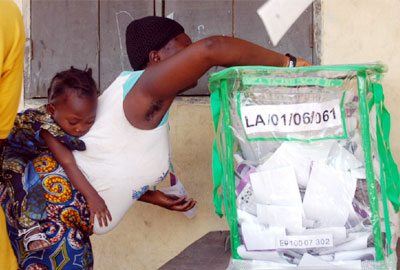 Low voter turn out, violence mar polls, Akala, Shema struggling, Akpabio, Amaechi, Aliyu leading
GOVERNORS Babatunde Fashola of Lagos State, Rotimi Amaechi of Rivers, and Sullivan Chime of Enugu State were in early lead, yesterday, based on results emerging from their states in the nationwide gubernatorial and state constituency elections. Senator Ibikunle Amosun, the Action Congress of Nigeria, ACN gubernatorial candidate was also heading to victory in Ogun State.
The Peoples Democratic Party, PDP was, however, pressing ahead despite stiff challenges in Benue in the elections that were characterized by violence and irregularities.
In Delta State, Governor Emmanuel Uduaghan of the PDP and Chief Great Ogboru, the Democratic Peoples Party, DPP, gubernatorial candidate were running neck and neck in the early results available with Dr Uduaghan having a slight lead. Uduaghan was reportedly leading in the two Isoko local government areas, Sapele and Ethiope West while Ogboru was leading in most of the Central local governenment areas and slightly in Patani Local Government Areas. Results from Warri were yet to come in.
While Ogboru was reported to be leading in Delta Central Senatorial district, the two candidates were in hot pursuit for the votes in Delta North.
PDP was also facing strong challenges in Imo. The PDP was also showing strength in Kano State where its candidate, Dr. Rabiu Kwankwanso, was running neck and neck with the All Nigeria Peoples Party, ANPP's Salihu Sagir Takir last night.
Governor Ibrahim Shema of Katsina State, the PDP's gubernatorial candidate was in a tough battle last night with his Congress for Progressive Change rival, Aminu Bello Masari making early leads in first returns from Katsina Central and Katsina North.
PDP's strong challenge in Lagos
The PDP's strong challenge for Lagos was, however, believed to have lost steam as first results from the voting showed heavy support for the incumbent Action Congress of Nigeria, ACN, candidate, Babatunde Fashola.
PDP's gubernatorial candidate in Lagos, Dr. Ade Dosunmu lost his polling unit, F1 Unit 018 at Tejuosho scoring 75 votes to the 175 scored by Fashola.
The party's malaise was also visible in neighbouring Ogun State where former President Olusegun Obasanjo lost in his polling booth while the ACN's state leader, former Governor Segun Osoba easily pulled victory for his party's candidate, Senator Ibikunle Amosun.
Amosun was heading to victory last night with clear leads in Ogun Central and Ogun East Senatorial districts. He was also reported to be doing very well in Ogun West, the stronghold of his two major rivals in the PDP and Peoples Party of Nigeria, PPN. Olumide Osoba, son of former Governor Osoba was also reported to have won his bid for a seat in the House of Representatives to represent Owode Federal Constituency.
Akala sweeps votes in Ogbomosho
Governor Adebayo Alao-Akala, the PDP gubernatorial candidate was reported to have swept the votes in the Ogbomosho area of Oyo State but trailing in Ibadan area as at press time.
PDP was, however, fighting back in Ondo State with its heavyweights aiming to mitigate recent losses suffered in the National Assembly elections.
While Governor Segun Mimiko ably pulled victory for his Labour Party in his Iodasa Ward 7 unit 20 with 234 votes to 15 scored by the PDP, Senator Bode Olajumoke was able to deliver his ward 6 in Imeri for the PDP. In Ondo State, where there was no gubernatorial election, the Labour Party was reported to have won 25 of the 26 State constituency results declared. The result for Ese Odo was stil. being expected at press time.
The PDP polled 666 votes in Olajumoke's ward 6 to the 352 votes scored for the Labour Party. Defence Minister Tokunbo Kayode was also able to win in Ward 2 Ikaramu in Akoko North West for the PDP.
First results released from a few polling units in Owerri Municipal in Imo State showed good wins for the All Progressive Grand Alliance, APGA. It was learnt that PDP was banking on votes from outside Owerri senatorial zone. Governor Ikedi Ohakim and Speaker of Imo State House of Assembly, Chief Goodluck Opiah, were reported to have won in their polling units.
In Kwara State, prospects of Second Republic Senate Leader, Senator Olusola Saraki positioning his daughter to replace his son as governor of the state were fading as initial reports showed her trailing even in her own polling booth while all other major gubernatorial candidates won the votes in their polling units.
Senator Gbemisola Saraki of the Allied Congress Party of Nigeria, ACPN, was third in her Opobiyi, Agbaji ward. She trailed the PDP which came first and the ACN second.
The gubernatorial candidate for Congress for Progressive Change, CPC, Alhaji Abdulrahaman Abdulrazaq polled 229, followed by PDP 194, then ACPN 74 and ACN 63 at his polling centre in Idi-gba.
Democratic Peoples Party, DPP's gubernatorial candidate, Gbenga Olawepo, easily dominated the voting in his St Paul Anglican polling centre, in Agbamu, Irepodun LGA of the state. He scored 217 votes compared to the 96 scored by the PDP, 40 for ACN and two for CPC.
There was a deviation from the general apathy that characterized the voting across the country in Zamfara State. As late as 8.30 p.m. yesterday voting was still ongoing in several sections of Zamfara State.
In Adamawa State where there was no gubernatorial election, the PDP was reported to have swept the votes in all but two local government areas in the contest for the House of Assembly.
Reports reaching Vanguard last night indicated that Enugu State Governor, Sullivan Chime, swept the polls in the three senatorial zones of the state. In his Enugu West Zone comprising Udi, Ezeagu, Oji River, Awgu and Aninri LGAs, it was a landslide victory for the governor as majority of the voters went for the PDP in demonstration of their determination to retain the governorship seat in the zone.
The people of Enugu North (Nsukka zone) from where two major opponents of the governor, Dr. Dan Shere of People for Democratic Change, PDC, and Chief Okey Ezea of Labour Party, emerged also voted massively for Chime.
Although the two opposition candidates got appreciable votes within their immediate political environment, the PDP was clearly in the lead going by polling booth results declared yesterday.
On the other hand, the Enugu East Zone (Nkanu land) where the leader of PDC and former Governor Chimaroke Nnamani hails also gave Chime large votes.
PDP leaders like Deputy Senate President, Chief Ike Ekweremadu, Chief Jim Nwobodo, Chief Ken Nnamani, Senator Ayogu Eze, the state PDP Chairman, Engr. Vita Abba and a governorship aspirant, Chief Anayo Onwuegbu, all delivered their wards to the ruling party.
Major political appoinJonah Jang voted as his accreditation was delayed because he forgot his voter's card at home. One of his aides had to rush back to his residence to pick the card before he eventually did his accreditation and voted around 12.35.pm.
There were various versions on the cause of the fracas in Nasarawa area. While a version said trouble started when some strange people invaded a polling unit but were resisted by voters in the area, another said a party agent was molested
In Akwa Ibom State, the PDP candidate Chief Godswill Akpabio was understood to have won in 28 of the 31 local government areas where results were collated. His major opponent, Senator Akpan Udoedehe won in Uyo.
Reports from Minna, Niger State, last night also indicated that the state governor, Dr. Babangida Aliyu, was coasting home to victory as most of the results already declared showed that he had majority of the votes cast.
Expression of delight
In Jos, the Plateau State Governor Jonath Jang, expressed delight with the generally peaceful nature of the exercise and commended security agencies for promptly bringing minor security challenges in some parts under control.
The state Deputy Governor, Dame Pauline Tallen who is the Labour Party governorship candidate who voted at the Shendam B ward, was happy with the large turn out of voters which she said was an indication that people were out to effect change.
Similarly, governorship candidate of Action Congress of Nigeria, Mr. Chris Giwa who voted at Kuru in Jos South Local Government Area who noted that voter turn out was bigger than the previous elections said this was indicative of the people's desire to vote a governor of their choice.
Gunmen hijack voting materials
Gunmen hijacked electoral materials at Egwede and Ogbarude in Ndokwa East local government area in Delta State and took them to the bush for thumb-printing.
At polling unit 1, Aliheme in Ika South local government area, it was also reported that thugs snatched ballot materials and took away to a hideout for thumb printing.
Some of those who spoke to Vanguard on the development were shocked that the police could not stop the ballot thieves.
However, the INEC Commissioner, Dr. Gabriel Ada said those who hijacked electoral materials for thumb printing were wasting their time for such votes would not count.
The police recovered three bombs yesterday near the Independent National Electoral Commission, INEC, offices at Burutu and Ogbe-Ijoh in Delta State.
Vanguard learnt the bombs were planted by militants who wanted to stop the declaration of results from the local governments, considered to be strongholds of the Peoples Democratic Party, PDP. Delta state police spokesman, Mr. Charles Muka told Vanguard that policemen also recovered an AK 47 rifle at Sapele.
Two of the bombs were found at Burutu while one was recovered at Ogbe-Ijoh.
In Taraba State low turn especially in urban and semi urban areas of the state yesterday characrterised the governorship and house of Assembly elections while there was a large turn out in rural areas in an exercise that was largely violence free and peaceful.
While in some polling units within Wukari metropolis in the southern part of the state witnessed simultaneous accreditation and voting, prompt report by Vanguard to the chairman of the Independent National Electoral Commission halted the practice which is against the Electoral Act.
Turn out in Jalingo, Taraba State was lower than in the two previous elections in what observers blamed on voter fatigue and the outcome of the two elections which were won by the Peoples Democratic Party.
In at least two polling units in Wukari, voting and Accreditation of voters were going on simultaneously in contravention of the Electoral Act which stipulates that voting would commence after 12 o'clock when the accreditation of voters which commenced 8am had been completed.
A member of the NYSC at one of the polling stations where under-aged voting was taking place told Vanguard: "It is not my responsibility to stop anybody whose name is on the register to vote" while a policeman at the polling station merely shrugged his shoulder in a helpless gesture when asked why he did not stop the under aged voters from voting.