By Etop Ekanem and Ishola Balogun
Nkechi Nwosu, 24, and a student is battling for her life after she was diagnosed as having kidney failure.. She now requires N6 million for a replant to save  her life.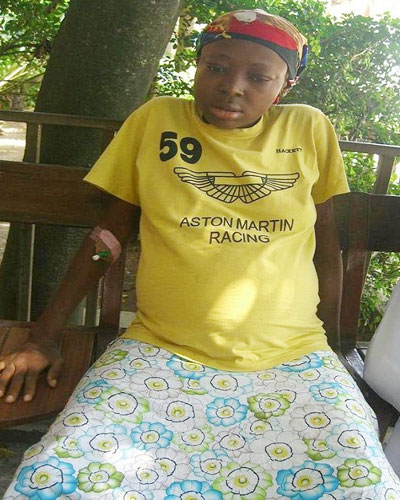 Nkechi, a 200 level Business Administration student of the Lagos Satellite campus of Osun State Polytechnic, Ire, currently languishing at the St. Matthew's Catholic Church, Amukoko, Lagos, woke up in the morning of April 28, 2009 to see her feet and face all swollen.
"I thought it was a minor illness. So, I went to a nearby pharmacist to get some drugs. After taking the drugs, the illness disappeared, only to reappear after two weeks. It was then that I was taken to a hospital in my area where it was diagnosed as kidney failure," she told Saturday Vanguard.
Since then, Nkechi has been  moving from one hospital to another for dialysis, at least twice a week.  "As at now, I feel weak, restless and cannot walk freely because my legs and tummy are swollen. I hereby appeal to government, corporate organisations and good spirited individuals to come to my aid and bail me out so that I will be able to go back to school to complete my studies."
Nkechi, from Mbieri Mbitolu in Imo State, who is depending on the goodwill of the Lagos Archdiocese, is passionately appealing  for help to enable her to travel for her kidney transplant as the situation is deteriorating everyday.
According to the Associate Parish Priest of St Matthew's Catholic Church, Amukoko, Fr. Francis Ofoegbu, Nkechi will need about N6 million for kidney transfer. He said Nkechi had been going through dialysis for sometimes.  The Parish in Lagos diocese had been of help, through "The spirited effort of Anthony Cardinal Okogie who always comes to our aid when we call on him. We spend an average of about N50,000 weekly for dialysis. So far, the amount we have been able to raise has been spent on dialysis.
"Since August last year, when I knew about her case from St Vincent de Paul, which is a wing of the church that takes care of people like this, we have been trying to make several contacts with the General Hospitals in Ikeja, Gbagada and other places but the doctors keep telling me that she is on the queue for the transplant.
"We as a parish have been donating money, and we have been getting donations here and there from good spirited people and from the parishioners. It is from these that we have been able to keep her alive to this moment. But we cannot continue like this", Ofoegbu said.
He continued:"But then, it is not what we alone can handle because the money that is required for the kidney transplant is a huge, about N6 million, which the parish cannot afford. And that is why we want to reach out to good spirited people to come to our aid to save her life because her condition now is getting worse by the day. To walk is a problem, to talk is a problem. She is totally weak and something should be done urgently to save her life."
Fr Ofoegbu said the Lagos State government had made a promise to pay for the transplant, adding that though the state government is ready to foot the N6 million bill, one of its commissioners feared that the cash might not be available soon, adding, "We have been getting promises but no commitment. We need commitments. Sometimes in the past, the Lagos State government sent her to St Nicholas Hospital, Lagos for some checks.
The letter to that effect came from the Ministry of Health. Up till now, we have not seen any concrete thing on ground to help save the life of this woman and we cannot continue to fold our arms and watch this woman die.
Look at the girl, her health is deteriorating very fast. We would not want to lose another parishioner," he said. He said that everything is ready, including the kidney, except the money, and that Nkechi's brother is ready to donate one of his kidneys to save her sister's life.
Nkechi, in her quest to seek help, attended  the World Day in Lagos despite her condition but was referred to do another test at St Nicholas Hospital.
Nkechi's mother, Mrs Hannah Nwosu, a full time housewife, appealed to Nigerians to save her daughter's life, noting that her husband is currently jobless as he has retired from his business.
Those who wish to contribute for the kidney transplant should address their cheques to: St. Matthew's Catholic Church Amukoko, Union Bank Wharf Road, Apapa, Lagos: Account No.03510300001225 or call: Fr Benny (08033026730); Fr Francis (08037654773) or Parish office (01-7400751.