By Emmanuel Edukugho
Nigeria's private sector has been told to assist in the funding of educational projects as vital aspect of Corporate Social Responsibility (CSR) whereby thriving companies can give back to the society.
Princess Sarah Adebisi Sosan, Deputy Governor of Lagos State and also Commissioner for Education, while opening a new multi-million naira Edward Blyden Memorial School in Lagos Island at the weekend built by Etisalat Nigeria Plc, an emerging communication company, called on the private sector to invest in education and complement the efforts of government.
She said government cannot do it alone hence Governor of Lagos State, Mr. Babatunde Raji Fashola (SAN) introduced the Adopt-A-School initiative for private companies to help in ameliorating the problems which public schools encounter in respect of infrastructure, furniture, water, toilets and other amenities needed to create conducive atmosphere for teaching and learning.
''Education is significant for nation building, a legacy to bequeath to our children, a tool for national development, while an educated person is an asset to the nation ignorance can't bring development.''
Sosan noted that Governor Fashola took deliberate measures to improve education through infrastructural renewal, building new schools, providing improved facilities, free text books, regulatory mechanism and supervision to ensure quality control.
She tasked officials of the State Universal Basic Education Board (SUBEB), State and local government education functionaries, Chairmen of Lagos Island Local Government and Lagos Island East Local Council Development Area, to go out for more sponsors of educational projects.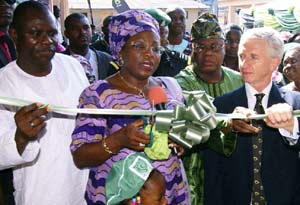 '' The children are blessed because I know how this school was. Parents should pray for Etisalat. I am proud of the school. You should all support to put the school in good shape always. The school is the oldest in Lagos Island. I'm delighted in the tenacity of Etisalat in meeting its corporate social responsibility.''
The Deputy Governor added:
''When they (Etisalat) came, they immediately started to give back to the society.'' Mr. Steven Edward Evans, Chief Executive Officer (CEO), Etisalat Nigeria Plc, said it was a privilege to have the Deputy Governor in our midst and others from the education community, teachers, parents, the media for the commissioning of the new school.
He explained that Etisalat CSR is an essential part of the company's operations and activities in the country, and deliberate to build Corporate Social Responsibility around education.
Evans pointed to the 300 scholarships offered to students studying in 30 Universities across the country, particularly in areas of Information, Communication Technology (ICT), electrical engineering, management, sciences, etc who will become drivers of the Nigerian economy.
That Etisalat will soon begin a Radio programme to educate the people on malaria across the nation, while a CSR department has been established in a university, having realised that CSR is an important part of any organisation.
According to him, ''It is important to support the community that we depend on for our business.''
He recalled his first visit to the school in February, 2010, when he toured the school, went round and saw the poor state of the school, the worst in Lagos Island.
''It was touching as I went round,, meeting the children. It brought back the images of our days past in primary school. We want to make all the children to remember the new school fondly after leaving.''
The Etisalat CEO commended Lagos State Government for this innovative programme of Adopt a school and encouraging corporate private partnership in funding of educational projects.
''Edward Blyden School has become a model for all those schools we hope to adopt and re-build,'' he said.
Headteacher of the school, Mrs. Ngozi Egbuna, praised the Adopt a school initiative of government which has resulted in the beautiful edifice, the ''Mega school.'' She appreciated with gratitude, the CEO, Etisalat for rebranding Edward Blyden School for the benefit of Nigerian children.
It was disclosed that the school was founded by Mr. J. Albert in 1938 and has produced eminent men and women such as Dr. Olusola Saraki, former Senate Majority Leader, Dr. Wahab Dosunmu, former Minister of Housing and Environment, Professor (Mrs) Omotayo Olutoye, Head of African Language, Ondo State University, Prof. Kayode Albert (late), Hon. Wasiu Kayode, Chief of Staff.Egbuna said the school was initially located at No. 4 Okesuna Square. In 1956, it was taken over by Lagos State Government.
The present site is 77, Hawley Street, Lagos built in 1998 by state Primary Education Board. On February 22nd, the Etisalat CEO visited the school and approved the construction of a new school. Demolition commenced on 20th April and the ''Mega School'' with eleven classrooms, eight modern toilets, and a borehole with water treatment was completed on 30th August, 2010.
Said the Headmistress:
''This will enhance qualitative and conducive learning environment, and this will no doubt result in migration of pupils from private and other public schools to Edward Blyden School.''
She called on individuals, private and public organisations, NGOs and other groups to have a stake in the development of schools as Etisalat Nigeria Plc has done.