The Director General of the National Sports Commission (NSC) Dr. Patrick Ekeji, in the last few days has received severally calls, from unknown callers, who are threatening to assassinate him unless he resigns as the Director General of the NSC.
In a statement signed by Olukayode Thomas, a Special Assistant on media to the Minister of Sports and Chairman NSC, Alhaji Ibrahim Isa Bio, said calls are made to Dr. Ekeji at odd hours telling to resign or he will be assassinated.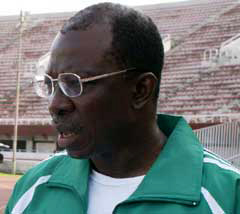 According to Thomas, all the relevant securities agencies have been informed about the threats to Dr.Ekeji
Said Thomas, "we are not taking the threats lightly, all the relevant security organizations have been notified, security around the director general, both at home and the office has been further tightened."
Thomas posited that rather being threatened with assassination, Ekeji ought to be commended by every right thinking Nigerian.
"I believe Dr. Ekeji deserves to be commended for the contributions he has made to sports development in Nigeria. He led Team Nigeria to win the Abuja 2003 All Africa Games, that was the first time we topped the medals table in the African Olympics. His combination with the Sports Minister Honurable Ibrahim Bio is already bearing good fruits especially with Team Nigeria's performances in the on-going Delhi 2010 Commonwealth Games. At the end of the Games, our athletes may surpass our best performance at the Commonwealth Games ever recorded at Victoria' 94. A national icon like Ekeji deserves our encouragement, not threats of assassination," said Thomas.
He also urged security operatives to ensure those behind the threats are not only apprehended, but punished, to deter others.