Mallam Anthony Sani is the National Publicity Secretary of Arewa Consultative Forum, ACF. In this encounter, he speaks on the passing away of President Yar' Adua and why the Northern Elders' Forum met last week, saying President Jonathan did not consider it important to see Yar' Adua before he died. Excerpts:
The news of president Yar' Adua death just broke. What's your reaction?
Nigeria should live up to the challenges he left behind. He had a lot of good plans for Nigeria but sickness frustrated him. He lived a very humble life and I think the young generation has a lot to learn from him. He was not loud or extravagant. He had good plans for Nigeria and the only way to appreciate him is to live up to the challenges.
We need to improve on a lot of things and the new president should ensure he on the legacies of rule of law, electoral reforms and economic development.
The issue of 2011 presidency has been in the news since former President Yar' Adua became ill and Jonathan became acting President. What's the position of the North on 2011 presidency?
The issue of presidency 2011 is a party affair. If the ruling party said it has zoned presidency to the North, do you think the ACF would refuse? No. If the ruling party decides that the next presidential candidate would be from the north, its okay with us.
Do you think Jonathan should contest 2011 election now that Yar' Adua  is not there?
Let me tell you one thing, we can say that Jonathan has the constitutional right to contest despite the zoning agreement in PDP. You also remember that even when the Presidency was zoned to the south, Abubakar Rimi did not accept and contested against Obasanjo in the primaries.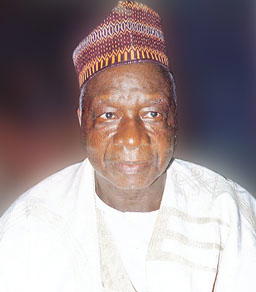 The reason is because, it was a zoning policy, not a constitutional arrangement. So, Jonathan can decide to contest but we should know that in politics, there are a lot of informalities. For instance, the six geo-political zones that we run today are not in the constitution, yet we respect that.
So, if there is a gentleman's agreement like they have in the PDP today, whereby the south had it for eight years and it is expected that the north should have it for the next eight years, it should be respected even  though it is a gentleman's agreement.
It was respected in favour of the south and if they will respect it in favour of the north, we in ACF will accept as long as the acceptable candidate of every Nigerian emerges. That means we have to certify that such a person has a good character and is acknowledged in that respect nationwide.
The Northern Elders' Forum met last week, no communique was issued. What was the agreement reached at the meeting?
We discussed everything that is affecting the country, not only the north. It's not only about the next presidential candidate. And on that, we have not taken a decision until it is confirmed that the presidency is actually coming to the north. If there is no proper agreement on that, we cannot deliberate on that. So, there was no discussion on that.
Why is the north not happy with Jonathan?
I don't know why people are saying that. But it's not true. I'm the Spokesman of the north. I took the minutes of the meeting held last week We were the first to come out to say that there should be no vacuum in government. But naturally, you will get one or two people who will say, no, no, no, we don't agree but you don't use their opinions as yardstick for drawing conclusion.
From December last year, we issued a communique that there should be no vacuum in government and I don't understand what people mean by the north not being happy with Jonathan. Is it in terms of appointments or what? I don't think the north will be unhappy with Jonathan for being acting president. If anybody is unhappy, those who are unhappy are in  minority. That was why Tanko Yakassai left ACF but only a few followed him.
Perhaps the north is scared that without Yar' Adua, it goodbye to zoning to the north…
Well, when Jonathan was in  the United States and he was asked if he would contest, he didn't give a straight answer. He said he could be V-P to anybody or he could contest. So, he hasn't told us that he would contest and if anybody should blame him for aspiring, its unfair.
What then was the peg of the meeting the north had last week?
There was no communique. It happened in the midst of the May Day celebration but like I said, it's about Nigeria and zoning and we said that if the presidency is coming to the north, ACF will accept it.
Jonathan was not allowed to see Yar' Adua before this. Was it right?
Let me tell you, all those talks about Jonathan not being allowed to see him were just talk. Jonathan became the acting President and Commander-in-Chief of the Armed Forces and has the presidential power. He is in charge of the security of this country, the police and all the intelligence aspect. So, tell me, who prevented Jonathan from seeing Yar' Adua before he died? Don't you know that Yar' Adua was under Jonathan's custody?
Nobody, not even Turai could prevent Jonathan from seeing Yar' Adua, and I want you to be fair in your judgement That Yar' Adua was Turai's husband meant nothing. Yes, he was her husband but he was our President, the President of the Federal Republic of Nigeria. Jonathan said  he was respecting the  wishes of madam because madam didn't want public officers including the acting President, Senate President and the Speaker to see her husband.
If that was the case, then, it was a personal matter. That didn't mean, she prevented him. He said he just respected her wish, otherwise, we could have taken it up with him and tell him Yar' Adua was not Turai's property. In any case, Yar' Adua was living with Jonathan in the same presidential villa. He was not in Katsina. That is our view. In other words, he was saying, so far it's not affecting his administration, no big deal .  That was perhaps the meaning of respecting madam's  wish. Seeing Yar Adua was not really important to him as long as it was not affecting his administration.
Are you saying Jonathan should be blamed for not seeing Yar' Adua or persuading Turai to let him see Yar' Adua?
If he had considered it important to see Yar' Adua, he would have seen him. But he did not consider it important. If Jonathan had complained about not being allowed to see Yar' Adua, then, we would say he was not serious. It's not a matter of power, he was only respecting the wishes of the wife. He could have insisted and nothing would have prevented him.
So, what advice for Jonalthan?
He should take care of this country. Yar' Adua wanted to do a lot of things but couldn't due to his ailment, Jonathan should do all he could to move Nigeria forward. When some Northern elders went to see him, we told him what we want from him: Electoral reforms must be done quickly. Power and Energy should be addressed very seriously. Security should be addressed very seriously and the fight against corruption should be heightened. We can only blame Jonathan for what happens during his tenure in office and not what happened when Yar' Adua was holding sway.
What the position of ACF on Ribadu and El Rufai?
The problem is that we don't have the facts on these men you have mentioned. The problem with El-Rufai was about the sales of property in FCT and nothing has been proved. If there are proofs that he enriched himself corruptively, those things he misappropriated should be confiscated.
If he sold houses and didn't account for the money, they were mere allegations and now that he is in the country, he should be charged if they have evidence. If the system has anything against Ribadu, let them prove it by charging him.
But the truth is that we didn't have the facts and therefore cannot make a categorical statement.
What does ACF think of Buhari, IBB, Atiku and 2011 presidential ambition?
All these people are contenders and they belong to different parties and ACF is not partisan. We want good leaders and we are looking out for them. If electoral reforms is done in such a way that the votes will count, then, we are expecting a good candidacy.
What's your view on IBB's return?
He has a constitutional right to contest and it's also for the electorates  to compare his tenure then and after him and then decide. He left office 17 years ago and if  Nigerians think life is better without him in the saddle, we will know. But you must know that Buhari, Atiku and IBB belong to ACF. There is nothing we can do. So, we cannot support one against the other.
We can't do that and all the parties are inside ACF. All we look out for is quality of character, integrity and all those things that make a good leader and we will make them open. The final judge is the people.
So, the north didn't discuss Jonathan in their meeting?
No. When we went to see him, its to show him support and encourage him on the issue I earlier listed and our meeting merely discussed zoning of presidency to the north, not the likely candidates. And we also said Jonathan has the right to contest 2011 election but that if there is a gentleman agreement, the south has had it and the north will not reject it.
If the party says presidency is coming to the north and Jonathan cannot contest, then, he can't.
Don't you feel the travails Ogbulafor, the PDP national chairman is geared towards upturning the zoning policy of the party?
No. Ogbulafor alone does not make up PDP and if  has allegations of corruption against him, it has nothing to do with PDP zoning policy. Some media reports are unfounded. No, we have nothing against Jonathan.