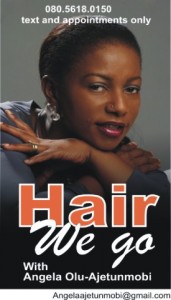 Yes, convert your braiding human hair extensions into weave-on at our hair facility in Lagos. This way, you do not have to sit through 4 or 5 hours of braiding time when you want to wear your human hair. If you have short hair and you are trying to grow it, try combining a weave-on and braiding together: fix a weave starting at the back but not to the hairline. Leave about 2" of hairline out of the weave; get your stylist/braider to braid this hairline with your human hair.
The braids in front always give a very natural finish to the style and it can be worn for a very long time. All you do is redo the braids when they really get rough.
THIS PHOTO: angels studio SPANISH WAVY human hair blend being hand-crafted to perfection on a loom at angels studio HAIR FACILITY in Lagos, Nigeria.
It is available ONLY at our studio in Lagos from 6" to 22" in all colors.
Please NO distributors. We can also color-match to your taste.
This weave can be set with rollers or hot-ironed for a sleek finish.
QUESTION & ANSWER:
Dear Angel, my hair is growing so fast now I am deep conditioning every time I shampoo. The only problem now is that I hate the undergrowth I get from the 3rd week after my retouch.
Is it okay for me to have it touched up at 4 weeks?
By text message March 7, 2010
Never ever apply chemical relaxer to your hair outside the recommendation of the manufacturer. If you have been doing that nonsense, stop it right away. You do not know the value of what you have until it is gone: that is a summary of the love story between our hair and the Relaxer. And it's a story I never get tired of telling.
Most products advocate a 6 week interlude between chemical applications which comes to an average of 8 touch-ups annually. Most women tend to stick with 8 weeks, using other methods such as braiding/weaving, to extend the interval between retouches. You too, would do well to remember that straightening is the number one cause of damaged hair among women who relax their hair.
If you notice undergrowth earlier than you would normally, before your next touch-up date, and you are sure that it is not a case of previous insufficient or inadequate straightening:
Do not try to force a comb through the thick natural hair at the scalp level. Use a wide-tooth comb and concentrate all combing efforts to the tips.
Always apply oil moisturizer to the hair and angels studio SCALP CRÈME to the scalp to aid the combing process and make it less painful
If you are unable to cope with the coarse denseness of the undergrowth, do go for extensions to bridge the gap. Try braiding, weaving or even a wig.
SISTA, you SHALL not perform 12 or more touch-ups in a year; you will end up with no hair at the end of the day. Aim for nothing more than 6 or 7 chemical applications a year.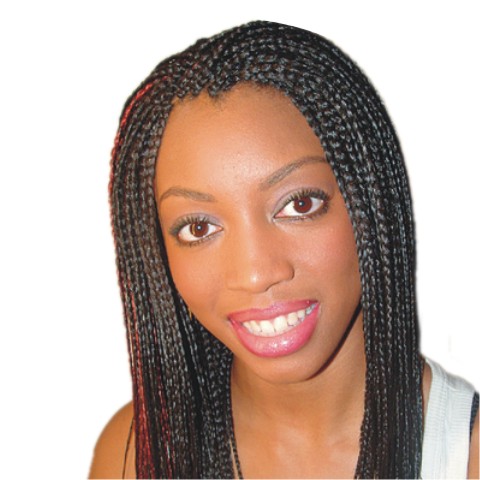 REDUCE BLOW DRYING:
Are you using the round brush and hand dryer to style your hair to get that sleek mobile 'American-style' movement we all crave? I know it is a method that is as popular among the lady customer as it is among the male hairdresser.
And I know all the arguments: it is faster than setting the hair and roasting under a hot dryer; it gives a fluid style that is not stiff and the finish is serious. But let me tell you all the arguments against.
You will notice a steady thinning of your hair especially the hairline, going all the way round the head. Some clients have even admitted hearing their hair 'tear' or smell it burn as the stylist winds the brush round and round and round. You wince and close your eyes to the damage because we were all taught that "YANGA get pain"! The dryer is practically placed directly on the hair to get the fried look; yet we now know that direct heat is a no-no for black straightened hair.
The hair ends up with funny length discrepancy and distribution. The hair in the middle of the head will be quite long, but will be surrounded by extremely short hair, tempting any stylist worth his salt, to achieve an even hair shape. I do know that this mode of styling should not be used as a matter of course; it should be utilized sparingly. It is dangerous for you to continue to use this method every week. Do not be swayed by any stylist who tells you differently: otherwise, you could soon be on your way to me for restoration of your broken locks. Cultivate the habit of setting with rollers and drying hair the old-fashioned way.
NOW REGISTERING:
Angels studio HAIR ACADEMY is currently running training programs for women in the industry. If you are already a stylist but wish to enhance your skills so as to increase your earning power, then the advanced diet would suit you. If you are a salon owner, this is your chance to help your business by sending your stylists to sharpen up.
If you are a greenhorn but would like to learn hairdressing PROFESSIONALLY, our hair academy will teach you the right way. One of the problems I find in the hair business is the reluctance of trained stylists to re-train themselves or update their skills.
The average hairdresser here feels resentful when you ask questions or proffer solutions or suggestions. They feel that they have 'learnt' the work and so do not need you to come and teach them the job. Unfortunately, one's knowledge can be limited by the horizon of one's teacher. If your teacher does not have much knowledge to give you, you will not gain much information from her/him. The trick is continuous education; you can never stop reading and improving the depth of your knowledge.
All courses are currently running for 4 weeks for established hairdressers and 6 weeks or more for freshmen who are desirous of a career in hairdressing.
BE A FAN: Visit our face book site and become a fan of: angels studio HAIR CLINIC. Get invaluable tips to ensure the health of your hair; and maybe, you may catch with an old friend. Hope to 'see' you there.