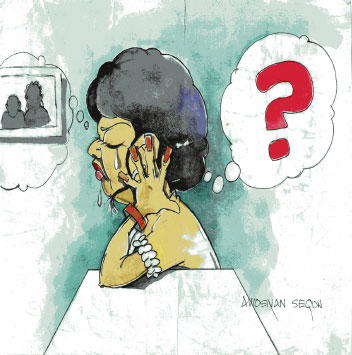 Would you do anything to make your kids happy – however sordid you believe such things to be? A few years ago, Denike, a teaching assistant at a private primary school resigned and started a sort of petty trading. "We had the front two rooms in the house we moved to after Dele, my husband, was medically discharged from the armed forces and the little money he had ran out", she explained.
"I started with running a small canteen in front of the house but the landlord kicked against it because of the fire hazard it created. Then I started retail trading but the profits weren't much to look after us all – four children in total. I felt guilty every time I had to tell my children we couldn't afford little treats they'd taken for granted. Out of frustration, I confided in a former colleague at the school. She earned the same salary I did but had told me she also had a part-time job that paid fairly well. I wanted her to find out if there was a chance of my being employed.
"She didn't even bat an eyelid before explaining what she did. She worked at a private club that offered massages to members. It was right in the middle of town and was always busy. She could take me there if I was keen. Of course, there was a catch. As well as massaging the clients, I would have to provide extras too. After giving it a thought, I said I would do anything but full sex. I would be okay with a bit of touching, but I couldn't go that far. It still didn't stop me from being nervous though. I remember my first time with a man – massaging his back, hardly knowing what to do as he tried to slip his hand up my skirt. He then pleasured himself on me. I felt dirty and violated.
"I was screaming inside. I just wanted to run from that room, go home and never came back. Then I remembered the toys my kids wanted that Christmas. I imagined their eyes lighting up as I handed them their presents on their wish list. When the man had finished, I cleaned up, took the cash from him as he left. I was a bit relieved it was ready cash. Pure profit so to speak. It was an encouraging start.
"Over the next few months, I saw more men. Some just wanted a massage and a fondle, others were after more. I still didn't feel comfortable enough to have sex with a stranger though. But the more I worked the more relaxed I was about the idea. My colleague assured me what I was earning were peanuts compared to what I would get if I went the whole way. And about three months after starting, I was finally ready to take the plunge. At least, I thought I was. That morning, I was a wreck. I couldn't eat much. Every time I thought about a stranger on top of me, I broke out in a cold sweat.
"Back at the gym, I stripped to my underwear and waited for my client. When he stepped in, he looked me up and down. He was happy with what he saw. He took off his clothes and began kissing my body. Before long we were having sex. Inside, I was in turmoil. Because of my husband's illness, I hadn't had sex for so long and it felt so alien to me. I've never been sexually confident and I didn't know what to do. I just lay there, silently, and waited for him to finish. It was far from easy, but it doubled my pay – along with a hefty tip. I knew that if I was going to give my children the life they deserved, I would have to keep doing this ….
"Over the next few weeks, I had sex with more men. I always thought it would be dirty old men, but to be honest, I've had only a handful of them. Most of my clients are relatively young. The younger ones are easier to deal with – and they give better tips too. I would work a long shift, sleep it off, then head into the shops to buy things for my kids – footballs, trainers, clothes and dolls for my little girl. I even bought a fairly used bike for them to share. I redecorated our rooms and got my husband a few outfits too. I bought precious little for myself .. I'd say 70% of my income goes on trying to make my children happy.
"Other mums might judge me for spoiling them too much, but for a long time, we had nothing. Now we have cable TV and a cute DVD. I would never have dreamed I could afford all these goodies if you'd ask me two years ago, but now I'm so excited to give these treats to everyone. Knowing how happy they are, and how hard I worked to make them so – is the ultimate satisfaction. Now I'm saving up for us to move into a proper flat. This job wasn't what I thought I'd be doing for a career, but the money is good and it works around my family life. I can pick up and drop extra shifts, and I'm making thousands of Naira a day.
"Dele my husband sussed out what is going on. With his military background, he sure knows what goes on at massage parlours but he's never asked any embarrassing questions. He loves our children and was very frustrated when he couldn't provide for them. Now the kids are happy and healthy and he has lovely meals on the table all of the time. And our relationship is strong enough to handle what I do.
As things are now, I don't think I'll ever stop working in the sex industry- well, not until I'm older and I can't physically do it any more. I might slow down over the years, but for some extra money, what I now do is perfect. The thought of my children's faces lighting up when I come home with bags full of presents is enough to keep me going, even on the toughest shifts."