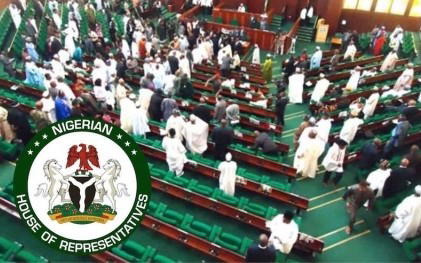 By Gift ChapiOdekina, Abuja
In a significant move towards a greener and more sustainable energy future in Nigeria, the House of Representatives has passed for Second reading a Bill for an Act to Provide a Policy Framework for the Development of Bio-Fuels Energy Industry in Nigeria"
The bill which is sponsored by Hon. Benjamin Okezie Kalu, along with Hon. Khadija Bukar Ibrahim and Hon. Babajimi Benson,aims to establish the Bio-Fuels Energy Regulatory Commission and the Bio-Fuels Research Agency, marking a crucial step in Nigeria's efforts to combat climate change and diversify its domestic economy.
In his Lead debate, Hon Kalu who is the deputy speaker of the house said the bio-fuel policy was initially introduced by Nigeria in 2007 to address climate change concerns, reduce dependence on fossil fuels, and promote economic diversification.
He explained that it was designed to incentivize the production of bio-ethanol and bio-diesel for blending with fossil fuels.
The deputy speaker However expressed concern that after 16 years, progress has been limited, with only a few Memoranda of Understanding (MoUs) in place.
He noted that according to the International Energy Agency (IEA), global demand for biofuels is projected to increase significantly in the coming years.
Hon Kalu observed that despite Nigeria's potential in the bio-fuels sector and a target demand of 5.14 billion litres per year, the industry remains nascent.
He identified one of the primary challenges hindering the development of the bio-fuel industry in Nigeria as the absence of a regulatory framework. Despite the existence of a biofuel policy, the lack of a legal and institutional foundation has impeded its effectiveness.
According to him, this bill aims to rectify this gap and provide the necessary framework for growth stressing that to encourage investment in the sector, the policy offers incentives such as exemptions on Withholding Tax, waivers on Value Added Tax (VAT), and waivers on Import and Customs Duties.
Hon. Benjamin Okezie Kalu highlighted the numerous advantages of developing the bio-fuels energy sector including to Improved Petroleum Product Quality as Bio-fuels are expected to enhance the quality of petroleum products and equally address the current limitations in fossil-based fuels.
The Deputy Speaker who emphasized that the industry will generate additional tax revenue, create jobs, boost economic development, and empower rural communities said It will also lead to improved farming techniques, increased agricultural research, and higher crop demand.
He further explained that Biofuels can be used for co-generation of electric power as well as reduce tailpipe emissions, ozone pollution, and particulate emissions, and replace toxic octane enhancers in gasoline.
Hon. Benjamin Okezie Kalu therefore implored his colleagues to support the bill's second reading and it was referred to the relevant committee for further legislative action.
The Bill which comprises 56 clauses and one schedule is divided into fourteen parts with the primary objective to provide a policy framework for the bio-fuel industry's development and establish the Bio-Fuels Energy Regulatory Commission and the Bio-Fuels Research Agency.