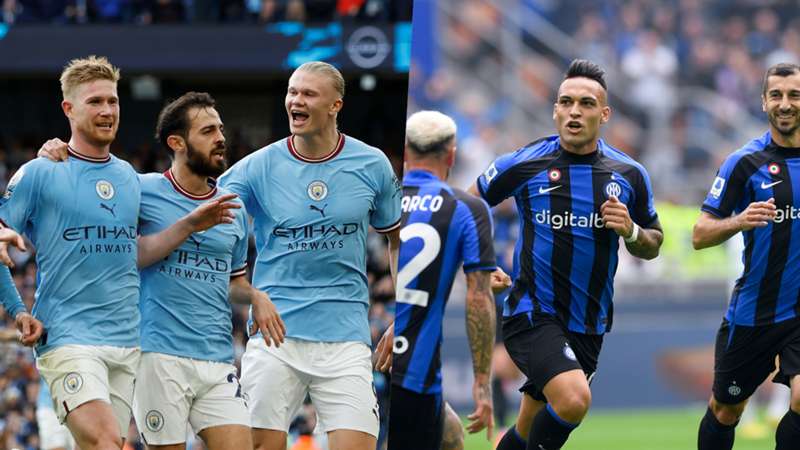 By Enitan Abdultawab 
The Champions League final is right upon us and the embassy in Turkey must be busy welcoming football enthusiasts, pundits and fans to the streets of Istanbul.  It is the biggest European football competition and only time will tell when which team will parade the UCL trophy before their elated fans the week after Saturday.
Grinding out emphatic wins against RB Leipzig, Bayern Munich and Real Madrid en route the final, Man City will be aiming to add the Champions League trophy to their cabinet after reaching this stage in 2021 – their first attempt setting sights on the European cup. Inter Milan, on the other hand, conquered, in grand style, Porto, Benfica and AC Milan to reach, the sixth time they will be playing in the biggest stage. 
Ahead of this clash, we take a look at three talking points.
City should beware
All odds might be falling on Pep Guardiola's men ahead of this pivotal clash at Istanbul because of their bumpy ride to this stage. However, City need not to go into the match with their heads high as favourites. A few talks here and there that Milan had an easy route into the final is nothing but delusional. Inter Milan had fought tooth and nail right from the group where they finished ahead of star-studded Barcelona, winning at San Siro and forcing a draw at Camp Nou. Advantageous wins against Porto, Benfica and city-rivals Milan were not easy ones, especially in modern competitions like we have witnessed since ten or fifteen years ago. 
Inter Milan had won 11 of their last 12 matches and they had thrived with Simone Inzaghi's ploy of setting a five-man midfield hugging the three center-backs, thus enabling a compact team that can transition into quick counterattacks (thanks to the duo of Lautaro Martinez and Edin Dzeko)
Key battles in the XIs
No doubt, Simeone Inzaghi will head into the clash with plans on how quite a number of players will be stopped. It will be the same for Pep too for he has to navigate how his men will take advantage of whatever loopholes he might conceive of Simone's men. This is where the battle comes in. 35-year-old Francesco Acerbi will not but break bucketfuls of sweats to neutralize Norwegian Erling Haaland who will top the goalscoring chart in the UCL. Kevin De Bruyne and Gundogan have scored important goals for City in the past and will look forward to not disappointing their teammates by finding a way past Brozovic and Hakan Calhanoglu in the midfield. 
Up front, Manuel Akanji and Ruben Dias will face pressure from Edin Dzeko and Lautaro Martinez, the Argentine being Inter's top scorer with 28 goals to his name this season. The pair had worked hand-in-hand a couple of times with Nicolo Barella assisting with his timely late runs into the box.
Will City eventually lift the UCL?
Man City's cabinet boasts of a total of 31 trophies – league titles, league cups, community shields, FA cups. However, the cabinet lacks a European cup. This has majorly been their worry down the years but the team got themselves salivating for one when they travelled to Porto for the final match of the competition against league rivals Chelsea in 2021. City fell behind after Kai Havertz's opener and sought an equalizer but could not find one till the final whistle was blown. That was the closest they had been after tumultuous losses against Real Madrid, Liverpool, and even Monaco in the past years.
City are facing three-time UCL winner Inter Milan, with City fans hoping head coach Pep Guardiola will not be overthoughful in the manner he manages his team as that has been one of the major causes of their monumental losses in the past.
Only time will tell if City will parade the streets of Manchester with the UCL title, alongside the league title and FA Cup title. 
But as for now, all roads lead to the Ataturk Ground in Istanbul, Turkey.