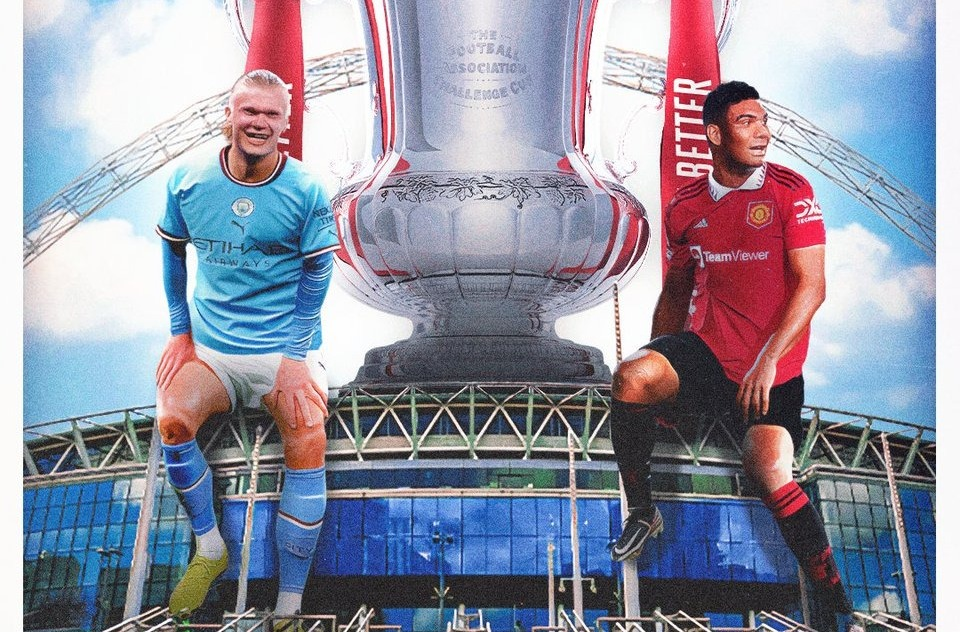 The English Premier League champions, Manchester City and arch rival Manchester United are set for a showdown in the 2023 FA Cup final today (Saturday).
The game will take place at Wembley Stadium, kickoff is at 3pm local time (14:00 GMT).
The two Manchester sides will meet in the FA Cup final for the first time.
Team News
Ten Hag beefs up defensive lineup with Fred
Many expected the 18-year-old Garnacho to start for United today, with his pace on the break being potentially a huge weapon against City.
However, Ten Hag has decided to add more bodies in the middle of the park with Fred's ability to both attack and defend going in his favour.
Guardiola's hopes alive with Ortega
Given the magnitude of what Manchester City are aiming for, ie becoming only the second side in English football history to win that fabled treble, then he'd probably be forgiven by many outside of the Ortega household for reverting back to Ederson in goal.
However, Pep Guardiola is a man of principles if we can be certain of anything, and has stuck with the German keeper who got him to this stage.
Man Utd team for today
Starting XI: De Gea, Wan-Bissaka, Varane, Lindelof, Shaw, Casemiro, Fred, Fernandes, Eriksen, Sancho, Rashford.
Subs: Butland, Dalot, Maguire, Malacia, McTominay, Pellistri, Elenga, Garnacho, Weghorst.
Man City team today
Starting XI: Ortega Moreno, Walker, Stones, Dias, Akanji, Rodrigo, De Bruyne, Gundogan, Bernardo, Grealish, Haaland.
Subs: Ederson, Phillips, Ake, Laporte, Alvarez, Mahrez, Foden, Palmer, Lewis.
City's road to Wembley
Third round: Chelsea (H) 4-0
Fourth round: Arsenal (H) 1-0
Fifth round: Bristol City (A) 3-0
Quarterfinal: Burnley (H) 6-0
Semifinal: Sheff Utd (neutral) 3-0
Trophy engraver gets a head-start
The word "Manchester" has already been engraved on the trophy to highlight the unique nature of this final, the 142nd in the world's oldest knockout competition.
Guardiola vs Ten Hag
Ten Hag's move from Ajax to Manchester last year brought him into direct competition with Guardiola for the first time. The FA Cup final will be the third time the managers have faced each other, with one win a-piece.
Guardiola's City thrashed ten Hag's United 6-3 in October 2022 as Haaland and Foden both scored hat tricks at the Etihad.
Ten Hag's team won the reverse league fixture 2-1 at Old Trafford in January.
The two men are well-acquainted as Ten Hag was Bayern Munich's reserve team coach from 2013 to 2015 when Guardiola was the German side's manager.
"I cannot say we are friends … but he represents our profession as a manager in the best way possible. I think Man United has an exceptional manager for many years," Guardiola said of Ten Hag.
Head-to-head
The Manchester derby dates back to 1881, making it one of the longest running rivalries in football. United beat City, then known as Ardwick AFC, 5-1 in their first FA Cup encounter in 1891.
Their most recent FA Cup meeting was in 2012, when United beat City 3-2 at the Etihad Stadium.
In the FA Cup the two clubs have played each other nine times, with United winning six and City winning three.
Manchester United have won the FA Cup 12 times, while City have lifted the trophy six times.
The two clubs have played each other a total of 189 times in all competitions, with 78 wins for United, 58 for City, and 53 draws