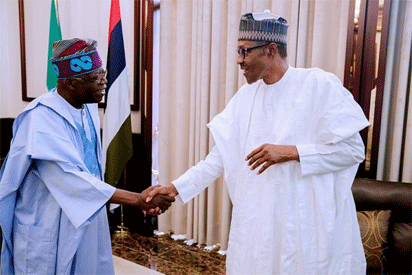 Buhari meeting with Tinubu behind closed doors in Presidential Villa
President Muhammadu Buhari has assured Nigerians that President-elect, Asiwaju Bola Tinubu will run an effective government when he takes over the administration of the country.
The President gave this asssurance in a statement issued by his Special Adviser on Media and Publicity, Femi Adesina on Tuesday.
According to Buhari, Nigeria would experience effective governance under the administration of Tinubu.
He noted that Tinubu had the political pedigree and experience to achieve this by May 29 when he would take over the leadership of the country.
Buhari said, "As the President-elect prepares to take over mantle of leadership at 71, the President affirms that his political pedigree from the 90's, active role in party politics, being elected Senator and later Governor of Lagos State, and diligent involvement in structure of leadership at the Executive and Legislative levels for many years, will serve as asset for good and effective governance.
"President Buhari believes Asiwaju's warmth, friendliness and generosity has set the pace for a network of friends, home and abroad, that will shape his presidency with requisite expertise to guide the economy, and consolidate on the investments of past leaders, particularly in people-first development and infrastructure."
Buhari also felicitated with the President-elect for clocking 71 on Wednesday.
"President Buhari prays for the wellbeing of Asiwaju and his family," the statement added.