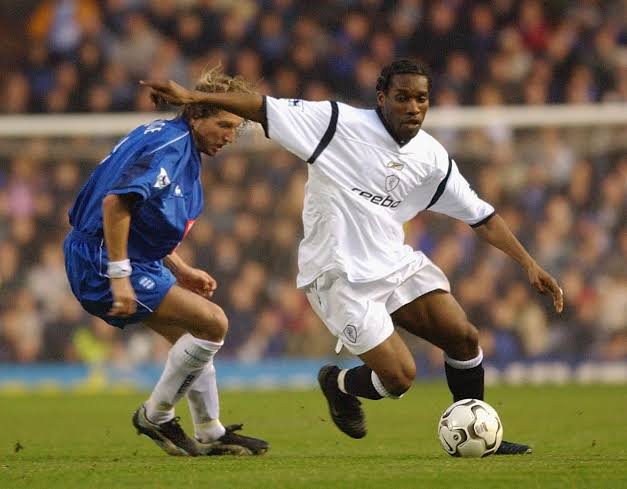 Brazilian football legend Ronaldinho has faulted the decision of former Nigerian captain, Jay-Jay Okocha to have joined Bolton Wanderers in the English Premier League.
Ronaldinho, who was Okocha's teammate at Paris Saint-Germain, thinks the move to England restrained the full potential of Okocha.
Ronaldinho, who was full of praised for Jay-Jay, said, "Jay Jay Okocha, wow!! That man made football listen to him. At training, we would watch him doing a freestyle; whatever he wanted to do, the ball would do it. But his problem is that he was too keen to move to England."
Ronaldinho was close to moving to Manchester United but opted out of the deal to join Spanish giants, Barcelona.
According to Ronaldinho, Okocha would have been better off moving to Spain or Italy, where skilled players like him are highly valued.
Ronaldinho said: "In La Liga or Serie A, he would definitely get a chance to play for a big team because they love skilled players over there. In England, you stand no chance of playing for a big team if you're that skilled. They think it's not necessary."
Okocha spent four years at PSG before moving to Bolton in 2002.
The midfield maestrro made 84 appearances for the French side, scoring 12 goals. At Bolton, he made 124 appearances and helped the team qualify for European football for the first time.
Okocha had in an interview with talkSPORT in 2021 admitted himself that his move to Bolton was poorly thought out.
He said, "I will say that it's obvious that I didn't really do my research before signing for Bolton. As a football person, football comes first, not the city, not the lifestyle, but one thing that's clear is that the training ground was different, the attitude towards the games was different."
Despite knocks for his move to England, Okocha is still widely regarded as the most talented football player to come out of Africa.