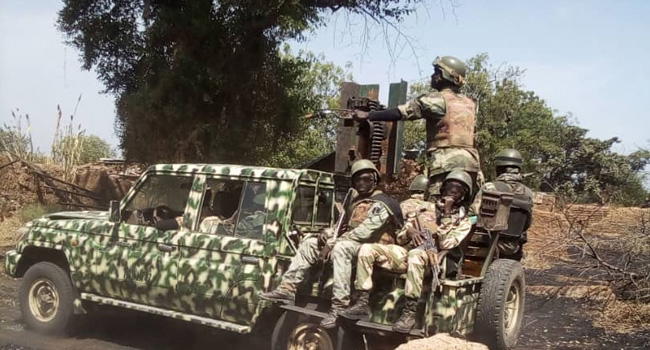 …Says Military cannot train any individual to take up arms against citizens
By Kingsley Omonobi
The Defence Headquarters has said that the viral video of the Majority Leader of the House of Representatives, Hon Alhassan Ado Doguwa seen firing a AK 47 rifle guided by military personnel is a calculated attempt by mischief makers to discredit the Armed Forces of Nigeria and dent its image before the good people of this country and the world at large.
Acting Director Defence Information, Brigadier General Tukur Gusau in a press statement noted that the video in question was taken at Falgore Forest Military Training Camp during the 3 Brigade Nigerian Army Training Exercise where Hon Alhassan Ado Doguwa was invited as a special guest.
The DDI stressed that when senior citizens and Special Guests are invited for such exercises, they are accorded the honour to participate in the firing exercise as ceremonial firing party without any intention in making them trained gunners or to master the use of fire arms.
He said, ceremonial firing in such an exercise is the practice in the world over and is not new in the Armed Forces of Nigeria as several other senior citizens have participated in such exercises in the past.
He said the viral video of Hon Doguwa was posted with an intent to dent the image of the Armed Forces of Nigeria especially at this period when the role of the Armed Forces in the last Presidential and National Assembly elections was hailed by Nigerians and International community.
"In addition, some clerics have equally released audio clips containing wrong interpretations of the speech the Majority Leader made at the occasion. This doctored interpretation of the speech is capable of instigating crisis, thus leading to heightened tension as the country prepares for a smooth transition to another elected government, he said.
Brig-Gen Gusau assured Nigerians that on no occasion would the Armed Forces of Nigeria engage in training or arming any individual or group of persons to take up arms against law abiding citizens.
"As a responsible force, we will continue to discharge our constitutional responsibilities while also remaining apolitical to strengthen the democratic values of our great nation.
"We also want to use this opportunity to advise mischief makers not to dent the image of the Armed Forces with senseless videos and unconfirmed audio clips but rather channel their energy in making sure our country continue to strive higher in the preservation of our democratic gains.