The Women Affairs Secretary Lagos Zone 2 of Nasrul-lahi-il-Fatih, NASFAT, Alhaja Aishat Busari
said the day is not for celebration, but rather to appreciate those who found light and are adorning the Hijab despite all odds.
According to her, it is a day to encourage those who are still struggling with the use of Hijab.
"It is disheartening to know how much the society applauds immorality and frowns at right choices. How women empowerment is preached, yet the empowerment and choice of Muslim women is opposed. In this World, where the urge to go naked is prevalent, let's join hands together, Schoolteachers/administrators, leaders of Faith, and every one to encourage modesty, the use of Hijab.
"For so many years, NASFAT (together with UNICEF, TOSTAN, among others) have been organizing programmes and campaigns in place to end gender-based violence and all forms of discrimination against women and girls.
"Obviously, whoever discriminates against the Hijab is not only violating the law and peaceful co-existence but also encouraging violence.
"Let's rise against all forms of discrimination against women and girls.
"Let's rise against all forms of discrimination against the Hijab.
Discrimination against women in hijab is islamophobia — MPAC
Senior admin officer,
The Muslim Public Affairs Centre (MPAC) represented by Hajia Fatimah Sanni in her presentation stated that the intolerance by non-Muslims especially on hijab is Islamophobia.
"At the Muslim Public Affairs Centre (MPAC), we challenge Islamophobia, discrimination, and the ideologies that drive them. At the same time we promote empowerment and freedom to practice hijab in safety. We believe that the female Muslims should be free to express their religious beliefs free of discrimination and prejudice. This is why we have continued to support initiatives like the World Hijab Day campaign.
"We get numerous verified reports of Hijabis being compelled to either take off their hijabs completely or bare their ears when they require their biometrics taken even for a sim card registration! These operators have displayed crass ignorance and bigotry as it is expected that they, more than the ordinary citizen should know the regulations pertaining to the services they render.
"We urge all Nigerians to contribute to rid our society of hatred, discrimination and bigotry. In a society where the values of equality, fairness, diversity and inclusion are promoted, everyone is a winner.
Wearing of the hijab benefits the society at large — The CRITERION
The Assistant Welfare Secretary Lagos District, of The CRITERION, Hajia Modinat Braimah said:
"The Hijab does not oppress any woman for that matter as the media wants to portray it. It is not a political tool or a fashion statement. It is the dignity of the human person of a Muslim woman as guaranteed by the constitution of our dear country Nigeria.
We must mention the issue faced by defendants accused of crimes or wrong doings. Despite the presumption of innocence, an hijabi who finds herself as a defendant in a police station is usually stripped of her hijab and niqab and most times of her outer garments. The constitutional guaranteed freedom, of Right of dignity of the human person is not suspended because a person is accused of a crime she may not even be guilty of, and even if found guilty our laws are against torture and ill treatment of prisoners.
Our strength as a community and indeed a nation lies not in how we treat the high and mighty, but how we care for the weak and vulnerable. Rodditu bi Llah Rabban, wa bi Islam Deena, wa bi Muhammad nabiyyan wa Rasul.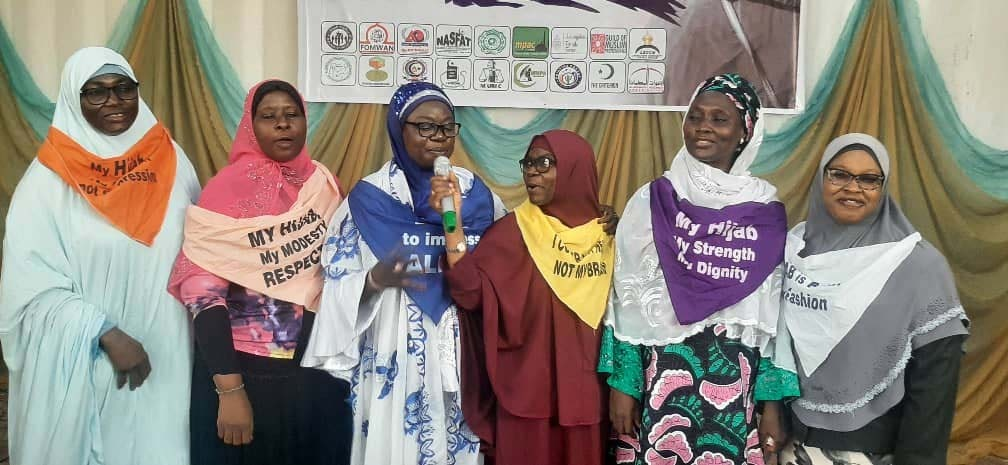 All women deserve to be protected from sexual and gender based violence — FOMWAN
The Ameerah of Federation of Muslim Women of Nigeria, FOMWAN Lagos state Chapter, represented by Hajia Sherifat Ajagbe said: "It was indeed with heavy hearts and sadness that we received the news that one of our sisters in Niqob was raped in Ibadan, Oyo state very recently. While the initial news spoke of the desecration of the mosque as the venue of the attack further investigation has shown that the victim was attacked elsewhere. It is sad indeed that Muslim women who are known to be modest have become targets of these criminal elements. Indeed, the hijabi is almost becoming "endangered species" as she is being discriminated against by her fellow citizens and she's also not safe from the attacks of criminals.
"We at FOMWAN Lagos as well as the other 17 participating Organisations hereby call on the relevant authorities to prosecute as a matter of urgency the perpetuator of this heinous crime named as Idris A.K.A Kesari as well as his father popularly called Al-Majiri who not only helped the perpetrator to escape, before arrest but also seeks to intimidate the victim as well as concerned Nigerians.
"We stand in solidarity with all our sisters in Nigeria and indeed the whole world who are facing persecution due to upholding their Right to freedom of Thought , Conscience and Religion. We say to you "Do not fear! Allah is with us".
The members of the coalition include: Muslim Students' Society of Nigeria Lagos state Area Unit
Nasrul-lahi-li Fathi Society of Nigeria (NASFAT); Al Muminaat: The Believing Women Organisation; Hijab Rights Advocacy Initiative;Federation of Muslim Women Association of Nigeria (FOMWAN Lagos); Muslim Public Affairs Centre ( MPAC); Guild of Muslim Professionals ( GMP); Muslim Rights Concern (MURIC); Pristine Cactus Foundation; The Criterion; International Muslim Women Union (IMWU); Pure Heart Islamic Foundation (PHF Lagos); Muslim Media Practitioners of Nigeria; Islamic Medical association of Nigeria ( IMAN); Akhawat; Izarul Haq Movement of Nigeria; Lagos Secretariat Community Central Mosque ( LSCCM) and An-Nujabau Female Forum.