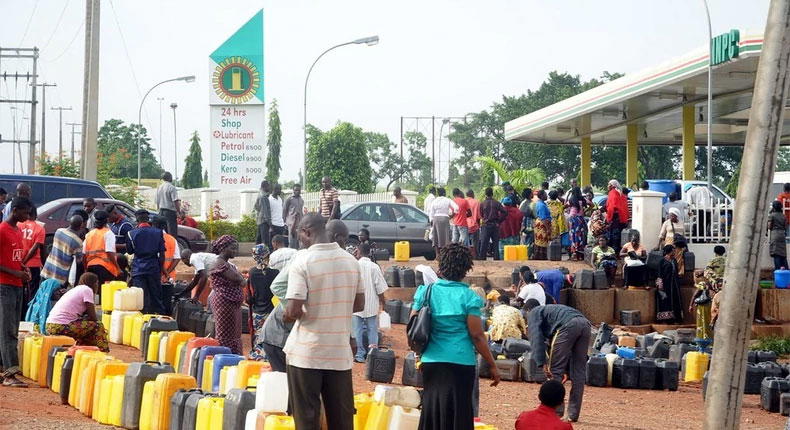 By Dele Sobowale
"As a people normally gets the government it deserves, so a society normally receives the punishment it asks for." Robert Ardrey in SOCIAL CONTRACT.
Anarchy reigns in the Nigerian fuel sector today. Nigerians were warned in 2018 when President Buhari and Vice President Osinbajo launched their re-election campaign on the dubious platform of NEXT LEVEL. Like most shallow thinkers, the All Progressives Congress, APC, politicians easily forgot that if you are in an elevator, going down on the tenth floor, the next level is the ninth floor. For almost four years since then, Nigeria has gone downwards and we have crashed through the basement. In an article titled NEXT LEVEL IS PURE ANARCHY, written in 2019, I warned Nigerians that anarchy and confusion await us from the Buhari-led Federal Government.We are in it now. Ask anybody how much is paid for fuel per litre and you will receive hundred or more different prices. Fuel pricing chaos cannot be more accurately defined. Yet, we actually have a Federal Minister of Petroleum Resources. Here is how VANGUARD's Deputy Editor, Adekunle Adekoya described our Minister.

"The president's response has been laughable – he set up a 14-man panel to end fuel scarcity; may be because he forgot that he is also the Minister of Petroleum, and is TOTALLY responsible, knowingly or not, for this fuel scarcity mess."

Adekunle Adekoya, VANGUARD, Friday, January 27, 2023 p 18.
 
My Editor, perhaps because he is a journalist, gave Buhari the benefit of doubt by assuming absent mindedness for the establishment of a panel. At UniJankara we give him no such regard because it is respect to which the Minister is not entitled; for obvious reasons. Here are few.

AUTHORITY WITHOUT RESPONSIBILTY IS DESTRUCTIVE
"Responsibility is feared as much as authority is sought after; and fear of responsibility paralyses much initiative and destroys many things…"

Henry Fayol, VANGUARD BOOK OF QUOTATIONS, VBQ p214
Fayol, a leading writer on Management, particularly on issues concerning authority and responsibility, has reminded us that they should always go hand in hand like the two sides of a genuine currency bill – if confusion and disaster are to be averted. Buhari, lacking in originality of ideas, followed Obasanjo's bad  example by appointing himself Minister of Petroleum Resources. In other words, he grabbed the authority to run the Ministry. Again, like OBJ, he was only interested in certain aspects of the work of the Ministry – the easy and personally lucrative assignments.

 The hard work, which constitutes almost 99 per cent of the Ministry's mandates were of no interest to him. Authority was almost totally divorced from responsibility such that when the news of massive oil theft hit the media, the Minister, Buhari that is, was absolutely ignorant of the dimensions of the calamity that befell us. It can't be otherwise.

If Obasanjo and Buhari, ex-satraps, had looked around, they would have noticed that no other majour oil producing and exporting nation has the President or Head of Government as the Minister of Petroleum at the same time. The reason is simple. The Organisation of Petroleum Exporting Countries, OPEC, since its inception in September 1960, in Vienna Austria, was an economic as well as a political cartel. As crude oil became the most important global commodity, each of the Ministers representing member countries had an assignment that kept them busy 24/7. It is sheer folly for any President to assume that he could do it part time. Whoever is saddled with that awesome responsibility is expected to manage the exploration, production and transportation of crude oil on the one hand; and then ensure the supply of finished products at reasonable price as and when needed throughout the national economy – again 24/7. There is more expected of the Minister. But, these will do to bring us back to Adekoya's observations about Buhari. 

He came into office denouncing fuel subsidy as a fraud; which was partly true. He also decried the fact that Nigeria's four refineries were idle; and swore to make them work. The two issues are basically quantitative in nature. For instance; how much of fuel subsidy payment is fraudulent, 100%, 15%? Any professional manager could have told Buhari that you cannot manage what you cannot measure. He set about solving a problem without a handle on the metrics with which to make decisions. Similarly, it should have been possible to determine how much it would cost to make the four refineries to work again; and to also know how much refined products – not just petrol – we should expect from each refinery. That would help us answer two important questions. Will that be enough for our needs? If not how much more are we condemned to import? Because the Minister is unable to grasp quantitative issues, he took the easy way out. First, he dumped the decisions on the laps of the Nigerian National Petroleum Corporation, NNPC; and routinely approved requests for subsidy payments. He also approved huge amounts for the Turn Around Maintenance, TAM of the refineries – which will not be completed before he leaves office.

FISCAL AND MONETARY POLICIES BECOME PONZI SCHEME
"Subsidy: FG borrowing to import fuel, says minister".
Report, January 18, 2023.

Nigerians went to bed on December 31, 2022 bemoaning FG debt burden estimated at about N49 trillion. They woke up in the first week of January 2023 to discover that another N23.7 trillion had been accumulated illegally through  operation of Ways and Means in collusion with the Central Bank of Nigeria, CBN. The Governor was on sick leave. But, even before his illness, Emefiele has been treating the National Assembly, NASS with  contempt  and he got away with it because Buhari was his accomplice in trying to bring the debt owed to the CBN to that unprecedented amount. Now, everybody knows why Emefiele has been on the run from the NASS. H

That is how bad leadership corrodes everything and corrupts everybody it touches.
Incredibly, none of them, including the Minister of Finance seems to understand the concept of excess as it relates to financial management – private or public.Obviously, they all operated under the assumption that government can borrow indefinitely without dire consequences. Well, every illusion has an expiry date. The notion that Buhari can request for loans without restraint; and with little thought to repayment has reached a dead end. The truth is out and the party is over. Even if Emefiele wants, he can no longerentertain any loan request from the FG until the 23.7 trillion debt issue is dealt with. That will take some time; because the NASS will request for a lot of details and query several.
''Authority forgets a dying king.'' Lord Alfred Tennyson, 1809-1892.
A lame duck President is like a dying king. Power drips out of his hands. With only four months left for this administration, loan sources will certainly dry up. Lenders may be avaricious; but, they are not lunatic. Few of them will want to risk their funds on an outgoing government. Fuel scarcity will remain until Buhari departs. For nearly eight years, Buharievaded the responsibility of ending subsidy; he played politics instead of providing leadership. Nigerians will suffer. I detest violence. But, he should also expect more of the sort of reception in Kano. In the North, as elsewhere, Nigerians are fed-up with Buhari.