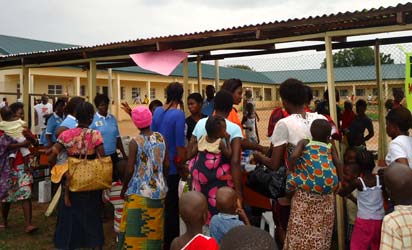 By Ebunoluwa Sessou
As part of efforts to be the voice of the voiceless, especially orphans, widows among others, Evim Okojie Foundation, a non-profit organisation, was launched to empower the less privileged in society.
Speaking on the objective of the foundation, Vivian Adebayo Okojie stated that it will explore thematic areas like Education, Empowerment, Health Care, Enlightenment and Advocacy.
She lamented that with poverty being a major obstacle to accessing education, health care and vocational skills in Nigeria, the foundation was inspired with the mission of building bridges and advancing inclusion for orphans, underprivileged widows and children regardless of their political, religious and cultural backgrounds.
According to her, her commitment towards supporting humanity started at a very tender age and the vision is to create a brighter future for orphans and the underprivileged children/widows by providing modern necessities such as formal education through scholarships, educational materials for orphans and underprivileged children as well as vocational skills.
Empowering widows to improve socio-economic status and general well-being in order to have an equal opportunity in the society, is another core dream of the Executive Director.
In her keynote address, the importance of monitoring stakeholders was emphasized as a key component in achieving the goals of the organisation.
To this end, she promised to follow up on the progress of the beneficiaries of the scholarships and empowerment programs in order to achieve the objectives of the project.
The event featured a fundraiser intended at soliciting for support from family, friends and well-wishers that are committed to supporting beneficiaries as a way of securing their future.