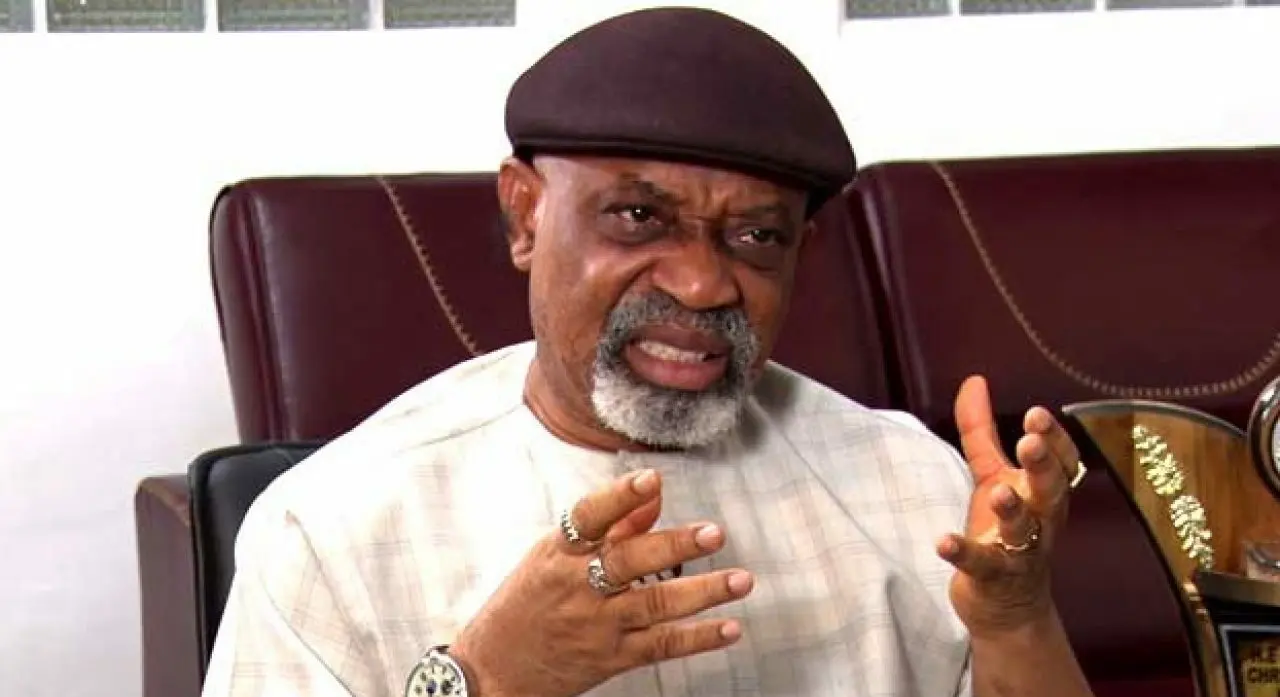 Ngige
.
—-Says 4 frontrunners for the presidency are good candidates with cognate experience in governance
—Tells Nigerians to choose wisely
—Tackles Obasanjo for criticising Buhari in a letter to Nigerians
By Johnbosco Agbakwuru, Abuja
The Minister of Labour and Employment, Senator Chris Ngige said that he decided to stay away from the All Progressives Congress, APC, Presidential campaigns or any other political party because the four frontrunners for the presidency are good candidates who have the requisite cognate experience in Government business at state and federal levels.
The Minister also tackled former President Olusegun Obasanjo for criticising the administration of President Muhammadu Buhari in his controversial new Year letter to Nigerian Youths.
This is as he advised Nigerians to vote for the right candidate who should be able to work for them after a critical evaluation of their manifestos and antecedents.
Senator Ngige spoke, Tuesday, at his hometown, Alor, Idemili South local government area, Anambra State, during the annual distribution of Christmas largesse by his Chris Ngige Foundation to APC members, the indigent, widows and aged persons.
Recall that the Minister had indicated an interest in contesting the APC Presidential primaries and was said to have purchased the Expression of Interest Form before he withdraw from the exercise.
Addressing the mamoth crowd at St. Mary's Church Pavilion Alor, Ngige in a statement issued by his Media Office said the Federal Government realised that things were difficult and requested ministers to go home and assist their people since last September.
Regarding his choice of a presidential candidate, he said, "the four frontrunners are good candidates with cognate experience in governance at the federal and state levels.
"They are my friends and they are well known to me. They have worked with me in one way or the other before now.
"Former Vice President, Alhaji Atiku Abubakar of People's Democratic Party (PDP) was at the helm of affairs in the country when I was kidnapped as a sitting governor. He was Acting for Mr. President who was away in Maputo at that time. He ordered my reinstatement. We sat together in the National Economic Council where he is the Chairman. We formed the Action Congress (AC) with Asiwaju.
"Bola Ahmed Tinubu of APC is also my good friend and political ally. He was very supportive during our trying times as Governor. We formed AC together. We worked together in ACN and I became the lone opposition Senator in the Eastern Region under the platform of the Action Congress of Nigeria (ACN). He is not somebody I don't know.
"Peter Obi of the Labour Party is my brother, his Local Government is next to mine here my successor and everything. I know him too well. I know his capacity.
"Rabiu Musa Kwankwaso of NNPP is my friend too. I knew him as Deputy Speaker of the Federal House of Representatives under Agunwa Anaekwe in 1991 as Speaker. We were in APC So, so I know him.
"For me, let the Nigerian people vote right. Let Nigerians look at them and their manifestos and vote, according to what is right for the country. I don't think I will go around campaigning for candidates A or B or C. I won't do that. It is not my stock in trade. I don't jump from party to party. But besides, I have some conscience and I am going to protect my conscience and make sure that I don't hurt it."
Senator Ngige took a swipe at former President Olusegun Obasanjo over his scatting statement that Nigerians are living in hell under President Buhari's administration.
According to him, the current government should not be blamed much for the hardship in food and energy in the country because it is not restricted to Nigeria alone but happening all over the world.
He explained that our African neighbours, Ghana, Cote d'Ivoire and South Africa were not insulated, ditto the United Kingdom and other developed economies of Europe and America.
He, therefore, urged Nigerians to disregard politicians who will come campaigning and tell them that the Buhari government caused the hardship they were passing through.
He said, "I am part of this government and when I start talking, people will say that 'he will defend the government because he is part of it'. Yes, I must defend the government because I'm inside and I know the hard work put in to ameliorate this hardship we are seeing. It is also world over as the cost of living is up and there are low and middle-class agitations everywhere,  especially among the working class. It is not only in Nigeria.
"So, don't mind those politicians who will come and say that the Buhari government inflicted hardship and poverty on you. One of them wrote a letter the other day, the habitual National letter writer. He said  Buhari brought Nigeria below the 1999 level. How can somebody say that? The same person ruled from 1999 to 2007. What did he do to change here to Eldorado when he was in charge? It is easy to criticise. It is easy for spectators in the field of play to say they would have scored a goal if they were in the field of play. As a spectator, when the ball is in the penalty box,  you move your legs as if you are the one playing. But, when they throw you inside there, you discover that the game is man-to-man. It is 90 minutes of man versus man. It is no longer a question of talking or clapping from the sideline.
"So, when politicians, especially our elder statesmen do this kind of write-up, you start asking yourself whether they want our country to remain in peace or be torn to pieces. I don't like it. Chief Obasanjo is somebody I respect(and who we should all respect) a lot, but after reading his letter twice, I took exception to that aspect, criticising a government trying to finish very well and strong, working assiduously. It is not good."
Speaking further, Ngige decried the claim by Obasanjo that Nigeria today has been dragged well below Nigeria at the beginning of his presidency in 1999.
He recalled that while serving as the Governor of Anambra State, the same Obasanjo who was then President, said he was going to construct the Second Niger Bridge and even sent the late Chairman of Gitto Lodziani to meet him and his Delta counterpart with proposals including that the two states will bear the cost of construction, but ultimately failed to do so, owing to lack of commitment.
Ngige continued, "After they drove me away from the governorship position, he (Obasanjo) took the then Delta State Governor, James Ibori, Emmanuel Uduaghan who was taking over from Ibori, then Anambra State Governor, Peter Obi and Andy Uba, his anointed successor for Obi in 2007, to turn the sword of the Second Niger Bridge. This happened during the PDP Presidential campaign in 2007, and yet, they didn't do the bridge. Successive Federal governments didn't do it.
"I was the one who brought Buhari to South East people in 2015.  While we were laying our campaign manifesto, as the South East Zonal Coordinator, I told the General that the bridge is very important to our people and the entire South up to North Central. The General asked if we can do it and I said, 'why not?' The same question he asked at the Ziks Mausoleum completion and he told me and the late Chuma Azikiwe that if God made him President, he will construct the Bridge and complete the abandoned Mausoleum for our people.
"I was the one who brought to the fore in our South East campaign, that 2nd bridge, Enugu-Onitsha expressway and Enugu Airport renovation and remodelling, of which the Federal Government gave the Minister of Aviation N10 billion to execute the upgrade, as critical infrastructural projects needed by the zone. Today The tarmac was reconstructed and the runway expanded from one to three kilometres with a modern night lighting system and navigational aids
"I equally brought Enugu-Port Harcourt road, passing through Umuahia and Aba. Work is almost finished there. But the government before we came, made fake promises about these projects. So, President Buhari ought to be praised and showered with encomiums but, they will tell you that people are dying of hunger. Hunger is the world over. If you go to the news, you will see white people protesting against hunger and the high cost of living in Europe and elsewhere.
"There is a war between Russia and Ukraine, which has put the world in an economic dilemma and stress  COVID-19 came before then and the world was shut down. There was no movement and no business activities. People were indoors. Those in the informal sector that make their daily living were at home and this government gave palliatives to them."
Quoting the Igbo adage that "Smearing the reputation of a wealthy man is worse than killing him," Ngige warned that Buhari should be left alone and not be blamed for everything that has gone awry under the sun.
He said the government wants and is working very hard to finish strong and needed the support of all Nigerians at the dying minutes of the administration.
"The government wants to leave a good legacy of free fair credible elections, without interference by our administration. That is why the President told ministers to face their job. I am facing my job. That is why you don't see me with any candidate. I am not going to gallivant or run around with any candidate."
He noted that some of the candidates in the coming elections were his friends and he would support them, adding that he knows how to support them, and not by jumping up and down.
Ngige enjoined his people and all Nigerians to go and get their PVCs in order to vote, assuring that they were going to look at faces before voting.
He advised Nigerians to vote for the right candidate who should be able to work for them after a critical evaluation of their manifestos and antecedents, adding that the four frontrunners are good and had served before.
Earlier, the Director General of Nigeria Inland Waterways Authority (NIWA), Chief George Muoghalu and the APC senatorial candidate for Anambra Central, Kaodilichukwu Okelekwe House of Reps candidates praised Ngige for the donations he made to party members and the indigent notwithstanding the economic downturn in the country.
While also thanking Ngige for his benevolence, the Chairman of all the 21 APC local government party chairmen in Anambra State, reaffirmed their confidence in the minister as the party leader in the state, saying they will vote according to his direction.
Food items distributed to the beneficiaries included 5000 bags of rice, 5000 bags of garri, 8000 tubers of yam and 2000 cartons of tomatoes