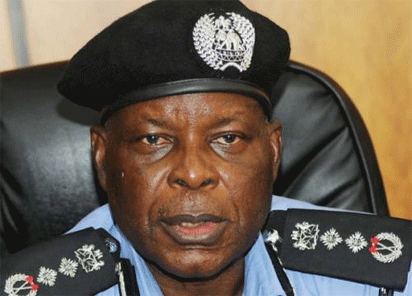 By EMMA NNADOZIE, Crime Editor
BORN on July 24, 1949, Sir Mike Mbama Okiro,CFR,NPM, mni the 13th indigenous Inspector-General of Police, attended the University of Ibadan, Oyo State where he bagged a Bachelor of Arts degree in English in 1976. He proceeded thereafter to the University of Lagos for a Master's degree in public administration.
He also holds bachelor's and master's degrees in law from the University of Jos in Plateau State. Furthermore, he holds honorary doctorate degrees from the Federal University of Technology, Owerri, Imo State; Novena University, Delta State, and the University of Jos. He is also an alumnus of the National Institute for Policy and Strategic Studies, NIPSS, in Kuru, Plateau State. His eventful career started when he joined the Nigeria Police Force as a Cadet Assistant Superintendent of Police (ASP) on August 1,1977, shortly after completing his mandatory one-year National Youth Service programme.
Read Also: Vanguard Personality of the Year: AbdulRahman AbdulRazaq, Breaking new grounds in Kwara
Prior to his appointment as Inspector-General of Police in June 2007, Okiro worked as a Divisional Crime Officer (DPO) at the central police station in Port Harcourt, Rivers State; a Divisional Police Officer (DPO), Oyibo, Rivers State; a Divisional Police Officer (DPO), Uwani, Enugu State; a Chief Superintendent of Police (Administration) CSP "A" at the police college in Ikeja, Lagos State. He served on many in-house police panels in his career. In a nutshell, he worked his way up from assistant superintendent of police to commissioner of police. Apart from when he got a double promotion from commissioner of police to deputy inspector-general of police, he had served in very critical positions to garner invaluable experience, know-how, and expertise.
On assumption of office as the Inspector-General of Police, he worked tirelessly to provide a secure environment for the actualization of Mr. President's vision of placing Nigeria among the world's top 20 economies by the year 2020. This he ably did by partnering effectively with the Ministry of Police Affairs and the Police Service Commission in a conscious effort towards repositioning the Nigeria police in the areas of quality training, behavioural and attitude change, community policing, and service delivery.
He significantly improved the welfare and morale of officers and men, through an enhanced salary package and improved logistics, notably owner-occupied houses. He also made the police service more open, receptive, and responsive to troubled areas in the country, the results of which we are all living witnesses. Furthermore, he also created a channel of communication as a tool for bridging the police-public divide; this is the philosophy that gave birth to "The Dawn" newspaper.
Among his notable accomplishments as Inspector-General of Police are, but are not limited to: (a) introducing the registration of SIM cards in the country in order to have a record of every user; (b) initiated and drove the amnesty programme for the then restive Niger Delta militants that increased Nigerian crude oil production from 700,000 barrels a day to 2.4 million barrels. (c) In November 2007, prior to insurgency in Nigeria, , the government established the anti-terrorism school in Nonwa, River State, as well as the police anti-terrorism squad. (d). Introduced the police games. (e) established the police housing scheme.(f). prompted commercial banks to introduce CCTV cameras, bulletproof bullion vans, and bulletproof doors to reduce bank robberies. (g). Convinced the federal government to increase police salaries. (h). Increased the Police Mobile Force Units and created a female police mobile unit in every squadron. (i). sponsored a Bill in the National Assembly on Anti Terrorism.(j). introduced the Police Marathon Race.(k). Introduced the IGP football competition. (l). expanded the intelligence unit into a department and established the Police Intelligence School in Ilorin, Kwara State.(m). made computer literacy in the Nigeria Police Force compulsory and built the ICT College in Abeokuta, Ogun State.
Apart from running an all-inclusive leadership style imbued with the propensities of transparency and accountability, this kind-hearted gentleman is an ardent listener, a proactive man, and a man with an uncommon attribute of meekness and firmness, which endeared him to the hearts of many Nigerians, thus earning him several accolades, encomiums, and recognitions, such as. The Nigeria Police Medal. A commendation letter from the late president Umaru Yar'Adua; and numerous chieftaincy titles from various communities and traditional rulers across the country and globally.
Despite the herculean task associated with his chosen profession, Sir (Dr.) Mike Mbama Okiro has authored five books of various genres: "Peace and the Nation;" "Surviving the Cities;" "The Legal Implications of the Mismanagement of Public Funds in Nigeria;" "Policing Nigeria in a Democracy;" "Policing Nigeria in a Democracy."
On July 24, 2009, he retired honourably from the Nigeria Police Force, having reached the mandatory retirement age of 60 years. The entire Nigeria Police Force will continue to eulogize, appreciate, and give ample reason to remember him for all that he enacted, stood for, and his inherent principles of being celebrated but yet a benevolent tough cop. Sir Mike Okiro has a string of firsts attached to his name. He was the first Nigerian Inspector-General from Igbo extraction in Rivers State, the first NYSC member to become IGP, the first Christian of Catholic denomination to become IGP, the first retired IGP to become Chairman of Police Service Commission, etc. Because of his devotion to duty, loyalty, and commitment to national ideals, IGP Mike Okiro is probably the only Police Officer who served eight Nigerian presidents and heads of state and worked closely with seven (7).
He was in charge of security in Dodan Barracks Lagos from 1990 to 1995 as Assistant Commissioner and later Deputy Commissioner of Police (Operations) in the Lagos State Police Command, where he worked closely with Gen. Babangida, Chief Ernest Shonekan, and Gen. Sani Abacha. As Commissioner Deputy Inspector-General of Police Lagos and later Operations, and finally Inspector-General of Police and now Chairman, he worked closely with the President's Police Service Commission, Olusequn Obasanjo, Umaru Yaradua, Goodluck Jonathan, and now President Muhammadu Buhari. Sir (Dr.) Mike Mbama Okiro is happily married with children and enjoys playing chess and writing in his spare time.