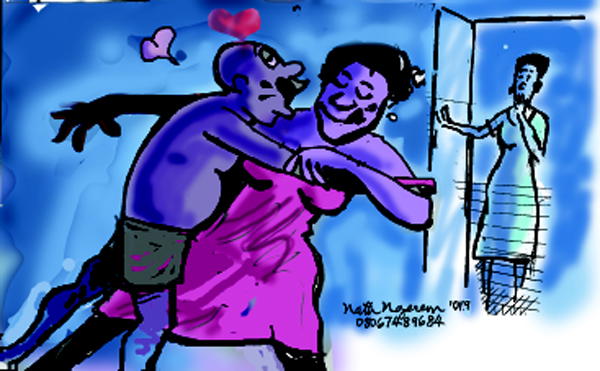 By Bunmi Sofola
Chanches of remarrying after a divorce might be slim; but some women are so lucky they even have third chances!  A few weeks ago, Debbie, a once distraught wife, who has now got the hang of living with the intricacies of her husband's shenanigans came to the house looking radiant. 
"Would you come to a wedding party with me tomorrow?" she asked.  Wedding?  As eagerly as families look forward to their offsprings getting married, the long-drawn ceremonies usually leave me climbing the walls.  Engagement ceremonies I give a miss if I could get away with it.  With the weddings proper, I usually ask the driver to be at the ready to get away anytime I get bored.  Debbie knows of my aversion to weddings and assured me this one would be different.
"The couple had already got married abroad; they only came home for the wedding party," said Debbie.  "Actually, the groom is Uncle Tony's wife's son."  The plot thickens, I muttered.  Debbie's Uncle Tony had been abroad for years and was married with four children, when his wife got tired of his philandering ways and kicked him out. 
By the time his divorce went through and the courts slapped a generous maintenance allowance on wife to be paid each month for the kids' upkeep, Uncle Tony came to Nigeria on holidays and never went back.  He was determined his wife and kids wouldn't take him to the cleaners without a fight.
Instead, he used the nest-egg he'd brought back with him to complete a bungalow his ex-wife had no inkling he was building. His friends rallied round him by helping him set up a blockmaking business, and he was comfortable enough to take a new wife.
The new wife, Bisi, was also married with five children before the husband exchanged her for a new model. They were both lucky to find each other, and Bisi relished her second-chance marriage. Debbie was still jabbering on and she was now telling me what fun we would have and how Bisi would treat us like royalty. "She's a damn good cook too," she taunted, knowing my weakness for mouth-watering food. She knew she needn't twist my arm – we'd always been there for one another and ready to be helpful at a minute's notice, if need be.
The wedding party was in full swing when we got there. Bisi, the groom's mother was having a hushed furious talk with a few of her friends when we spotted her. Debbie waved to her and she quickly took us to where Uncle Tony was seated amid a few of his friends: "That looks like the high table," Debbie bragged. As soon as we were seated, Bisi disappeared. Uncle Tony offered drinks from a big ice chest under the table: "Where is the food?" I hissed at Debbie.
Ordinarily, I always eat before I get to any out-door party to avoid a rumbling tummy while you hustle for food from caterers who look perpetually harassed. This time round, I'd reserved my appetite for the delicacies Debbie bragged Bisi would laden our table with.
Bisi was still having the heated conversion with her friends and some of the guests, when Uncle Tony sent for her.  Her face was like tunder when she came over to where we were, "What's going on?" her husband asked.  "Sandra is here, purportedly on the bride's side," she hissed.  Sandra is another 'scarlet woman' who had successfully dislodged one of Bisi's friends from her matrimonial home.  And the friend was at the party as Bisi's guest! 
"I've told her that she couldn't stay and those useless people from the bride's side are insisting that she could," fumed Bisi.  "This is my own party and my husband is footing the bill.  No trollop is going to disrupt it.  Awon Gbokogboko! (husband snatcher)," she hissed.
The husband patiently pointed to us and asked her to get us something to eat. "Ah! Auntie Debbie," she said smoothly, "my favourite sister-in-law. Let me take you to where the food is so I could give the caterer instruction for you to take whatever you want." As Debbie reluctantly followed her, she kept chanting: Gbokogboko … gbokogboko … and clapping her hands like a warring market woman.
"Women" mused uncle Tony, who's known to have a good sense of humour.  "If it weren't for a 'gbokogboko', I wouldn't be free to marry her after she'd been sent packing from her matrimonial home."  Debbie was a bit miffed as Bisi completely ignored us for close to an hour. 
"I think we should keep our envelopes," she whispered to me as we reluctantly dished food on our plates.  We'd agreed on how much to give the groom's mother but Debbie now wanted us to give her nothing…  She was still smirting from the way Bisk ignored her.  Then, almost out of the blues, Bisi came bounding towards us, full of glee …  "I've sent her packing," she jubilated.
"The nerve of some people.  She knew my friend would be here, yet she showed up in my house, and at my party!  This party is not big enough for the two of them!  Let her go and tell her husband of the humiliation she got tonight!"  She then made a fuss of Debbie and I, by which time most of the guests had left. 
She was in the middle of her victory speech when Debbie got up and I quickly followed.  Bisi now saw us to our car, giving us the background of the Sandra saga, which she allowed to almost ruin her son's wedding party.  The extent to which some aggrieved women take revenge could be mind-boggling.