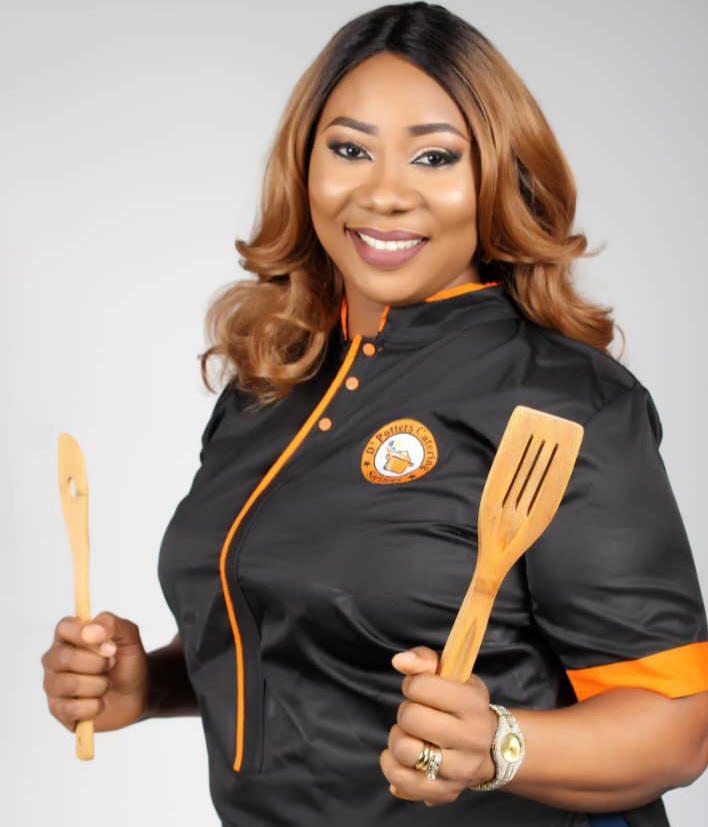 Abimbola Oki is helping many women to not only navigate cooking tasty meals but educating them on how to turn their passion into a business.
She is the founder of D'Potters Catering Services, a food catering outfit that has taken the cooking stress off thousands of individuals and groups. Abimbola is one of the most sought-after caterers in Nigeria at the moment, catering for several top events, and using social media to also showcase the beauty of cooking.
The graduate of Estate Management at the University of Lagos, decided to turn her passion into a corporate business by aiming to provide healthy and delicious meals for busy people, thus satisfying their cravings at affordable prices with poise for prompt delivery. Her mission is to provide an amazing food experience for everyone irrespective of their status, tribe, pocket, and taste.
She has worked with companies like BUA Group, Nigerian British Chamber of Commerce, Rand Merchant Bank, and Stanbic IBTC to mention a few.
Abimbola is married to Olusegun Oki with two lovely children. She loves to travel and try new adventures with her family.
She shares her story in this interview.
Inspiration behind D'Potters Catering Services
The motivation was born out of hosting people in my house, mostly during festive seasons. My guests enjoyed my cooking so much.
They always leave me with tips. I was not working then. My husband brought up the suggestion about starting a food business. It took me a while to decide, and I started the business in 2014.
How has the journey been since you started your organisation?
We are still evolving. The journey has been great. Of course there are times that I just want to be alone and cry, but we are still learning. Everything is coming up just as I have planned. Overall, I am grateful to be where I am today.
What are some of the challenges you encounter in your line of work?
Some of the challenges we have faced are Management of the business to avoid failure, Staff turnover, working for long hours, Logistics to mention few.
How has your work inspired other women around you?
I get a lot of messages from women that I inspired them. I have been able to prove to women that being consistent and dedicated to one's business will pay off and they can make it in any business they decide to venture into.
Tell us about the other services you offer in your company?
Apart from cooking bespoke food for people, we do trainings how to cook different dishes and we also teach them the business aspect.
We also rent out our cooking studio to content creators, food bloggers, food brands etc Our outdoor cooking area is also available for rent to caterers who need a convenient cooking space for their large cooking.
You recently relocated ro a new space. Tell us about this feat
I have always dreamt of moving to a bigger space, but I was scared of the unknown. We were given a quit notice at the former space because they did not want us to use the space for cooking again.
We had no choice but to get a new space and we got exactly what we wanted. It was not easy getting space for cooking or took us a year to get this new place. We did some renovations, and it came out perfect. All Glory to God!
What do you enjoy most about your job?
I enjoy cooking for different types of people and getting positive feedbacks. I love how it bring out my creative side of me and it helps me to keep learning.
Mention three women who inspire you and why?
Racheal Ray did not have a formal culinary education just like me, but she is now one of the most famous female chefs in the world. Siba Mtongana has been able to combine her life as a family-oriented woman and work as a celebrity chef and presenter with the support of her husband.
Ngozi Okonjo Iweala has given us a representation of global and national power. She reminds me that I can achieve anything I want to.
What would you say to a young woman who wants to start a food business but doesn't have capital?
You do not need capital to start selling online. You only need to be consistent with the content you share, and you can get a lot of content from the food you cook for yourself or your family. Start now!